'Uncovering the History of the Dominatrix' (Talk by archaeologist & author Anne O Nomis at the Freud Museum)

Sunday, 9 February 2014 from 17:30 to 19:00 (GMT)
Event Details
UNCOVERING THE HISTORY OF THE DOMINATRIX - A talk by archaeologist and historian Anne O Nomis, author of the book 'The History & Arts of the Dominatrix'.
Anne O Nomis spent four years researching the Dominatrix from within ancient Goddess religion, the female flagellant Governess of the 17th-19th Century, Dominatrices of the bizarre underground of the 20th Century. Lastly, she set out to elucidate the contemporary practices of modern-day Dominatrices in a theoretical framework, with her research presented with museum images from around the world, in the first book ever written on the topic.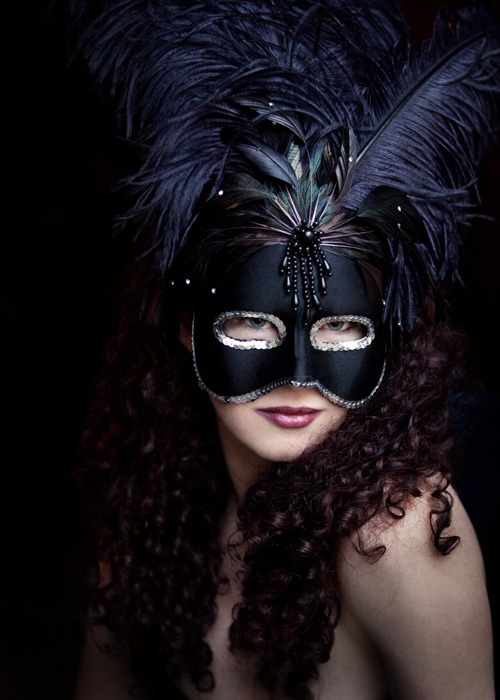 Anne O Nomis
Nomis holds a Masters degree in Comparative Art and Archaeology from UCL (University College London), and is continuing her studies within the field of Middle Eastern Archaeology.  
Her research on the Dominatrix invcluded an internship in one of Australia's most famous dungeons in 2009, under tutelage of some 15 Dominatrices, in a commitment which involved a minimum of 18 hours training a week.
Moving to London to study archaeology, she researched the archetypes of female sexual power in ancient Goddess religion, including iconograpy and rituals practiced in honour of the Mesopotamian deity Inanna (or Ishtar in Akkadian), later practices of Artemis Orthia on Sparta, along with the role of the 'Whipstress' in the Villa of Mysteries on Pompeii.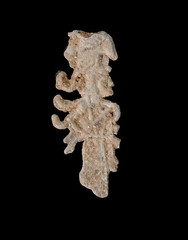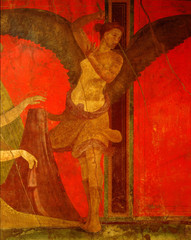 Left: Votive artifact from Sanctuary of Artemis Orthia, Sparta, where male adolescents were whipped in honour of the Goddess. (late 6th-early 5th Century BC); Right: Whipstress with wings on wall fresco of the Villa of Mysteries, Pompeii. (pre 79 AD)
Into the professional secular occupation, she traced rare prints and written accounts of female flagellant Governesses in the 17th to 19th Centuries, uncovered within the British Museum and British Library collections. She was granted special permission by British Library curators to access the Victorian 'erotomaniac' Henry Spencer Ashbee's manuscript copy of the 'Index Librorum Prohibitorum' (Index of Forbidden Books), recording the so-called 'Governesses' specializing in discipline, domination and flagellation in the historical era.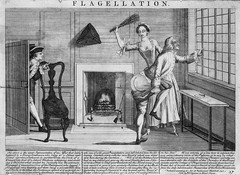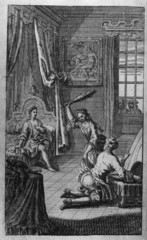 Left: Flagellation engraving of English origin from Library of Congress (1752); Right: Erotic flagellation scene from frontispiece to 'The Use of Flogging in Veneral Affairs' in Curll edition (1718) 
Her book, 'The History & Arts of the Dominatrix' was published in a 'forbidden book' private print in December 2013, and is currently under consideration by major publishing houses to be brought to a popular mainstream format. 
Nomis was particularly inspired in her recent visit to the Freud Museum in mid-January, and contacted the museum to give a talk. She notes the allegiance of Freud's interest in archaeology, and the idea of digging or peeling back layers of the psyche. In this scheduled talk, she discusses her own 'underworld journey' following the death of her father to cancer, which took her into the subterranean of Dominatrix dungeons, museum storage and library vaults, into the metaphorical and literal underground.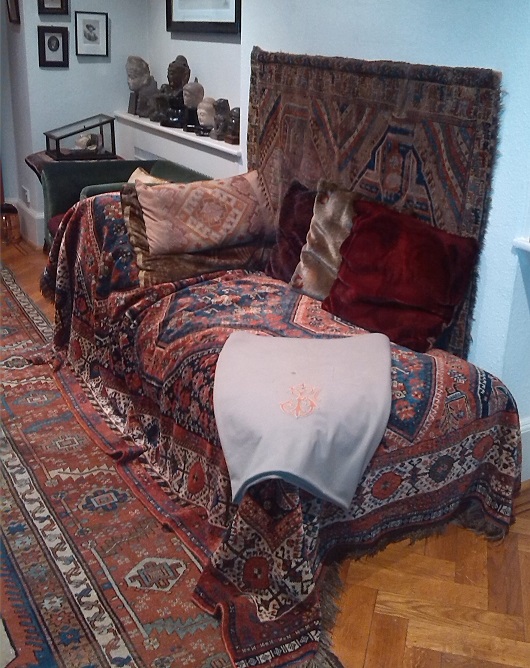 Freud's famous couch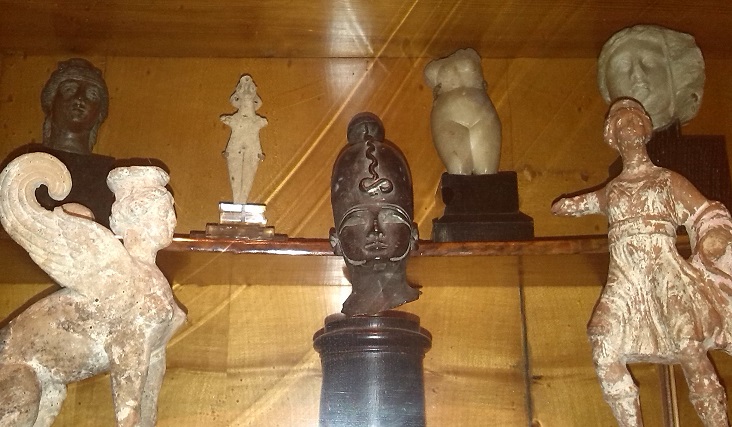 Cabinet of antiquities within Freud Museum including Goddesses of sexuality on its top shelf.
Nomis's book deals in particular with the Goddess Inanna (Ishtar in Akkadian), Artemis Orthia, Aphrodite with precursors to Astarte, and the Whipstress role within the Mysteries.
__________________________________________________
Book excert:
"The Dominatrix operates along civilization's fault lines, where its floating crust drops into a bubbling magma of underground desire. A chaotic and flowing heat, which we seek to suppress within society and within ourselves, frightened by its power and potentially destructive properties. (We paint it as Dante's Inferno, a fiery hell, we rightly fear to tread.)

We need, however, an amount of heat, gases and minerals to be brought to the surface we inhabit. And indeed the Dominatrix taps into this word of suppressed desires and identities, relieving its pressures. She not only plays out fantasy, but raises jewels on self-knowledge, suffering, ecstasy, acceptance, mercy and wisdom." 
(From 'Preface' to Anne O Nomis 'The History & Arts of the Dominatrix' 2013, pp.24-25)
__________________________________________________
TICKET OPTIONS:
Ticket only - £15 + processing fee
or
Autographed limited first edition book & Ticket - £48 + processing fee
Limited first edition in special 'forbidden book' format, individually numbered /2000, designed by award-winning book designer Anna Egan-Reid. Features Phoenician purple and gold foil cover, imprint edition page, scarlet red ribbon marker, and 86+ full colour illustrations from the British Museum, British Library, Iraq Museum, Penn Museum, Oriental Institute of Chicago, Yale Center for British Art, National Portrait Gallery, private collection, and contemporary artwork by Natasha Gornik, Kate Peters, Phil Miller, Nuit d'Or and Lucina Nathanel.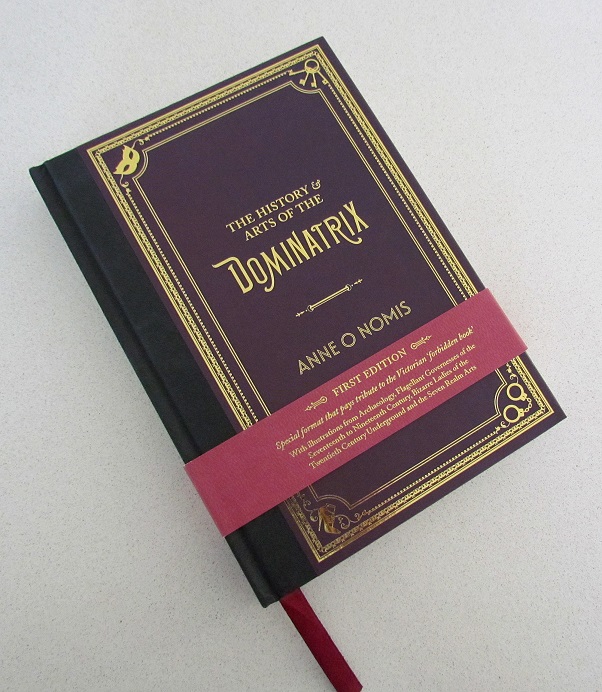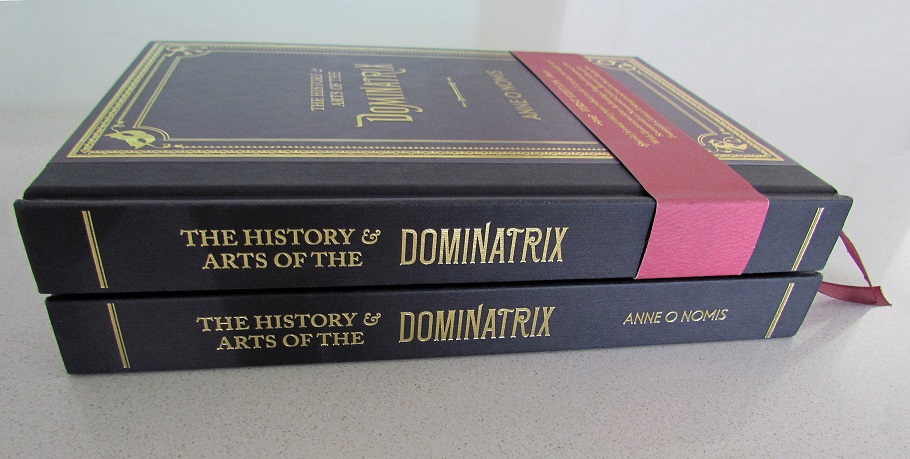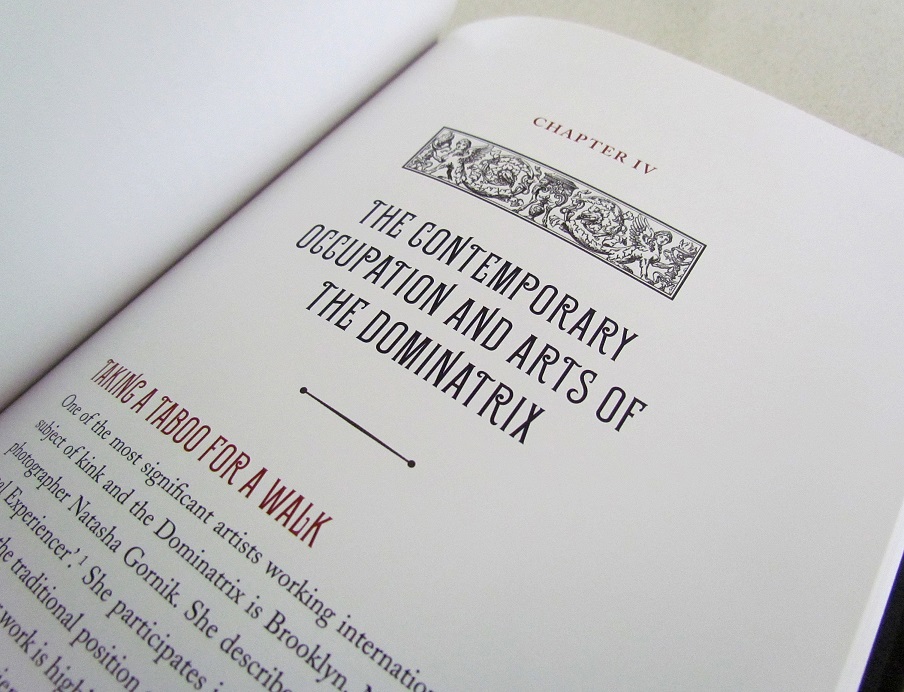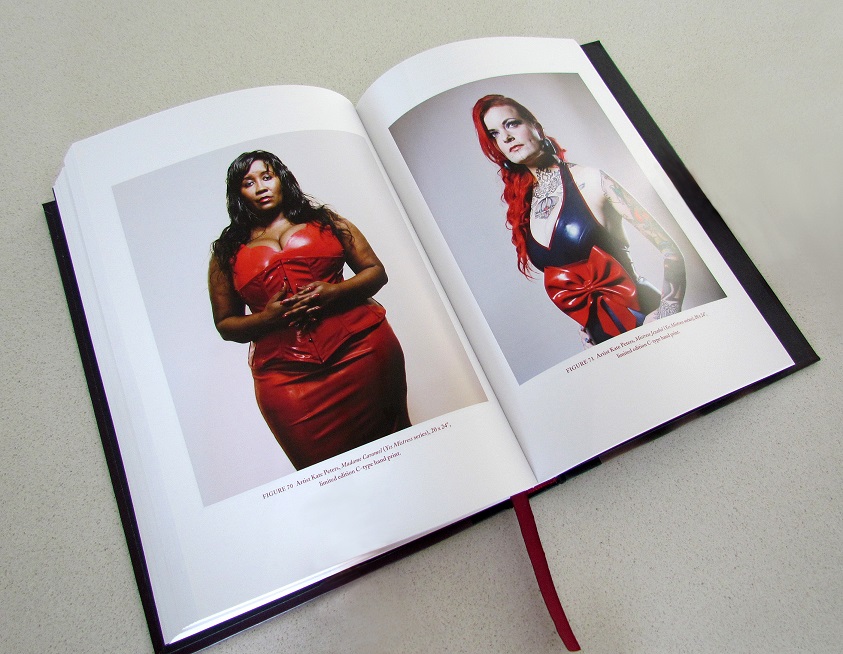 __________________________________________________
 For more information see: 
Website: http://historyofthedominatrix.com/
Email: anneonomis@live.com
Venue & map information: 
Freud Museum, 20 Maresfield Gardens, NW3 5SX  
on Sunday 9th February at 5.30 pm - 7.00 pm
Freud Museum, 20 Maresfield Gardens, NW3 5SX, London, UK.
For map and access information see: http://www.freud.org.uk/visit/
Do you have questions about 'Uncovering the History of the Dominatrix' (Talk by archaeologist & author Anne O Nomis at the Freud Museum)?
Contact the organiser
When & Where

Freud Museum
20 Maresfield Gardens
NW3 5SX London
United Kingdom


Sunday, 9 February 2014 from 17:30 to 19:00 (GMT)
Add to my calendar