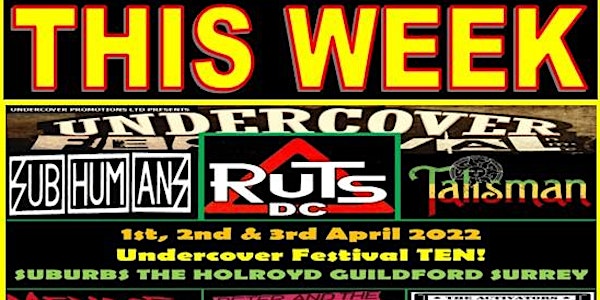 Undercover Festival TEN! with Ruts DC, Subhumans, Talisman and loads more
Location
Holroyd Arms
36 Aldershot Road
Guildford
GU2 8AF
United Kingdom
Refund policy
Contact the organiser to request a refund.
Eventbrite's fee is nonrefundable.
Undercover Festival is back for the TENTH consecutive festival, back in Guildford. Not got a ticket yet? What ya waiting for?
About this event
NEARLY HERE!Not got a ticket yet?What ya waiting for?
NEW: Spread the cost WEEKEND tickets. Pay £20 deposit now and pay £49 cash on the door.
As seen on Chris Packham's BBC4 documentary "Forever Punk"
Undercover Festival is back for the TENTH consecutive festival
Gonna be a goodun this
At Suburbs The Holroyd, Aldershot Road, Guildford, Surrey, GU2 8AF
HEADLINERS: SUBHUMANS (FRI)
RUTS DC (SAT)
TALISMAN (SUN)
Undercover Festival, a genuine, small, proudly independent musical celebration of alternative music including Punk, Post Punk, Ska, Reggae, Ska Punk, acoustic and much more.
Yes small festivals are two a penny "BUT you won't find anything like Undercover especially in the South East"
-----------------------------------------------------
Line Up - Friday 1st April 2022
SUBHUMANS | MENACE | OMEGA TRIBE | RAGE DC (Aftershow party) | King Effers (formally The F***wits) | GIRLS LIKE US | THE ASSASSINATION BUREAU
-----------------------------------------------------
Line Up - Saturday 2nd April 2022
RUTS DC | PETER AND THE TEST TUBE BABIES | NEWTOWN NEUROTICS | DUNCAN REID AND THE BIG HEADS | THE GAKK | BITE ME | CHARRED HEARTS | RED ANGER | THE FANZINES (Aftershow party) | CHANGE PERSONA | SUBURBAN TOYS |
-----------------------------------------------------
Line Up - Sunday 3rd April 2022
TALISMAN | THE ACTIVATORS | DIABLO FURS | THE WIPES | VOODOO RADIO | THE DUB FREE PRESS | STATIC KILL | THE LENGTHMEN | THE LANDINGS | SHELL THE ALTERNATIVE FOLKIE
-----------------------------------------------------
Plus the return of buskers corner with The Wyrd Sisters for all three days
Line up may be subject to change.
-----------------------------------------------------
Because we are always Undercover the bar takings are never ours so Undercover survives or we aim to on ticket sales.
TICKETS - See tickets for FULL details
NEW: Spread the cost WEEKEND tickets. Pay £20 deposit now and pay £49 cash on the door.
Three day General Sale Tickets £69
Day tickets: Fri: £20 in advance | Sat: £29 in advance | Sun: £20 in advance ...
----------------------------------------------------------------------
SUBHUMANS
We are pleased to welcome back Dick and the band to headline Fri 1st April; their appearance at Undercover 8 in March 2020 was truly phenomenal and we just had to bring them back for 2022.
The band's musical style is typically classified as hardcore punk or anarcho-punk first active in the 80s, although the musical setting has changed dramatically from those days, the Subhumans sound more timeless than old hat.
Widely considered to be one of the most prolific and original of the evolving UK punk scene; and embodied the 'cant-play-will-play' early punk 'anyone-can-do-it' attitude. A style of punk more intricate in its structure than their contemporaries, without losing the base energy and dynamics of punk. Dick's lyrics, at once socially aware and heavily critical of social norms, placed them in the anarcho-punk area of the ever-expanding UK punk scene of the early 80s, alongside Crass, Antisect, Conflict, and Flux of Pink Indians, who released the band's first 3 EPs [Demolition War, Reason For Existence, and Religious Wars] and their first LP [in '83] The Day The Country Died, which became an instant classic that went on to sell 100,000 copies.
Enjoy!
-----------------------------------------------------
RUTS DC
The Ruts were a reggae-influenced British punk rock band, formed in 1977 at the height of the Punk revolution. They finally released their first single 'In A Rut' in early 1979 on the People Unite label. This 7" vinyl was much played and highly regarded by the UK BBC Radio 1 DJ, John Peel. From then on and over the years, the record rightly become what can be considered to be a Punk anthem.
There were more to follow, with the singles, 'Babylons Burning', 'Something that I said', 'Jah Wah' (all from the debut album 'The Crack') and 'Staring at the Rude Boys', 'West One' (both featured on the album 'Grin and Bear It'). The band were quickly established as a major force in UK Music, but by 1980, The Ruts were over.
The history and tragedy surrounding the band is much documented as Paul Fox and Malcolm Owen sadly no longer with us.
In 2008, Ruffy and Segs returned Enlisting the help of Leigh Heggarty on guitar the new RutsDC performed in the U.K, Europe, Australia and New Zealand which in turn led to the inevitable step of writing new songs.
Touring extensively in 2019, the band celebrated 40 years since the release of their classic album "The Crack" with a U.K sell out tour in 2019 whist continuing to retain a "must see" presence at the the annual Rebellion festival both electrically and with their acoustic show.
2022 they are headlining Undercover Festival TEN and we are pretty chuffed to have them on board.
-----------------------------------------------------
TALISMAN (Extended set).
For someone not into reggae, if there was ever a band that would convert me, Talisman would be that band!' – Mr.T Lights Out Zine
A band that fully meet the gambit of what was and is the spirit of a "Punky Reggae party"
New to an Undercover stage and one that has been on our radar from day one and we are chuffed to finally get them to Undercover.
Talisman were one of the UK's top Roots Reggae bands in the later 70's and early 80's. The band's prowess earned them support slots with acts as diverse as Burning Spear, The Clash and The Rolling Stones. They reformed in 2011 to support the re-release of their classic roots single 'Dole Age' on the brand new compilation album 'Dole Age – The 1981 Reggae Collection'. One of Bristol's and the UK's finest live acts were back and ready to party once again.
Originally formed in 1977 Talisman were consummate performers constantly vying for the title of one of the country's most popular live reggae bands. They toured the UK building up a loyal following and leaving memories of gigs that are still discussed to this day.
-----------------------------------------------------
Undercover Festival has had a nomadic existence since we first started in Bisley Surrey in 2013 for 3 years, then via Brighton for a year, Margate was for a couple of years, then 2019 we upped sticks to Tufnell Park London and for September 2019 we moved to The Fiery Bird Venue Woking the general area we started in, and March 2020 we moved back to Woking, but as the venue is closing we have found a new venue Suburbs The Holroyd in Guildford.
Undercover defies all other conventions and festival templates by always being held undercover i.e. not outdoors so if it's peeing down come April it's not a problem and your beer won't get diluted. Leave your wellies at home, and enjoy one of the best small alternative festivals London and the South East has to offer.
Since we started loads of others have cropped up but we believe no one can match the family friendly and independent feel we have at Undercover.
Even since 2013 we have kept a proud and independent identity.
The festival is one that prides itself on taking an independent and grassroots approach to things, and is always determined to be different from mainstream events, with alternative action from bands you'd be highly unlikely to see on many other festival line-ups.
The festival grew out of a small tent tucked in the back corner of the sadly departed GuilFest in Surrey and has become a firm fixture in many people's diaries, with dedicated fans coming back year on year.
In a financial climate where it always seems to be about the money, Undercover throws convention to the wind and just goes with what it believes in.
SEE YA DOWN THE FRONT!
ALSO
Usual thingy in the unlikely event that Covid is still lurking we will move the gig to a more suitable time of the year etc.
LINE UP SUBJECT TO CHANGE
These are uncertain times, in some circumstances cancellations are inevitable and we hope you can bear with us.
Each gig we put on we aim to make it an event with bands playing.
Given the climate we are in all gigs line ups are subject to change more so than in normal circumstances.
If there are any band cancellations A replacement will be found, who that will be will depend on availability but at Undercover we always aim to have the best possible line up given budgets etc.
Like all other promoters except if an event is cancelled we are not able to offer refunds if a band has to be replaced.
We do our best to keep quality alternative live music going, your support and understanding in these most difficult, unusual and uncertain of times is appreciated.
TICKET INFORMATION
If ordering a ticket we will have a print out of your order on the door at the event.
So no need to print off but you will be required to bring ID.
Like all other venues and events unless the event is cancelled or rescheduled we do not offer refunds for cancellations.
All other FAQs etc can be found on the website www.undercoverfest.com