Unlock the mysteries of the mind with Tyrique King, as he shows how to activate your unique ways of thinking and smash your career goals
About this event
In a world where we're constantly moving at 100mph, it's easy to forget the importance of understanding ourselves and how our minds function.
By gaining self-awareness, we can map out a career plan that harnesses our strengths and allows us to navigate potential blockers caused by our innate ways of thinking.
In this workshop, you'll learn how to understand your unique combination of personality traits and behaviours, so you can leverage them in your creative and entrepreneurial journeys.
After taking one of the best-in-class personality assessments available, Tyrique King will show you how deep self-awareness and knowledge of your individual combination of traits can help you gain greater fulfilment, get to where you want to go, and achieve your career goals.
In the session, you will:
Learn why 'Understanding Thyself' is so important, both professionally and personally
Discover the strengths of your personality and temperament in your chosen field
Understand your weaknesses and their impact on your career journey
Develop an awareness of how to leverage your unique set of personality traits to achieve success
This event is part of Creativity Works, a Mayor's Fund for London programme supported by Citi Foundation and delivered by Create Jobs at A New Direction.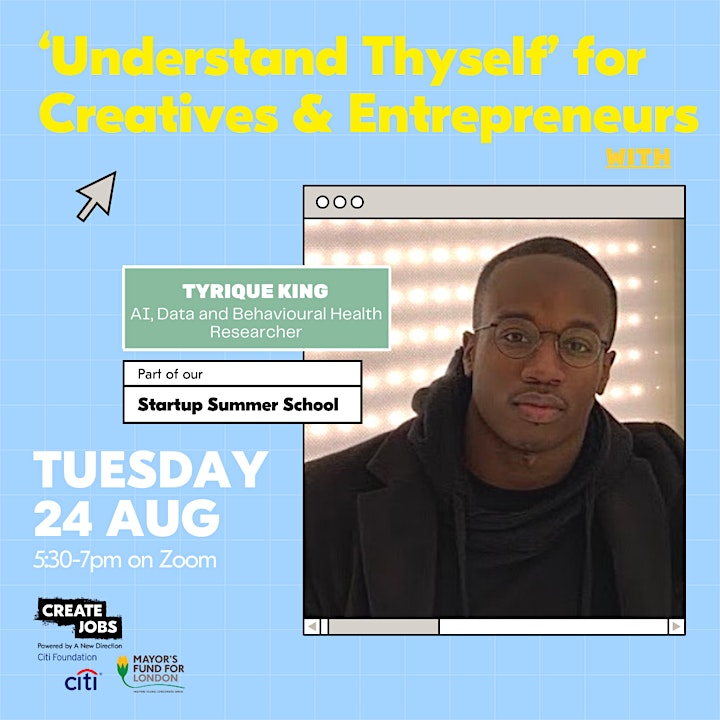 Organiser of 'Understand Thyself' for Creatives and Entrepreneurs