Understanding African Identity & UN's African Initiatives

Saturday, August 22, 2015 at 5:00 PM

-

Monday, August 24, 2015 at 8:30 PM (BST)
Event Details
This event marks International Day Of African Resistance Against Enslavement (not "Slavery Remembrance Day" or "Slavery Memorial Day") and is a prelude to August 31 Declared African History Reflection Day.
Is Identity important?

Should you care about the Terminology used to descrbe you?




Do you know what's happening within the UK Reparations movement?

Are you aware of how the UN's IDPAD can be used to empower?
These are the issues to be addressed at this event taking place in Clapham and Harrow.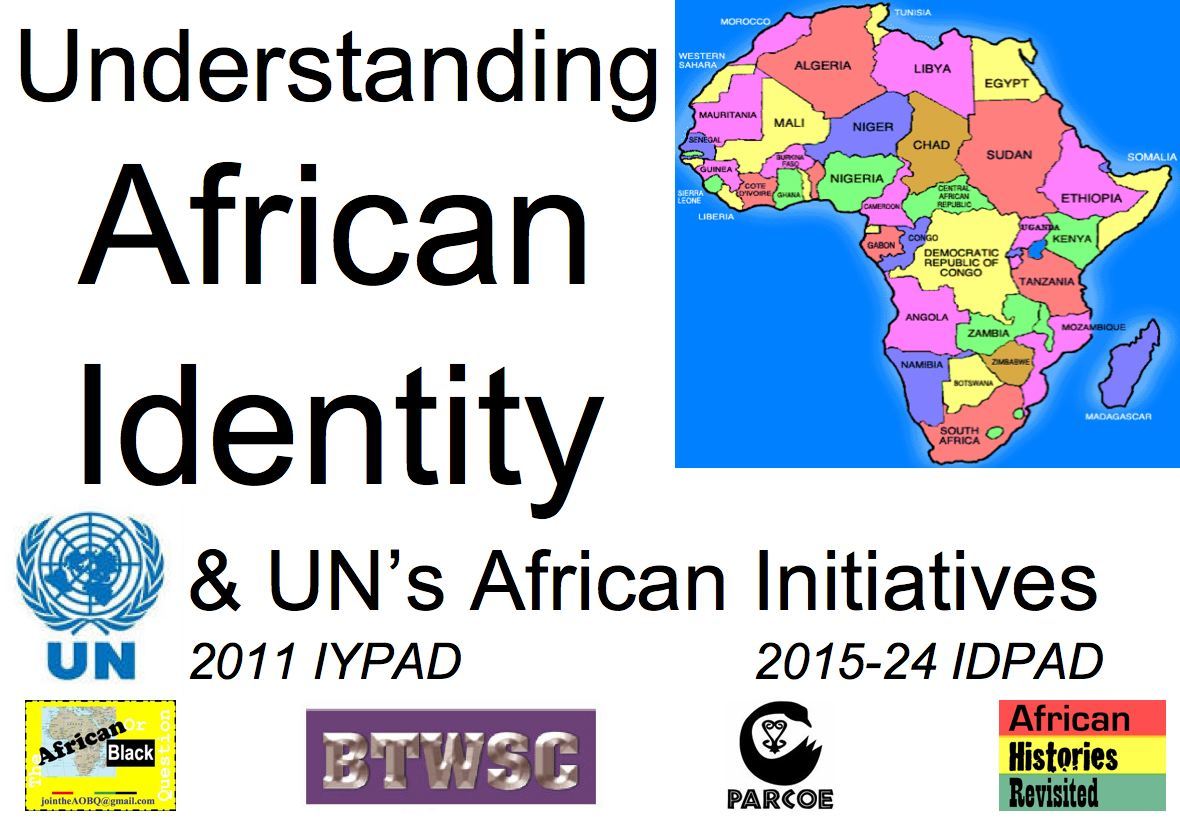 The event consists of the screening of Kwaku's vox pops documentary 'The African Or Black Question', 'IDPAD 2015-2024: Understanding The UN's Int'l Decade For People Of African Descent', and 'Black V African Schism', which precedes discussion on African identity, terminology and the UN initiatives - International Year For People Of African Descent 2011 (IYPAD) and International Decade For People Of African Descent 2015-2024 (IDPAD) - and exploring how these initiatives empower Africans.
It's suitable for young people. Stalls available for selling books, DVDs, clothes, crafts, etc @ Clapham event.
Two jurist consults Esther Stanford-Xosei & Kofi Mawuli Klu, Co-Vice Chairs of PARCOE (Pan-Afrikan Reparations Coalition in Europe), explain UN"s IDPAD (International Decade For People Of African Descent) and its potential in uplifting the African cause on a local, regional and global level; and provide an update on the UK reparations movement.

Saturday Aug. 22, 5-8pm @ Clapham Methodist Church Hall, 121 Clapham High Street, Clapham, London, United Kingdom SW4 7JR (Enter through Nelson Row entrance; Clapham Common, near Sainsbury's). All donations from attendance bookings go to the Queen Mother Moore Saturday School - for more details, see Rev Hewie Andrew on the day, Limited stalls available for £15 each.
Monday Aug. 24, 6.30-8.30pm @ Harrow Mencap, 1st floor (ring middle buzzer), 3 Jardine House, Harrovian Business Village, Bessborough Road, Harrow HA1 3EX (Harrow On The Hill station; apprx 100 yards from M&S/BP petrol station). Free
In association with TAOBQ (The African Or Black Question) and PARCOE
When & Where

Clapham Methodist Church Hall (Aug. 22, 5-8pm)
Harrow Mencap (Aug. 24, 6.30-8.30pm)

United Kingdom


Saturday, August 22, 2015 at 5:00 PM

-

Monday, August 24, 2015 at 8:30 PM (BST)
Add to my calendar
Organizer
BTWSC Events/African Histories Revisited
BTWSC is a pan-London voluntary organisation that uses the creative arts to develop potential, raise aspirations, and promote social inclusion. It works with youths, adults and inter-generational audiences. Its core areas of delivery cover music industry, event planning, and African history education and programmes. For more details: btwsc@hotmail.com.
Please note that because of non-attendance, we over-book all free events, so entry and sitting is on a first come, first served basis.
Please note that we photograph and/or film/video our events. Your attendance is taken as implied consent. NO Filming/Video recording events by attendees without prior permission from organisers.