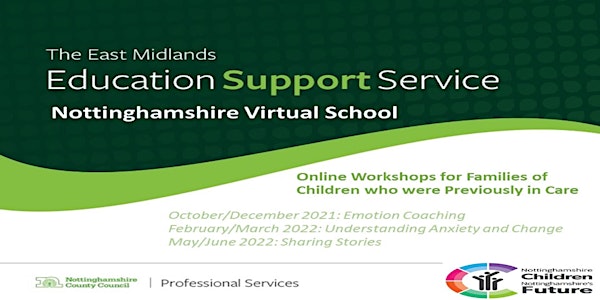 Understanding Anxiety and Change for Previously Looked after Children.
Event Information
Location
Newstead Centre
Tilford Road
Newstead Village
NG15 0BT
United Kingdom
Three workshops which will cover the following topics, Thinking about Emotions, Understanding Anxiety and Connected Relationships and Story;
About this event
This is the second of the three workshops, Understanding Anxiety and Change (transition), will focus on the impact of Anxiety on children and young people's emotional responses particularly at times of stress and consider strategies which can support managing these anxieties.
If you are not able to attend this date, the event is being delivered again on Wednesday 30 March 2022, 5.30pm - 8.30pm via Zoom
The final workshops, Developing Children and Young People's Emotional Literacy Skills as well as their reading (literacy) skills. In this workshop we will introduce the Paired Reading Approach to developing children's reading and then consider the importance of story and metaphor in teaching children and young people about understanding their own emotions and emotional responses and those of others.
Taking Place on Thursday 26 May 2022, 10am - 1pm at The Newstead Centre and again Thursday 30 June 2022, 5.30pm - 8.30pm via Zoom.
Date and time
Location
Newstead Centre
Tilford Road
Newstead Village
NG15 0BT
United Kingdom