A free online workshop for Northern Ireland HR staff, Employers & Recruiters on best practice for processing criminal records info
About this event
As a Recruiter/HR staff member/Employer are you confident that you know enough about the Rehabilitation of Offenders Order 1978 and the many updates that have happened since?
Well if you want to make sure that you are definitely up to speed....this is the workshop for you!
Join Jonny Pardoe (Disclosure Specialist) and Deborah Burgess (Employment Links and Training officer) from NIACRO for a FREE 1.5 hour online (Zoom) workshop on what you need to know when recruiting in Northern Ireland, as per the Rehabilitation of Offenders Order 1978 and subsequent updates.
Workshops are designed to be informative, yet informal and questions are encouraged from attendees throughout the session, so it's not just a PowerPoint presentation but a chance to engage with the topics fully.
The workshop will take you through the recruitment process from start to finish and will look at the following topics and more:
•Designing a 'best practice' recruitment workflow that meets your unique business needs
•Understand the difference between a conviction and a criminal record
•A look at the Rehabilitation of Offenders NI Order 1978 and subsequent changes to the legislation and how it applies to your business
•The AccessNI certificates vetting system and how to read information contained on a Basic, Standard or Enhanced Certificate
•Understand the impact of the March 2020 update to the AccessNI filtering system
•How to work out when a conviction is 'spent' and what this actually means for different types of jobs
•When is the best time to ask about criminal records, if you need to ask and what can you legally ask about for different roles
•Robust Policies and procedures on handling criminal record information and GDPR that protect your company
•Communication with applicants at the various stages of the recruitment process
•How to assess criminal record information using 'disclosure statements' and other tools and resources
A follow up information pack will be sent to all attendees post event, including copies of the slides and example resources.
Tickets are limited for this event and these are issued on a first come, first served basis.
This event is online and will be using the Zoom platform. Link will be sent out to registered attendees the day before and we will open up at 9.50am with the event starting at 10am sharp.
PLEASE CHECK YOUR SPAM/JUNK FOLDER IF YOU DO NOT RECEIVE THE JOINING INFORMATION EMAIL. TICKET SALES WILL END ON WEDNESDAY 27TH OCTOBER 2021 AT 10AM IF NOT SOLD OUT ALREADY.
Some feedback from previous workshops...
"good to take time out of the day to day to discuss the broader concept of disclosures/ROA, etc and to help ensure that we are engaged in a robust process"
"thorough explanation of processes"
"A thorough look at the law around disclosures"
"Very informative and very relevant to the work we do."
"better understanding of disclosure in general"
"Lots of information that will benefit my role"
"clear and concise info on disclosure re criminal convictions"
"very knowledgeable trainer"
"The ability to ask questions about specifics"
"The trainer did not just read the PowerPoint but explained each point as well as including examples"
"Extremely informative"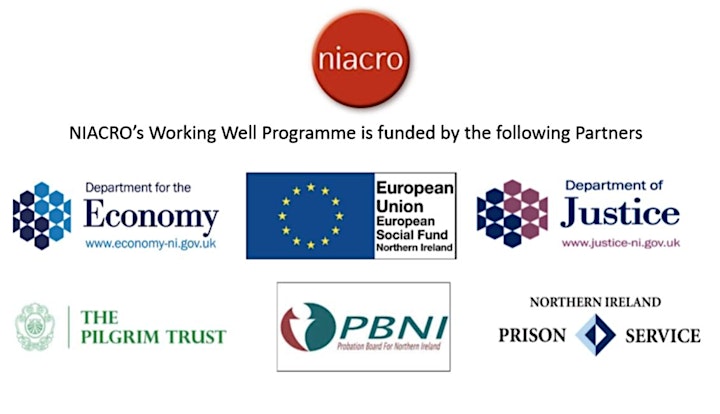 Organiser of Understanding Criminal Records & Recruitment for HR in Northern Ireland