Description
Performance and State of Mind go hand in hand.
Think about it. Anything and everything you do in business is a result of thought. Whatever you turn your hand to has come from you. The attitude that you bring to it is going to affect how you carry it out, and thus what results you get. All of these activities are affected by your state of mind:
Making sales calls
Holding business meetings
Giving presentations
Solving problems
Coming up with new innovations
Talking to staff
Planning for your next steps
Meeting deadlines
Introducing new processes
So if your state of mind is going to affect all of these things (any anything else you can imagine) wouldn't it be worth finding out what creates your state of mind, and how understanding this can help you to improve it?
We all have access to incredible intelligence and innate resilience, but most of the time it's drowned out by the sound of habitual thoughts. If we didn't believe unproductive and unhelpful thoughts, imagine how much space we could free up for creative thoughts... for clear thinking on important decisions... for allowing deeper connections with our business associates...
...And imagine how much better we would feel!
Join in on the exploration of where state of mind comes from and how this understanding can profoundly influence our capabilities in Business.
This seminar we will be particularly focusing on nerves and negative thinking around certain behaviours, and how "feel the fear and do it anyway" is not a great instruction. If you want to navigate your less favourite parts of business with more ease - come and join us!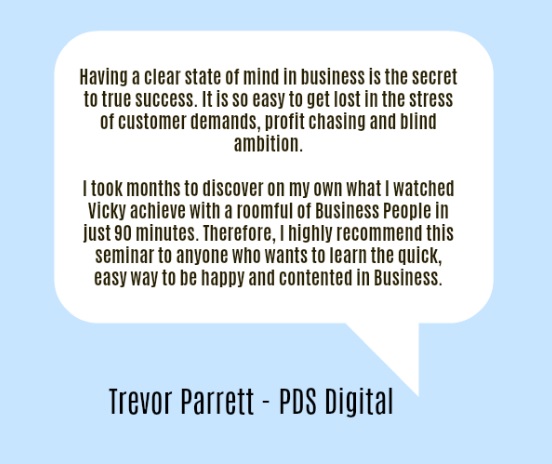 This seminar is a part of a monthly exploration of the Three Principles of Mind, Thought and Consciousness, and how they affect your experience of business (and life). The idea is to meet monthly so we can all stay in the conversation and deepen your understanding, but you are welcome to drop in and out as your availability allows.