The Zoom session will consist of a presentation by Cruse Bereavement Care of about 45 mins.
About this event
The presentation will be followed by the opportunity to talk in smaller groups with an experienced Cruse bereavement volunteer to ask any questions you may have.
The session will cover:
Understanding loss and grief and how this impacts individuals and families
The factors that affect how we can all grieve differently following a bereavement
How people grieve the losses that can be experienced, before a death occurs, e.g. on receipt of a terminal diagnosis or caring for someone with dementia etc.
Tips on how to better cope with loss and navigate your way through grief
Where to find support and how Cruse can help
Zoom is an online meeting platform and you will need a phone, tablet or PC to attend the session. Please be aware that you can enter under any name you choose when you initially join the session.
During the session, you and everyone else will be muted, so there will be no verbal interaction and you can choose whether to have your video on or not. However, there is a chat function if you want to type in a question or make a comment, which we will answer at the end of the presentation.
Presenters
Two of Cruse's trained bereavement volunteers from the Thames Valley Berkshire Branch.
Helen - retired from a career in education and has been a volunteer with Cruse for the last nine years. She supports people one-to-one and runs bereavement groups. In addition, Helen is specially trained to support children and young people who have been bereaved.
Mary Anne – is a counsellor in her everyday life and has been a bereavement volunteer with Cruse for five years. She also supports people one-to-one and runs bereavement support groups.
Additional bereavement volunteers may also be on the call to support those attending and lead smaller group discussions or answer any questions at the end of the session.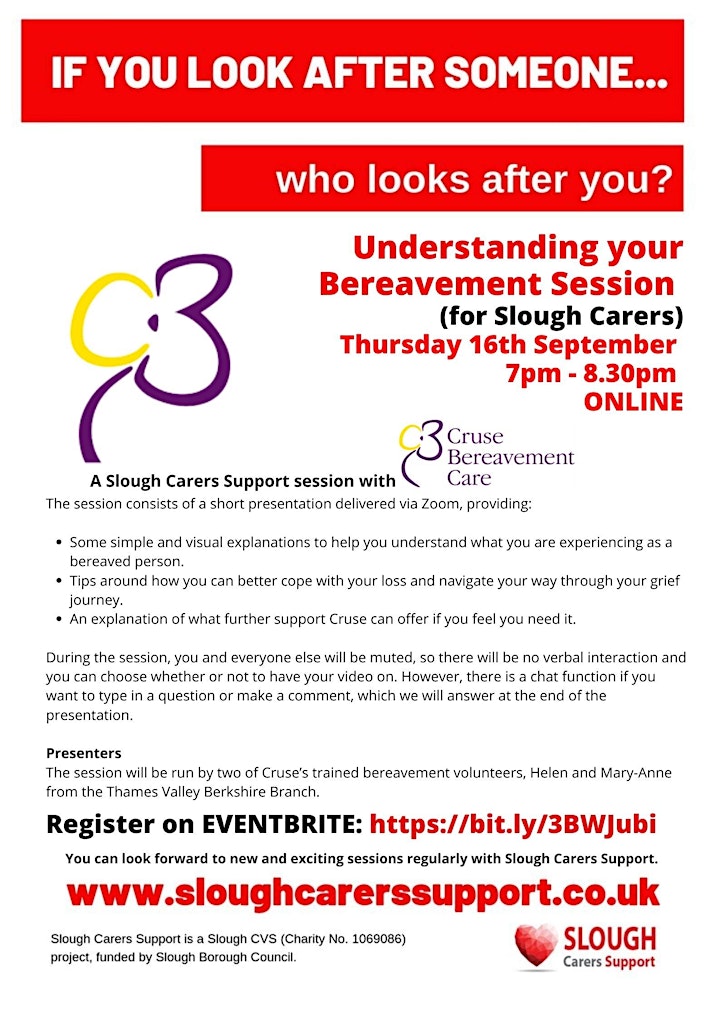 Organiser of Understanding Loss and Bereavement Session For Slough Carers