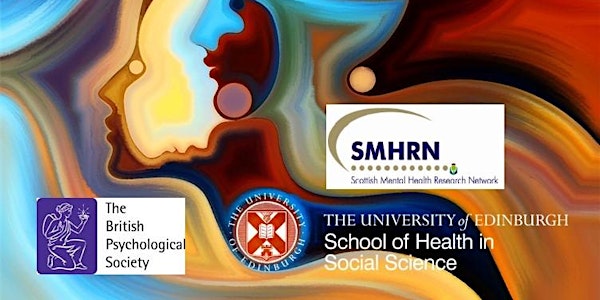 Understanding Psychosis: Recent Advances in Psychological and Early Interve...
Location
Assembly Hall
The Mound
Edinburgh
EH1 2LU
United Kingdom
Description
In 2014, the British Psychological Society published a groundbreaking report on psychosis and schizophrenia, describing important advances in our psychological understanding of these difficulties, and our approach to helping people who experience them. Around the same time, NHS England and the Department of Health published 'Achieving Better Access to Mental Health Services by 2020', which announced a £33m investment in early psychosis services in England, and made clear their intent to introduce 2-week waiting time standards for early psychosis treatment - essentially committing mental health services to provide the specialised 'Early Intervention in Psychosis' services recommended for years by the National Institute for Clinical Excellence.

The University of Edinburgh's Department of Clinical and Health Psychology and the Scottish Mental Health Research Network are hosting a one-day conference on the 26th February 2016, where a range of distinguished speakers - each of whom have been closely involved in shaping these important advances - will discuss their implications for mental healthcare in Scotland. All those affected by psychosis - service users, carers, clinicians, researchers and policy-makers - are warmly invited to attend this free event, which will take place in the historic setting of Edinburgh's Assembly Hall.

Confirmed speakers and contributors include:
Professor Peter Kinderman, President-elect, British Psychological Society
Dr Geraldine Strathdee, NHS England's National Clinical Director for Mental Health and Consultant Psychiatrist, Oxleas NHS Foundation Trust
Anne Cooke, Editor, Understanding Psychosis and Schizophrenia, British Psychological Society, 2014
Dr Lucy Johnstone, Author, Formulation in Psychology and Psychotherapy, 2014
Professor Tony Morrison, Director, Psychosis Research Unit and Member, NICE Schizophrenia Guideline Development Group
Professor Paul French, Associate Director, Psychosis Research Unit and Clinical Lead for Mental Health, Greater Manchester, Lancashire and South Cumbria Strategic Clinical Network
Dr David Shiers, Co-founder and Member, National Early Intervention Leads IRIS Network and Member, NICE Schizophrenia Guideline Group

Stephanie Allan, Expert by Experience and member, Psychosis Research Group, University of Glasgow
Professor Andrew Gumley, Professor of Psychological Therapy, University of Glasgow and Author, Staying Well After Psychosis, 2006

Professor Matthias Schwannauer, Professor of Clinical Psychology, University of Edinburgh and Author, Staying Well After Psychosis, 2006
Professor Stephen Lawrie, Head of Division of Psychiatry, University of Edinburgh
Lesley Smith, Expert by Experience and Network Officer, Scottish Recovery Network