Description
What is Understanding and Working with Self Injury?
It is a half-day educational and awareness raising workshop, with an emphasis on experiential learning and participation.

Who is it for?
Anyone involved in supporting someone who self injures: including health professionals, support workers, housing staff, teachers, youth workers and volunteers.

What are the training goals?
The session combines various teaching methods including discussion, an experiential exercise, small group and pair work and whole group discussion. Each participant receives a resource pack with further learning materials and information about sources of support. The workshop is facilitated to encourage a safe and effective learning environment.
Areas addressed in the workshop include:

Attitudes and preconceptions toward self-injury

The dynamics, meaning and functions of self-injury

Causes and triggers

Cycles of harm

Helpful and unhelpful responses to people who self-injure

Alternative coping strategies

Organisational and clinical responses to self injury
---
Eligibility for a funded training place
This training has been funded by Community Roots - a network of local services committed to supporting good mental health and wellbeing in Brighton and Hove. To be eligible for a funded place you need to be working in the Brighton & Hove area with people in vulnerable or high risk groups. As a guide, we offer each organisation three places per course type, per year. However, for larger organisations further places may be available.
The following exclusion criteria apply to eligibility for funded places:
People not working or volunteering within Brighton & Hove City (City boundary here)
Staff working in traditional Adult Social Care roles
Employees of Sussex Partnership NHS Foundation Trust
If you are unsure about your eligibility for a funded place, or would like further information please contact Grassroots Suicide Prevention directly.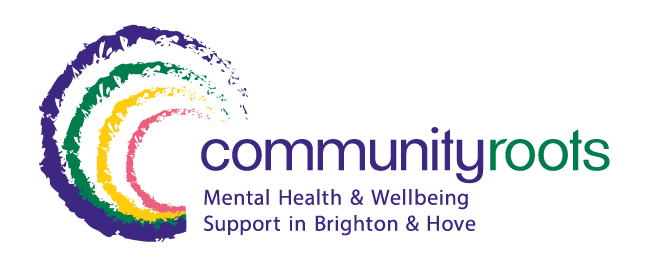 ---
Whole Courses
Whole Courses can be a cost-effective way of training your team in your own venue. If your organisation is based in Brighton & Hove and works with at risk target groups we may be able to offer a discount based on the allocation of funded places. Please contact us to discuss your exact training needs, and possible discounts and funding options.

---
If you are experiencing technical difficulties towards the end of the booking process, please be aware that some workplace security settings do not allow the processing of payment card data. Eventbrite advises to purchase through a private device or alternative internet browser.
For any persistent booking issues or for queries contact us at training@prevent-suicide.org.uk
---
Cancellation & Refunds:
If you need to cancel your booking, please let us know as soon as possible. Our Community Roots places are refunded in full, all other bookings will be refunded within the following policy:
Less than 3 working notice: 100% of fee
4-10 working days notice: 50% of fee
11-15 working days notice: 25% of fee
Over 15 working days notice: no charge