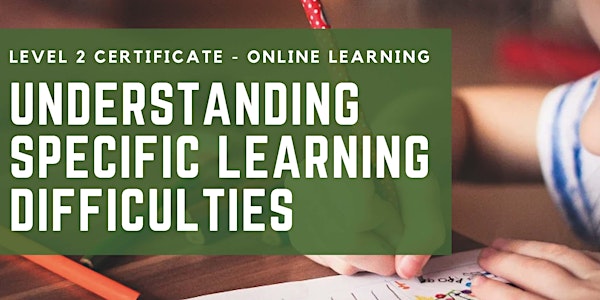 Understanding Specific Learning Difficulties Online Course
If you're looking to improve your understanding and awareness of learning difficulties, this is the course for you.
About this event
Important Information:
This is a 12-week (approx. 120 hours) Online Self-Study qualification course. It can be started anytime and accessed (via a portal) at times/days to suit you. This is not a single event.
When you are ready to start register for the next available date and we will send you the application forms to complete.
Once this is done, we will contact you to organise a short induction via zoom/teams.
This online self-study course allows you to study at your own pace at a time and day that is convenient for you, gaining a level 2 qualification
Course information:
Having a learning difficulty means that people find it harder to learn certain skills.
It is important for those working in health care, social care and education to have knowledge of different Specific Learning Difficulties, how they are diagnosed and how individuals can be supported.
You will learn about a range of specific learning difficulties, including ADHD, dyslexia and dyscalculia. It's great for people working in a variety of sectors, such as healthcare, social care and education.
Course Content
The characteristics of ADHD, ADD, dyslexia and dyscalculia
How specific learning difficulties can affect children and adults in different ways
The importance of early diagnosis
The various assessment methods available to diagnose specific learning difficulties
How individuals can be supported to gain, start and continue with study and employment
How Will I Learn:
All learning will be online (self-study) and can be completed at a time that suits without the need to attend college. Dedicated tutors will provide written feedback on the assessments and ongoing remote support where required.
The course includes online learning materials in the form of interactive resources and flipbooks, a personalised login to access the online learning portal will be given on enrolment.
Each learner will be given a virtual online induction, candidates will be provided with learning and assessment materials that have been developed to support individuals to meet the qualification requirements.
You can only apply for one course at a time however upon completion you can enrol on a further 2 courses per academic year. It can take up to 12 weeks to complete a course
Once you have completed the application paperwork, we will contact you with dates for the induction, this will be online and give you chance to ask any questions.
These course are free, subject to eligibility criteria:
Learners must be aged 19+ on the 31/08/2021
Lived in the EEA/ UK for 3 years