Sales Have Ended
Ticket sales have ended
This event has either sold out or the date has passed, please do look at other upcoming Nicola Morgan events https://www.eventbrite.co.uk/o/nicola-morgan-6606360059
Sales Have Ended
Ticket sales have ended
This event has either sold out or the date has passed, please do look at other upcoming Nicola Morgan events https://www.eventbrite.co.uk/o/nicola-morgan-6606360059
Nicola Morgan, The Teenage Brain Woman, shares deep knowledge and shows you how to support the teenage minds you care about
About this Event
ABOUT THE TALK
All teenagers are different but they are all going through a distinct set of changes that turn them from child to adult. How this affects them varies and some (and the adults who care about them) will find it harder than others. Nicola Morgan is a leading international expert in all the changes in adolescent brains, lives and psychology and will share her key insights. You'll come away with deep understanding and some real "aha" moments, empowering you to feel more confident in your support of the teenagers you care about.
You'll learn about:
Brain differences: self-control, emotions, peer pressure, risk-taking, self-consciousness, sleep
Stress and anxiety: biology and triggers; incorporating brain bandwidth and the truth about screens and social media
Nicola will point you towards strategies and solutions and try to answer your questions.
Aimed at parents, carers, teachers and other professionals living or working with young people aged 10-25. Or anyone interested in this fascinating, often exhausting but much maligned age group.
Nicola will talk for just under an hour, with slides and images, and then take your questions, altogether occupying around 1.5 hours.
Do look at the next talk Nicola is doing: The Power of Sleep - how to supercharge a brain, whether teenage or adult! (Mar 18th 2021)
NOTE: If you buy a ticket to Understanding Teenagers, you will receive a discount of £5 off the General Admission price for The Power of Sleep. This will come in your confirmation email.
If you missed Nicola's last talk, Teenagers in a Pandemic, look at her Vimeo page, where it should be available soon.
ABOUT THE SPEAKER
Nicola Morgan is a multi-award-winning author whose work on young brains, psychology and mental health is loved by teenagers, schools and families around the world. Her most popular titles are the best-selling Blame My Brain - The amazing teenage brain revealed and Positively Teenage. Her latest is The Awesome Power of Sleep .
Nicola is an engaging and very experienced speaker for conferences, schools, parents and public audiences.
Nicola's books are available from all good bookshops an online. She'd love you to support local bookshops by buying from www.bookshop.org but she's happy for you to buy anywhere or borrow from a public library.
Website: www.nicolamorgan.com
Twitter: NicolaMorgan
Instagram: NicolaMorgansBrain
PRACTICAL NOTES
The intended audience is adult, not teenage. Nicola is experienced with both audiences but this is pitched at adults .
This is a Zoom webinar, not "meeting". This means that you will not* be visible or audible. You will be able to ask questions by typing in the Q&A box. (*We can allow you to be heard, with your permission, for example if your question might be better vocalised. But generally in webinars you only see the presenters.)
The event will go live for you to join from 7.20 and the talk will start at 7.30.
When the time comes, you'll be able to join via the button in your confirmation email. You will also need to be registered (free) with Zoom. Please do this well in advance to avoid problems.
If you are also ordering a signed book/s, this will be posted after the event.
You will be given access to a bundle of free downloadable resources after the talk.
You will receive a reminder email the day before the event. Please don't ignore it as it might have important information!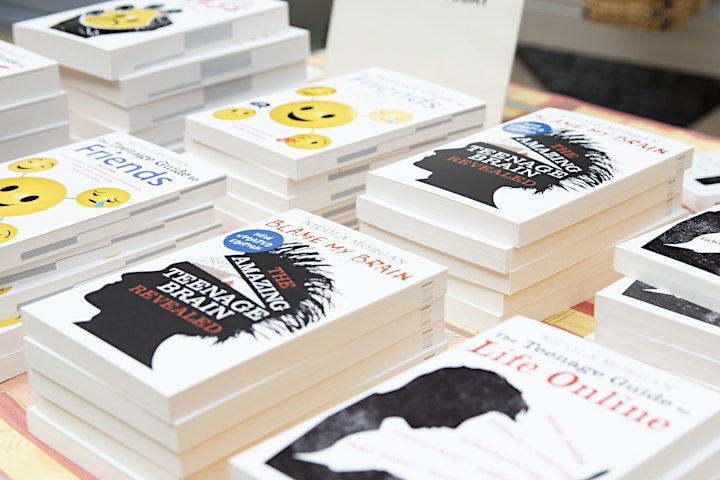 Date and Time
Location
Refund Policy