Description
UNDIVIDED is an annual summer festival aimed at eradicating every form of division, segregation and disunity amongst our community hosted by the Come Out Of Hiding family (COOH). We believe that it is better to love than to hate, as we were created to love and be loved.
We are back again this year for the third time and if you missed it last year and the year before that you do not want to miss it this year! We have seen the community come together in a beautiful way, laying aside our differences and embracing the beauty in them. We have seen people of all ages and backgrounds come together in one place and celebrate the beauty of humanity.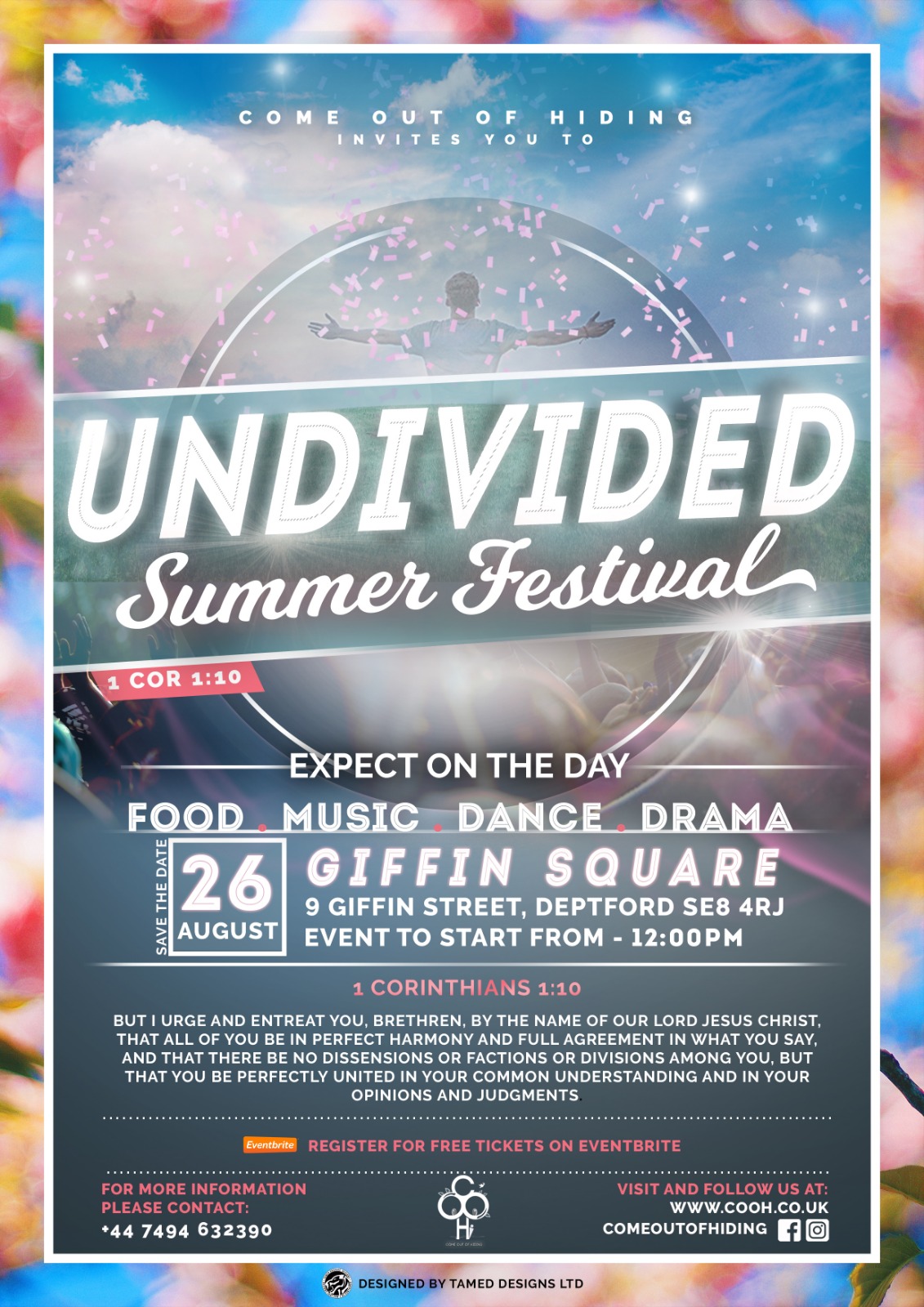 ON THE DAY YOU CAN EXPECT ALL FOR FREE:
- DJ
- LIVE MUSIC
- MINISTRATIONS FROM (Still Shadey, Lauren Milne, Triple O, Spirit Led Worshipers and Many More....)
- FUN STUFF, FACE PAINTING INFLATABLES AND GAMES
- THERE WILL BE FOOD AND OTHER ITEMS FROM VARIOUS STALLHOLDERS THAT CAN BE PURCHASED AT A REASONABLE PRICE.
It is going to be an amazing time for families to meet together and meet other locals in their community.
Everyone is welcome.
Everyone is invited.
And there is something for everyone.
Come with a friend, a neighbour, a family member and let us stand UNITED and UNDIVIDED as one.
Please note that this event will be photographed and videod. This event is being filmed for display, distribution and broadcast, including the World Wide Web and all social media platforms. By attending and participating in this event, you are giving consent to be filmed and waiving any and all claims regarding the use of your image and footage of you.
For more information contact us at
www.cooh.co.uk
Email- info@cooh.co.uk
Instagram- @comeoutofhiding