Description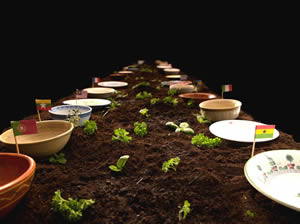 We're really sorry but this event is now
SOLD OUT!

-------------------------------------
We're attempting to create the world's longest tasting menu, which will consist of 193 (bite-sized) courses - one from each country in the world!
We're inviting you to taste a piece of the world with our 193 course pop up restaurant in Soho, Central London on Friday 14th & Saturday 15th June.
You'll be transported on a culinary tour and will be able to try a small selection of some of the most unique dishes from around the world such as Meat Gutab from Azerbaijan, Grasshoppers from Congo, Durian fruit from Malaysia and birds milk from Romania.
Entry to the world's longest tasting menu is by ticket and costs £10 for an hour seating.
So, if you've ways wanted to travel the world why not come along to our 193 course pop up and try regional delicacies from various countries and we'll put a stamp in your passport.

All money raised is being donated to our friends Action Against Hunger