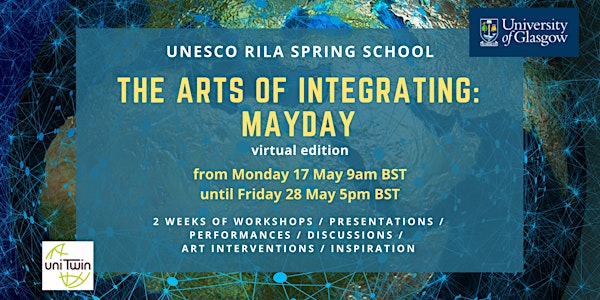 UNESCO RILA Spring School: The Arts of Integrating (MayDay!)
Sales Have Ended
Registrations are closed
Unfortunately sales for this event have ended, but the UNESCO RILA team organise a range of events throughout the year and you might be able to get tickets for one of the other events. Please go to http://bit.ly/RILA_Events to check availability.
Discussions, workshops, performances, presentations, collaborative art and more, celebrating and creating language, art and integration.
About this event
Welcome to our 4th annual UNESCO RILA Spring School: The Arts of Integrating!
Join us at this free two-week festival, combining academic thought with artistic and linguistic practice in an effort to share and create new ways of working in the context of integration.
See the full programme here (see also some pages of the programme at the bottom of this page).
The theme for this year is MayDay and we have curated a programme that
➜ explores the ways in which the arts are used to express distress and in the questions of efficacy which are raised when artists engage in applied work or align their work with groups. Is this work exploitation or is it mutuality?
➜ addresses how we affirm dignity when dignity is stripped. What is the role of the arts and language and culture in dignifying human beings and their environments?
➜ explores multilingual dimensions and origins of words for 'help' or 'aid'. How do we avoid sentimentalising care or aid or hospitality? We are especially keen to open out critical discussions of humanitarianism and aid to human-centred understandings of the ethics of care.
➜ provides reflections and stories from those who help and have been helped in the creation of refuge, from those who understand their stories as those as people seeking sanctuary and those who understand themselves as aligned to and connected through critical reflection and practical or artistic work to the movements of people saying 'Refugees Welcome'.
➜ provides policy discussions of what help looks like pragmatically when delivered through services, councils, NGOs, and the absences around assistance.
➜ tells the many stories of those engaged in volunteering, art making, academic research who are ambivalent about the place of help, of 'white saviour complex' and humanitarianism and those who are focused on legal remedies. For more info see the Manifesto of RISE setting out guidelines for arts engagements with those seeking refuge.
➜ can provide relief through creativity to all of us during this trying time of covid-19.
➜ links in with the themes of COP26, in particular climate justice and how to help communities adapt to, and prepare for, the worst impacts of climate change.
What to expect?
Just like in previous years, we have a fantastic line-up for you, to tingle the senses and get the grey matter going. This is an online event, but a lot of the activities are offline and self-directed, to allow people in different time zones to participate as well.
Get ready to try your hand at photography, play-writing, debating, listening, walking, poetry, meditation and sharing at this extremely colourful and divers array of activities. With the increased amount of screen time a lot of us are facing, we have taken steps to care for your eyes, your mental health and your social needs, through a variety of online and offline well-being extras.
You are not expected to come to every single session (although you are more than welcome to), but we do expect active participation in the events you choose to attend. This is not a lean back and half-listen affair, the power lies in the sharing and joint creating of ideas. We want to hear from you!
Although all communication around the event is in English, we value multilingualism and participation in different languages is greatly encouraged.
When you register, you will receive access to our dedicated Spring School website, where all the links to the virtual conference rooms, videos, forum and more will be published. You will also receive a separate festival pack by email.
For those who live in different time zones, we will be recording a selection of the sessions. As a lot of the interactive activities happen offline, you will still be able to participate in a large part of the programme.
Line up for this year:
Keynotes:
Samson Kambalu (Artist, Associate Professor of Fine Art at Ruskin School of Art and a fellow at Magdalen College, Oxford University) - Cinema and Praxis
June Bianchi (Senior Lecturer in Arts and Design Education at Bath Spa University) and Antonella Alessi (Project Manager at Centro per lo Sviluppo Creativo "Danilo Dolci") - ArtsTogether Inclusive Curriculum: supporting integration of migrant children through intercultural arts educational strategies
Jess Thompson (founder and CEO of Migrateful) and Elizabeth (chef)- Making Migrateful: The intersection between food, culture and integration
Alison Phipps (UNESCO Chair in Refugee Integration through Languages and the Arts and Professor of Languages and Intercultural Studies at the University of Glasgow) - Masquer'aide. Covering and Recovering
Workshops:
Prof Anne Storch (University of Cologne) and Dr Angelika Mietzner (University of Cologne) - Reciprocity and the senses: a reply to mayday
Becky Duncan (Open Aye) - Well-being of the Woods: Feel-good photo walks in nature
Erdem Avşar (UNESCO RILA Affiliate Artist) - Dramatic writing techniques for non-native English speakers
Claudia Schneider and Joceline Berger-Kamel (wirsprechenfotografisch) - Perspectives for creative art and exhibitions in the time of the corona lock down
Lucy Cathcart-Frödén (University of Glasgow) and Rachel Morley (clinical psychologist) - Designing a ritual in response to loss
Sarah Cox (University of Glasgow) - 'You and me, we're the same. You struggle with Tigrinya and I struggle with English'. Language ecologies and linguistic repertoires
Vicky Mohieddeen (Creative Producer and Arts and Wellbeing Facilitator) - Life In the Time Workshop: Conversations
Victoria Bianchi (Queen Margaret University) - Christmas Cakes: A reflective space to share stories, reflections and harisi
Martha Orbach (UNESCO RILA Affiliate Artist) - To build a home
Tawona Sitholé (University of Glasgow and Seeds of Thought) - Comforting Sounds
Paria Goodarzi (UNESCO RILA Affiliate Artist) and Francisco Llinas Casas (UNESCO RILA Affiliate Artist) - Dialogues of Light
Salma Zulfiqar (ARTconnects and UNESCO RILA Affiliate Artist) - ARTconnects - Corona Revolution
Giovanna Fassetta and Esa Aldegheri (both University of Glasgow) - Take Wing: Multilingual Flying for Weary Times
Hannah Rose Thomas (University of Glasgow) and Jennifer Sturrock (artist) - Creative Attention
Migrateful cooking class - Lebanese with chef Ahmed (paid session)
Tawona Sitholé (University of Glasgow), Kate Cowcher (University of St Andrews), Madeleine Conn (Argyle and Bute Council), Elikem Logan and Meredith Loper (both Argyle Collection) - Dar to Dunoon: A closer look
Presentations:
Asha Varadharajan (Queen's University Canada) - Fabled Tenderness: Reflections on the Dignity of Distress and the Ravages of Care
Hyab Yohannes (University of Glasgow) - Stories of refugee trafficking: 'They raped and buried my friend alive'
Robert McNeil MBE (Remembering Srebrenica UK and UNESCO RILA Affiliate Artist) and I.D. Campbell (UNESCO RILA Affiliate Artist) - Artists on Conflict
Argyro Kanaki (University of Dundee) - The Art of Integration: M'Aidez, May Day and MacIntyre
Interviews and discussions:
Effie Samara (Red Women Theatre, UNESCO RILA Affiliate Artist, University of Glasgow) - Plato and Love: Two Theories of Distress
Ken Gordon (Refugee Voices Scotland podcast) - live interview with Nazek Ramadan (Migrant Voice)
Royal Society of Edinburgh with Alison Phipps (University of Glasgow), I.D. Campbell (UNESCO RILA Affiliate Artist), Dr Shawki Al-Dubaee (Universities of Strathclyde and Glasgow), Dr Alaa Hamdon (Mosul University) and Nikki Moran (Young Academy of Scotland) - At-risk Academic Refugees: A Portrait
Steven Ritchie (Ice & Fire's Actors for Human Rights) and Kate Alexander (Scottish Detainee Visitors) - Detention Dialogues (revisited)
James Rann and Elena Dardano (both University of Glasgow) - Help Lines: Longing for a World Culture
Marzanna Antoniak (Poetry Patter) - World Words - Collecting words from around the world and their stories
Dr Gameli Tordzro (University of Glasgow and Adinkra Links), Elizabeth Oluwatuyi (artist), Ellen Bonsu (artist) and Naa Densua Tordzro (University of Glasgow) - A Conversation on African Portraiture and Textile and Music Making as Expression of African Dignity in Spaces of Distress
Fatumo Osman (Dalarna University and Ladnaan podcast), Corinne Ottroh (UNESCO RILA Ambassador), Hannah Gibbons (Refuweegee), Olivia Ndoti (Community Infosource) and Alison Phipps (University of Glasgow - UNESCO RILA Sofa Café on Displaced Mothers
Dr Emily-Marie Pacheco (University of Glasgow) and Şirin Zaferyıldızı (educator and artist) - 'IMDAT': Turkish-Cypriot Representations of MayDay Through Children's Poetry
Well-being sessions:
Bradley Smith and Filipa Thomas (Single Shoe Productions) - Take Us There
Alison Phipps (University of Glasgow)- Poetic gardening with Alison
Julie Ward, Sam Slatcher and Shams Abdou Moussa (City of Sanctuary UK) - Funday Fridays
Clare Robertson (UNESCO RILA Affiliate Artist) and Naa Densua Tordzro (MIDEQ and UNESCO RILA Affiliate Artist) - Communicating healing, resonance and well-being through music, voice, textiles and symbols
Tawona Sitholé (Seeds of Thought and University of Glasgow) - storytelling sessions
Dr Gameli Tordzro (Adinkra Links, Ha Orchestra and University of Glasgow) - storytelling sessions
Jen Wilson (I Am Jen Wilson) - yoga and meditation
Ha Orchestra - Music in Times of Distress
Mohamed Omar (Mental Health Foundation) - Refugee Perspective(s) on 'Nature', Mental Health Awareness Week 2021
Musicians in Exile - fundraising performance
See below some pages from the programme booklet to whet your appetite.
Get your free ticket now and join us in May!