Location
Asia House
63 New Cavendish Street
London
W1G 7LP
United Kingdom
Description
Unexpected Heritage: Freddie Mercury's Hidden Roots
#AsiaHouseArts
FREE FOR STUDENTS!
To his legions of fans the world over, Queen frontman Freddie Mercury was a quintessentially British rock star. Few are fully aware of the extent to which his image, art and lifestyle contradicted a complex and misunderstood past. So who was the man behind the artist? Those who knew him concede that his background was far more complicated than he ever admitted to, and that it was characterised by an exalted sense of identity.
Freddie's family were migrants. His Zoroastrian Parsi parents moved from their native India to Zanzibar, whence they ran for their lives in 1964 to settle in England. Like his Persian ancestors, Freddie integrated well into this new adopted culture. He offloaded the surname Bulsara in favour of the more flamboyant Mercury, reinvented his image and identity, and metamorphosed into a Western pop icon. Despite these radical departures from his roots, he remained proud of and true to his heritage.
"I think what his Zoroastrian faith gave him," his sister Kashmira Cooke explained, "was to work hard, to persevere, and to follow your dreams."
Join us as we welcome Freddie's friend and colleague Lesley-Ann Jones, author of Bohemian Rhapsody: The Definitive Biography of Freddie Mercury. She will divulge much more about Freddie's mysterious personal history, his relationship with the place of his birth, his family's heritage and his little-known religion. She will also share surprising anecdotes and personal experiences of the Freddie she knew. The author will present her Sunday Times Bestselling biography of Freddie, and will be signing copies at the end of our event.
About Lesley Ann-Jones
Lesley-Ann Jones is a British biographer, novelist, broadcaster and keynote speaker.
She honed her craft on Fleet Street, where she was employed as a newspaper columnist and feature writer for more than twenty years. She has also worked extensively in radio and television, appears regularly in music documentaries in the UK, USA and Australia, and is the writer and co-producer of The Last Lennon Interview. A film about the final encounter, in New York, between the former Beatle and ex-BBC Radio One presenter Andy Peebles, it has sold all over the world.
Recent works include Hero: David Bowie, Imagine, and Ride a White Swan: The Lives and Death of Marc Bolan. Her globally-acclaimed definitive biography of Freddie Mercury has been republished to accompany the band's long-awaited eponymous feature film, which opened in the UK on 24th October 2018.
She is the mother of three children, and lives in London.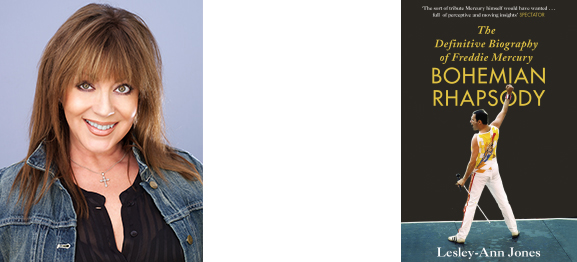 This event is part of the Asia House 2019 Winter Arts and Learning Programme, a completely unique initiative in the UK in presenting a pan-Asian artistic and cultural programme with a scope of more than 40 countries in the region. Through our programme of events on arts, culture and education we act as a catalyst for the discovery of the diverse arts and cultures of Asia and the Asian diaspora, and serve as a bridge of understanding between the UK and Asia.
Sign up to our mailing list for all the latest on this year's events, and visit our Eventbrite profile to book more tickets!