Location
CodeBase Ltd
8 - 10 Corn Exchange Road
Stirling
FK8 2HX
United Kingdom
Open to everyone, come to connect with members of the Stirling tech community. Limited free hotdesking available with signup!
About this event
What is it?
Open to everyone, come to CodeBase Stirling to connect with members of the local tech community. Come for a coffee and stay for the hotdesking!
When is it?
The first Wednesday of the month, from 08:30 to 09:30 in our Ground Floor Reception/Hotdesking space.
Registration
We ask everyone to sign up individually so we can have an estimate of how many people want to attend and make sure we comply with the government guidelines on Covid. We will also check-in each person on Eventbrite as they join the event so make sure you've signed up to the event in order to attend!
There are two tickets options:
Unfiltered only = just join us for a coffee/tea between 08:30 and 09:30
Unfiltered + Hotdesking = join us for a coffee/tea between 08:30-09:30 and stick around for the day, we'll save you a seat in our hotdesking area where you can access a chair, a desk and coffee/tea
Tickets are very limited so be sure to register!
Covid-19 guidelines
We're very excited to bring back in-person events but our top priority is to keep our community safe.
The Scottish Government has issued new Covid-19 safety information that came into effect from Monday 18th April which includes the wearing of masks moving from a legal requirement to guidance only. With this in mind, from the 18th April CodeBase tenants, staff and attendees are no longer required to wear face coverings in common areas.
Scottish Government advice remains that mask wearing remains 'strongly recommended' and any member of our community or event attendee who continues to choose to wear a face covering will be fully supported in doing so. We ask that everyone respects individual decisions. We'd also ask everyone to respect the personal space of those who choose to continue to wear a mask.We are also supportive of the Distance Aware campaign for people who wish to show others they would welcome additional space and extra care while out in public.
Posters are displayed through the building explaining the campaign, and visitors and event attendees can also collect a sticker from reception with the Distance Aware yellow shield logo.
If you meet someone wearing a sticker, please be respectful of their wishes and maintain a 2m distance.
Hand sanitation stations will remain in place and we encourage people to continue to use these.
If you have any queries or questions, please do ask a member of the team or email stirling@thisiscodebase.com. #BeDistanceAware
Code of Conduct
Our events are dedicated to providing a harassment-free experience for everyone, regardless of gender, gender identity and expression, age, sexual orientation, disability, physical appearance, body size, race, ethnicity, religion (or lack thereof), or technology choices. We do not tolerate harassment of event participants in any form. Sexual language and imagery is not appropriate for any conference venue. Event participants violating these rules may be sanctioned or expelled from the event without a refund at the discretion of CodeBase.
Please see the full code of conduct on our website: https://www.thisiscodebase.com/code-of-conduct
Privacy Policy
By clicking the button to submit this form, you are consenting to the information you provide being used by CodeBase Ltd to contact you directly. We may share your information with appropriate partners in order to make relevant individual connections. We will not use your email address for Marketing purposes.
Please see our Privacy Policy for more information on our Data Protection and Privacy Policy.
Photographs
Please note that photographs and footage will be taken throughout the event. These will be used by CodeBase for marketing and publicity in our publications, on our website and in social media or in any third party publication. Please contact us (stirling@thisiscodebase.com) if you have any concerns.
FAQs - Frequently Asked Questions
What is hotdesking?
Hotdesking means you get access to a desk, a chair (and coffee/tea!) in our hotdesking area. It's a community space where techies but also the CodeBase Stirling Team work.
You can read more about hotdesking on our website: https://www.thisiscodebase.com/stirling/#hotdesking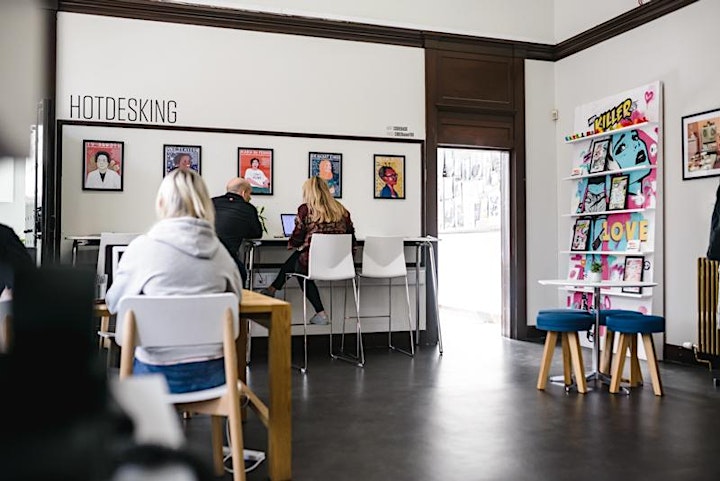 I want to come with a friend/colleague, do we need to sign up separately?
You can register two people at once but we'll need the details of each individual. For Covid reasons, we ask everyone to sign up with their first name, last name, company name and an email address. We will also check in everyone via the Eventbrite app as they come in.
How long does the event last?
The event takes place from 8:30 to 9:30. Join us for half an hour to say hello or stay around for the whole thing, whatever works with your schedule — but please register regardless!
Will food and drinks be served during the event?
We will be serving coffee, tea and some breakfast snacks. If you have any dietary requirements, please let us know when registering and we will do our best to accommodate.
Is the event space accessible?
Yes, the event space and hotdesking area are located on the ground floor. There are stairs to the main entrance of the building but there is an accessible entry. If you're a wheelchair user or if you require any assistance, please let us know in advance by mentioning it when registering or emailing anais@thisiscodebase.com. If you have any questions regarding accessibility or there's anything we can do to make the event more accessible for you, please email anais@thisiscodebase.com
Get in touch!
When signing up to this event on Eventbrite, you will see a question prompt asking you if you've got any accessibility needs.
If for whatever reason, you're not comfortable to fill out this box but there are any accessibility needs you'd like to make us aware of, regardless of what they are, please feel free to reach out directly to our Community & Events Manager Anais (she/her, anais@thisiscodebase.com).
If you'd rather speak to someone on the phone, you can reach CodeBase Edinburgh reception on 0131 560 2003.
You may contact us at stirling@thisiscodebase.com with any questions about this event.