Description
The second event from the Rochester Literature Festival team explores and celebrates the unfinished in writing, from our countless contributions to the Internet, to the pile of manuscripts littering our corners, begging to be revisited.
Come along to read or discuss a work-in-progress. Join in with the bloggers' forum. Or enjoy dark tales in the basement.
12 noon Doors open
12.20-12.50pm Basement Gothic (Over 18s only)
1-2.00pm Unfinished – readings & discussion
2.15-2.45pm Basement Gothic (Over 18s only)
3.00-4.00pm Bloggers' Forum
There will also be a children's book corner, a book stall and t-shirts for sale from local master doodler, Ben Cameron.
Refreshments will be available to buy for a small charge.
Please note, our venue (http://coFWD.org) is a very old bank building that is being slowly shaped by a community of individuals for long-term Community Interest. Sadly, the startup project is in its infancy and being run on limited funds so the building currently has some accessibility issues. If you have specific access or disability requirements and would like to participate in an event or activity please let us know at least 5 days before the event date so that we can do our utmost to resolve any potential problems to accommodate.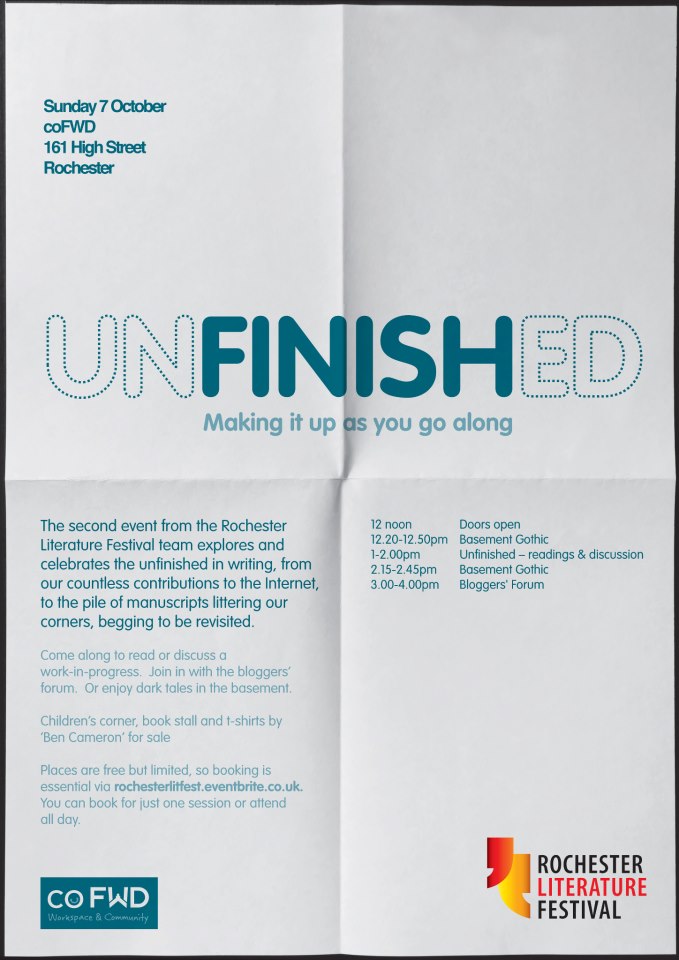 For readers, writers and like minds. 
We work to expand the horizons of the many diverse communities in Medway, and collaborate with like minded folk to do that, believing that literature is for everyone and can bring a community together, to learn from each other and experience great multi-arts activities together to aid community spirit and wellbeing.