A series of 4 online talks organised in partnership with Surrey Gardens Trust on Weds @ 6 from 6th October, £5 each or all 4 for £16.
About this event
This ticket costs £16 for the entire course of 4 sessions or you may purchase a ticket for individual sessions, costing £5 via the links below. Please note the earlier start time of 6pm.
Attendees will be sent a Zoom link 2 days prior to the start of the talk, and again a few hours before the talk. A link to the recorded session (available for 1 week) will be sent shortly afterwards.
Surrey Gardens Trust are delighted to share some very special and unforgettable gardens from their rich legacy of historic parks and gardens
Week 1. 6 Oct. Sutton Place: Part of a series of 4 online lectures, £5 each or all 4 for £16.
Week 2. 13 Oct. Munstead Wood: Part of a series of 4 online lectures, £5 each or all 4 for £16.
Week 3. 20 Oct. Muslim Memorial Peace Garden: Part of a series of 4 online lectures, £5 each or all 4 for £16.
Week 4. 27Oct. Albury Park: Part of a series of 4 online lectures, £5 each or all 4 for £16.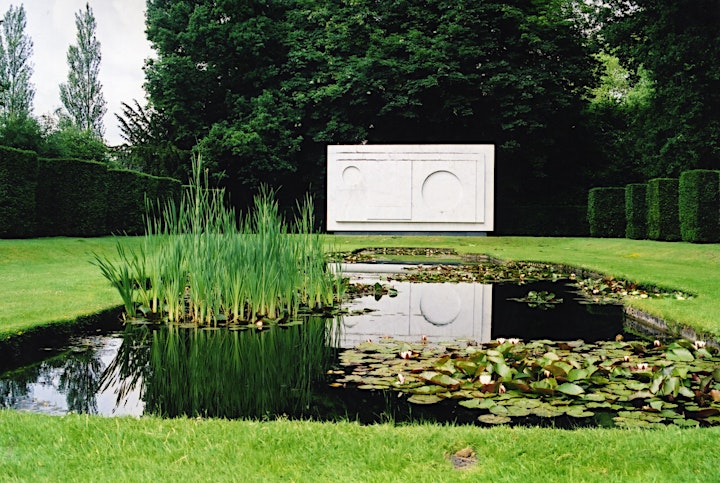 Week 1. 6 Oct: Sutton Place with Cherrill Sands
Sutton Place is a Grade I Tudor mansion with a Grade II* Registered Garden, four miles north of Guildford, on rising ground in the crook of the River Wey. It is an exquisite confection of brick, stone and terracotta and was the home of Sir Richard Weston, friend and courtier of Henry VIII. To the west of the house, a walled garden and small octagonal pavilion survive. Sometime before 1700, a double lime avenue was planted leading northwards. Little was added to the garden. But in the early twentieth century, Lord and Lady Northcliffe created a fashionable wild garden, rose gardens, and a small water garden with some input from Gertrude Jekyll. Later owners were the Duke and Duchess of Sutherland. They entertained lavishly, hosting influential visitors, including the Duke of Windsor and Winston Churchill.
In 1959, American millionaire J. Paul Getty bought the property, who lived there surrounded by his art collection until his death in 1976. The next owner, Stanley Seeger, commissioned Sir Geoffrey Jellicoe to design new gardens in 1980. This immense project, inspired by psychology, symbolism and Renaissance and Modern Art, was only partially implemented, but Jellicoe's surviving plans and writing are evidence of his imaginative and exciting ideas. He saw the design as an allegory of Creation, Life and Aspiration. Although Sutton Place is closed to visitors, it remains an important Surrey Garden. Those who have experienced it have found it truly unforgettable.
…..
Cherrill Sands is a garden historian with an MA in the Conservation of Gardens, Landscapes & Parks from the Architectural Association, London. She is the Historical Consultant for Painshill in Surrey and teaches and presents garden history and theatre talks. Cherrill has been a member of Surrey Gardens Trust for over twenty-five years and is a former Chair and member of Council. She remains part of their Research and Recording team.
.....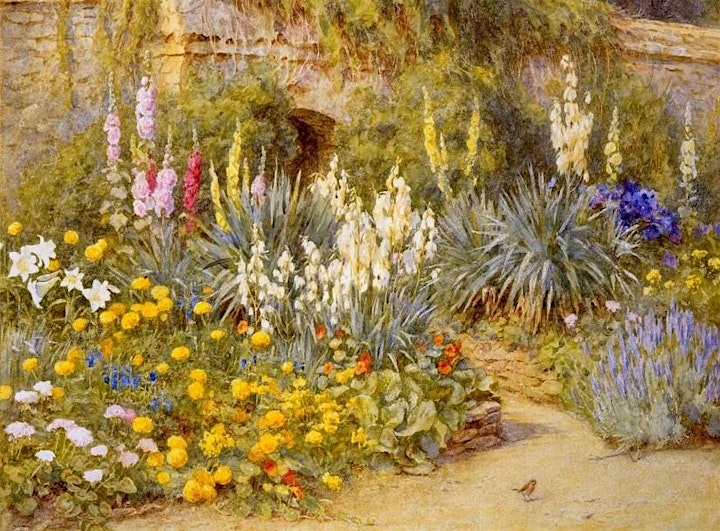 Week 2. 13 Oct. Munstead Wood with Richard Bisgrove
As anyone with an interest in garden history will know, the garden at Munstead Wood was the creation of Gertrude Jekyll, who lived there from the early 1880s until her death in 1932.
When Miss Jekyll bought the 15 acres (6 ha) of acid heathland across the lane from her mother's house, Munstead House, in 1882, most of the triangular plot had been logged of its pines and had developed a secondary growth of oak, sweet chestnut and pine with an understorey of holly. From an unprepossessing start, Miss Jekyll created a garden that achieved international renown. Her efforts were described in her books Wood and Garden (1899), Home and Garden (1900) and especially in Colour in the Flower Garden (1908), later published as Colour Schemes for the Flower Garden.
The enormous success of this last book leaves many people with the impression that Miss Jekyll cared only for colour, but in the closing remarks in the book, she wrote, 'If in the foregoing chapters I have dwelt rather insistently on matters of colour, it is not that I under-rate the equal importance of form and proportion, but that I think that the question of colour, as regards its more careful use, is either more commonly neglected or has had fewer exponents.'
In his talk, Richard Bisgrove will outline the full range of Gertrude Jekyll's gardening interests at Munstead Wood and comment on the challenges of caring for the garden in the 21st century.…..
Richard Bisgrove gained a First-Class Honours degree in Horticultural Science at Reading (1965), a Master's in Landscape Architecture at the University of Michigan (1969), and then worked briefly as a landscape architect in Florida before returning to the University of Reading to lecture in Amenity Horticulture. In 1986, at Reading, he introduced Britain's first-degree course in Landscape Management, retiring as its Director in 2009.Richard was for many years a member of the Council and Conservation Committee of the Garden History Society. He served for nineteen years on the Gardens Panel of the National Trust. He has lectured internationally and written eight books on aspects of garden design and garden history, including The National Trust Book of the English Garden (Viking 1990; Penguin 1992), The Gardens of Gertrude Jekyll (Frances Lincoln 1992; University of California Press 2000) and William Robinson: the wild gardener (Frances Lincoln 2008). Richard has been awarded the Veitch Memorial Medal by the Royal Horticultural Society, the Peter Youngman Award by the President of the Landscape Institute and Honorary Fellowship of the Kew Guild.
Image: © detail, South Border at Munstead Wood, Helen Allingham (1900/1903), Garden Museum
.....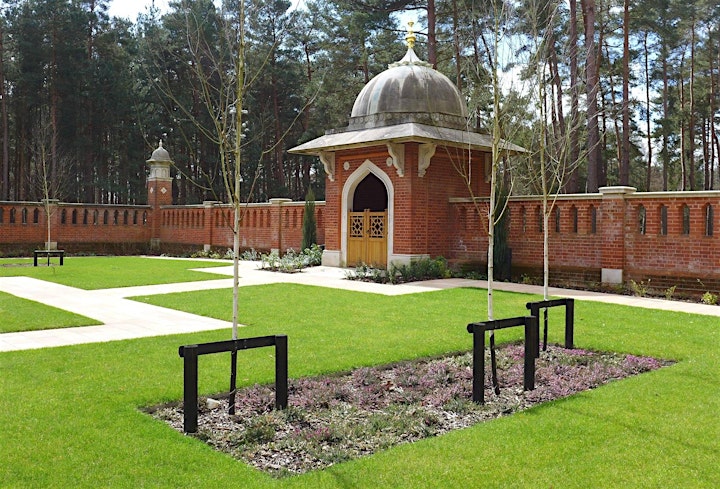 Week 3. 20 Oct: The Muslim Memorial Peace Garden with Elizabeth Cuttle
This unique Grade II listed site is situated on the southeast corner of Horsell Common. Established in 1917, it was the original resting place for the 24 wounded Muslim soldiers who died at hospitals in England after serving our country during World War I and II. In the 1960s, the site was vandalised regularly, and the bodies were moved to the Military Cemetery at Brookwood.
During the summer of 2013, work began to restore the empty interior of the Muslim Burial Ground's structure to create a garden of peace and reminiscence. The garden is now a significant site and a truly contemplative garden space which provides a focal point for acts of commemoration and remembrance, dedicated to all the Muslim soldiers of the British Indian Army who died during both wars.
…..
Elizabeth has a degree in Environment and Landscape studies and later studied horticulture at Merrist Wood and Nescot.She is a long-term member of Surrey Gardens Trust and served on Council for four years. She has been a Trustee of Horsell Common Preservation Society, who own Horsell Common in Woking and the Muslim Burial Ground, for twelve years. She was appointed to work with Dr Zafar Iqbal of Woking Borough Council on the project to restore the Muslim Burial Ground. For personal reasons, she knew how much memorials to fallen soldiers mean and felt privileged to be involved in the project.
…..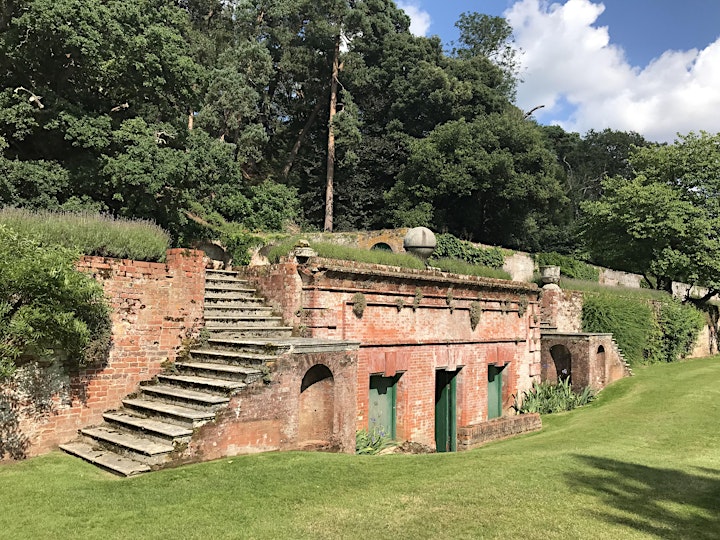 Week 4. 27 Oct: Albury Park with Jan Clark
Albury Park in Surrey lies in the sheltered valley formed by the little stream the Tillingbourne. Within the park's pleasure grounds remain much of the gardens designed by John Evelyn in the 1660s for his friend Henry Howard, 2nd Earl of Arundel. The original two 390m metre long immaculately grassed terraces, each 12 metres deep, dominate the rising ground to the north and are both backed by high walls. At the centre of the top terrace is an exedra with 13 niches, to the front of which is a semi-circular pool and fountain dated 1666. The central niche contains the entrance to the 150-metre tunnel or crypta under Silver Hill – a reference to the Grotto at Posilippo near Naples with its illusions to Virgil. The lower terrace has a Bath House at its centre. The brick-vaulted room has three rounded niches on three sides with the original showerheads over each. This private garden contains many superb specimen trees planted in the early eighteenth century, which are still being added to by the present owner, the Duke of Northumberland. Evelyn perhaps created the gardens as a memory theatre to Italy and the memory of the 1st Earl of Arundel in whose circle Evelyn spent his early years. In the 1630s, Arundel had created a somewhat similar garden on the same spot as Evelyn's. A series of drawings by Wenceslaus Hollar survive.
…..
Following retirement from Brooklands College, Jan Clark joined Painshill in 2001 after enjoying an extramural course on garden history while at the University of Surrey. Since then, she has been at Painshill as a volunteer guide, speaker, and researcher. She has written articles in the Garden History Journal, the Folly Fellowship, and Surrey Garden Trust. She has been a member since the early 2000s.
…..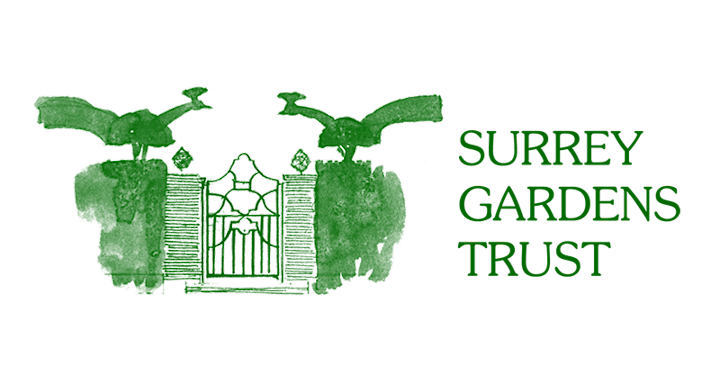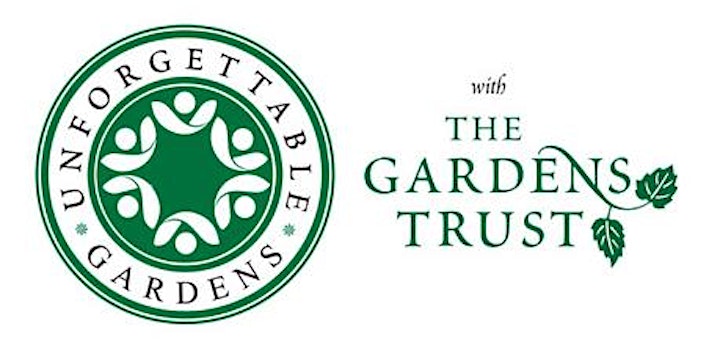 Organiser of Unforgettable Gardens
The Gardens Trust is the UK national charity dedicated to protecting our heritage of designed gardens and landscapes. We campaign on their behalf, undertake research and conservation work, train volunteers and encourage public appreciation and involvement, working with the national network of County Garden Trusts.

Please join or donate to support us: http://thegardenstrust.org/support-us/
For details of our privacy policy see: http://thegardenstrust.org/privacy-cookies/