Event Information
Refund Policy
Contact the organiser to request a refund.
Eventbrite's fee is nonrefundable.
A series of online talks on Weds @ 7 from April 7th presented in association with Welsh Historic Gardens Trust £5 each or all 4 for £16
About this Event
This ticket costs £16 for the entire course of 4 sessions or you may purchase a ticket for individual sessions, costing £5 via the links below.
Attendees will be sent a Zoom link 2 days prior to the start of the talk. A link to the recorded session (available for 1 week) will be sent shortly afterwards.
Week 1. April 7. Hafod: Part of a series of 4 online lectures, £5 each or all 4 for £16.
Week 2. April 14. Plas Cadnant: Part of a series of 4 online lectures, £5 each or all 4 for £16.
Week 3. April 21. Aberglasney: Part of a series of 4 online lectures, £5 each or all 4 for £16.
Week 4. April 28. National Botanic Garden of Wales: Part of a series of 4 online lectures, £5 each or all 4 for £16.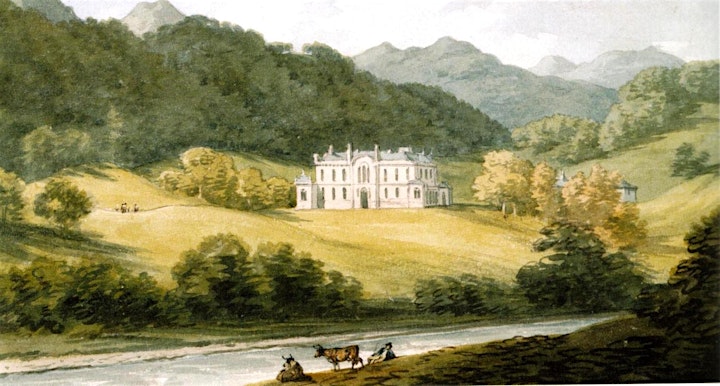 Week 1 7th April: Hafod by Jennie Macve
Hafod has been described as the finest example in Europe of a landscape designed purely in the style of the Picturesque. A remote manor house and poor estate occupying a valley on the western side of the Cambrian Mountains, it was inherited in 1780 by Thomas Johnes. He set about interpreting the genius of the place and making it accessible to visitors. It became an essential destination on a tour of Wales, and the subject of numerous sketches and rhapsodic descriptions by late 18th century tourists.
The estate changed hands several times in the following two hundred years, but although private owners and the Forestry Commission increased the extent of plantations, little was done to change the underlying structure. Its remoteness helped to protect it from development or unsympathetic use. During the conservation project, begun in 1991, the landscape features have been revealed and some ten miles of walks restored, taking visitors to meadows, old woodlands, gardens, waterfalls, caves, and wonderful views.
…..
Jennie Macve has a degree in Geography from Oxford and, after moving to Aberystwyth in the late 1970s, became interested in garden and landscape history. She has been involved with the Hafod project since its outset, firstly as a volunteer. With the formation of the Hafod Trust in 1994, she became its Secretary and later its part-time administrator and research officer .She was a major contributor to its successful application to the Heritage Lottery Fund in 1998. She is the author of the guidebook, The Hafod Landscape, published in 2004 and has written or edited other publications on Hafod and local history.
Working with Debois Landscape Survey Group, she has carried out archive and field research at historic landscapes in Devon , Hampshire and Hertforshire. Although now retired, she remains a trustee of the Hafod Trust and also of Welsh Historic Gardens Trust. She has recently moved to south Shropshire.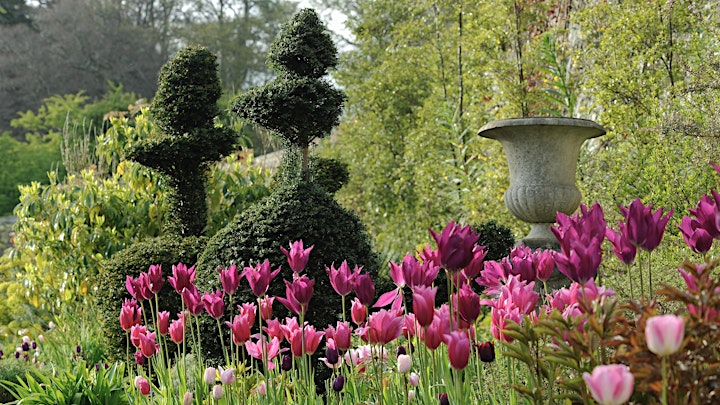 Week 2 14th April: Plas Cadnant by Anthony Tavernor
just across the Menai Suspension Bridge that connects Anglesey to the North Wales mainland. lies Plas Cadnant Hidden Gardens which under the ownership of have Anthony Tavernor have undergone a dramatic transformation over the last quarter of a century takings the near-derelict property back to their breath-taking former glory. The gardens containing contrasting formal and picturesque elements and extend to some 10 acres. Journey with through Plas Cadnant's history from the early 19th Century, through to its decline and to the rediscovery and restoration of the gardens over the last 25 years. Also learn about the Boxing Day flood of 2015; Royal visit in 2017; and plans for the future of the gardens.
…..
Anthony Tavernor has said: 'Sometimes, you follow your heart, not your head.' a farmer from Staffordshire with a longstanding love of gardens (he's proud to recall that he became a life member of the National Trust when he was a teenager), spotting the property in Country Life was a chance to bring something beautiful back to life. After a 20-minute viewing of the house in 1996 and a rough attempt to work out what might remain as a garden, he made an offer and has never looked back; and on the way he has won an award from the Campaign for the Protection of Rural Wales and gained a place for the garden in the book Discovering Welsh Gardens.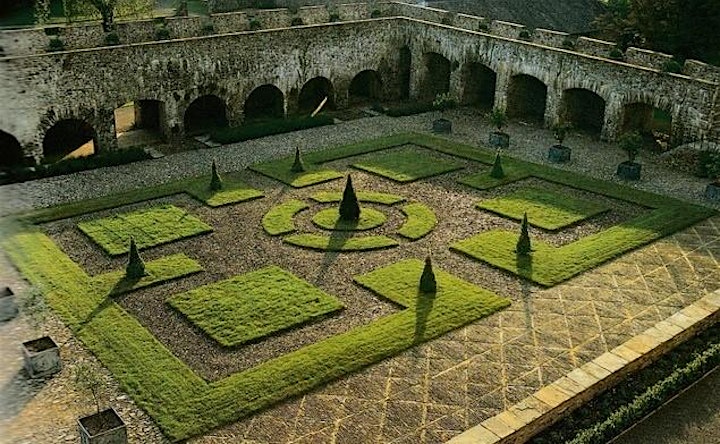 Week 3 21st April: Aberglasney by Penny David
Aberglasney first captured the public imagination in 1999 when the TV series A Garden Lost in Time documented the rediscovery of the structures of a cloister garden dating from 1600, hidden and forgotten beneath a jungle of weeds. Once the archaeologists and historians had done their digging, the gardening could begin. With the new century Aberglasney has blossomed into one of Wales' finest gardens. Around its historic core, the garden is making history with inspired and innovative planting and design, embracing sound ecological principles. Truly 'a heritage garden of excellence'.
…..
Penny David read history at Oxford and worked as a publisher's editor in London, specialising in books on plants and gardens. In 1986 she returned to her Lampeter roots to work freelance, and soon became an active member of the Ceredigion branch of Welsh Historic Gardens Trust. She is author of A Garden Lost in Time, about Aberglasney, two TV tie-ins accompanying Chris Beardshaw's Hidden Gardens series and, most recently, Rooted in History: Celebrating Carmarthenshire's Parks and Gardens (2017).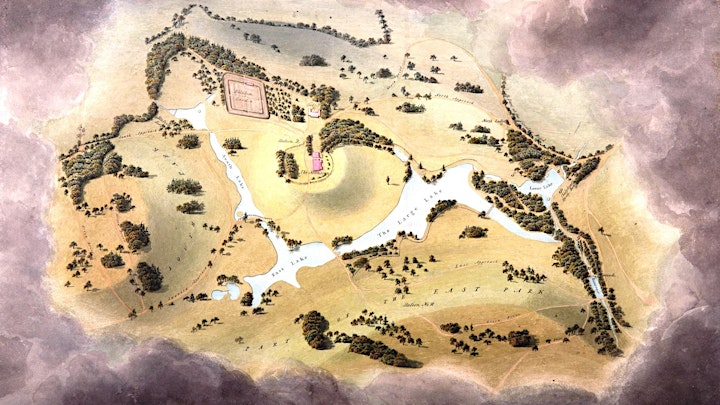 Week 4 28th April: National Botanic Garden of Wales – The Regency Restoration by Angharad Phillips
Over the last five years, the National Botanic Garden of Wales has been restoring the features of a Regency period landscape, created in the late 18th and early 19th century for William Paxton, in what is now Waun Las National Nature Reserve. This complex ecological, archaeological and engineering project has undertaken the restoration of two lakes, the iconic waterfall, cascades, installation of six new bridges, creation of new paths and the planting of thousands of trees.
The parklands were an early example of Picturesque ideals being utilised in landscape design, characterised by the contrasts that nature can show – at one moment, beautiful tranquillity, and at the next the drama of tumbling water over cascades, a weir, and waterfall. The Garden has access to six of the fifteen paintings by Thomas Hornor who was invited by William Paxton to paint a series of viewpoints throughout the estate in 1815. The intricate details in these paintings of the parkland and lakes have provided the designers and engineers with a wealth of information on which plans for the restoration were based.
…..
Angharad Phillips, Heritage Marketing Officer at the Botanic Garden has worked on this project for the last four years and will be revealing more about this very exciting restoration project.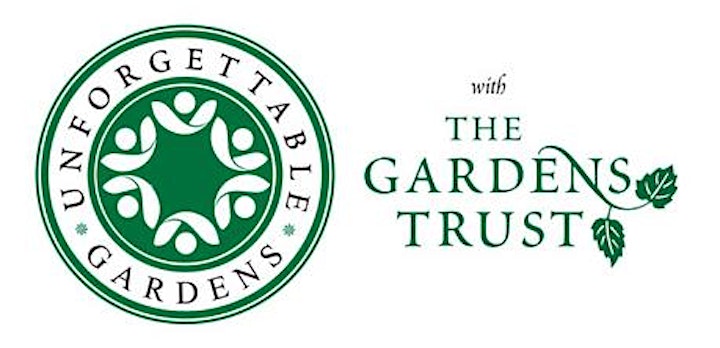 Date and Time
Location
Refund Policy
Contact the organiser to request a refund.
Eventbrite's fee is nonrefundable.