UNICEF Children's Rights Training for Out-of-School-Settings: A collaborative project funded by John Lyon's Charity
About this event
NRCSE is pleased to invite you to take part in our exciting project with UK Committee for UNICEF (UNICEF UK). This FREE* training is for supplementary school/out-of-school settings (OOSS) managers and leaders on children's rights. This project is funded by the John Lyon's Charity.
The opportunity involves attending 2 online workshops (you must attend workshop one and two to receive a toolkit and a certificate). Both online workshops will be delivered by Martin Russell, Senior Professional Advisor at UNICEF UK.
This Eventbrite link is for Workshop One on 21st October 2021 10:00 – 14:00 (including 30min lunch break). You will be given dates for Workshop Two during the session.
WORKSHOP ONE: INTRODUCING CHILDREN'S RIGHTS
You will:
 Hear about UNICEF and it's work for children globally and in the UK
 Learn about the UN Convention on the Rights of the Child
 Explore why rights are important
 Understand the potential impact of adopting a child rights based approach to your work
*The workshops are open and free for supplementary schools/OOSS based in Barnet, Brent, Camden, Ealing, Hammersmith & Fulham, Harrow, Kensington & Chelsea, Westminster.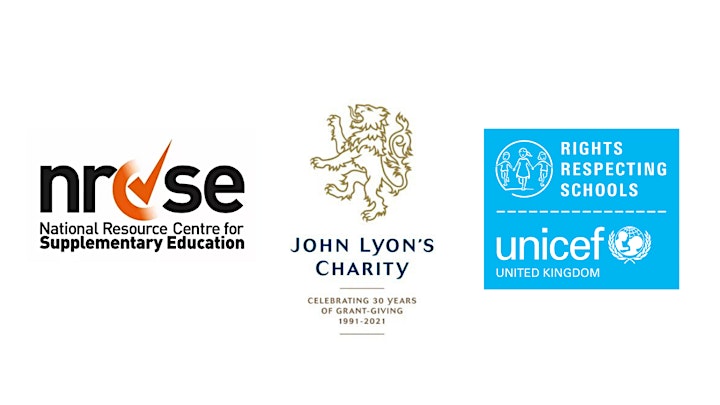 Organiser of UNICEF Children's Rights Training for Out-of-School-Settings (Workshop One)
The National Resource Centre for Supplementary Education (NRCSE) is a national strategic and support organisation for community-led supplementary schools and the wider supplementary education* sector across England.
We are the national champion for excellence, innovation and partnership in supplementary education. We campaign throughout England on behalf of supplementary schools and their students, tutors and leaders. We aim to help raise the profile of supplementary schools and their standards of teaching, learning and management.
*NRCSE defines supplementary education as all out-of-school-hours learning focused on the provision of additional support for curriculum subjects including all languages, and enrichment activities such as heritage history, faith, arts and sports.