About this Event
A night of inspiring poetry performances with Words By and Unicef Next Generation.
Words By is a raw, reactive and inclusive collection of poetry & prose that brings together writers from all walks of life. Uniting their diverse voices we celebrate our shared humanity. In collaboration with Co-Founders Sophie Mackenzie, Bethany Gill & Noura Al-Maashouq Unicef Next Generation London is publishing Words By to raise funds for the Children's Emergency Fund (Unicef).
Join us as we celebrate some of the incredibly talented contributors this book has to offer, through an evening of poetry and spoken word.
There will be the opportunity to purchase copies of Words By, the book.
There will also be an opportunity to get the performing contributors to sign your copy.
100% of profits from book sales and ticket sales will go to Unicef, the Children's Emergency Fund.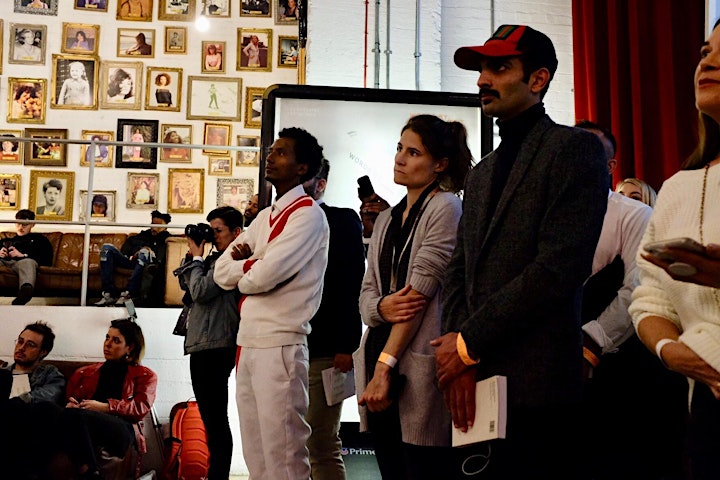 Performances From:
Lateshia Howell
Lateshia Howell is an international poet. In September last year she was selected to go on a poetry exchange to Toronto, Canada where she performed her work at a variety of open mics and community events. Her poetry focuses on many topics such as mental health, toxic gender behaviours, trauma and the pursuit of healing.
Fran Lock
Fran Lock is a sometime itinerant dog-whisperer and the author of seven poetry collections, most recently the pamphlet Raptures and Captures (Culture Matters, 2019) in collaboration with collage artist Steev Burgess, and Contains Mild Peril (Out-Spoken Press, 2019). She is an associate editor at Culture Matters, and has recently submitted her Ph.D. at Birkbeck College, University of London.
Anthony No Filter
Anthonynofilter is a performance poet/spoken word artist from East London. He says it how it is; always drawing from personal experience and his outlook on life. He explores themes of sexuality, love, female empowerment, redemption and tackles toxic masculinity.
Whether he's humorous, vulgar, sensual or emotional. One thing's for certain, he has no filter!
Nikita Biswal
Nikita Biswal is a final year student of literature at King's College London. She is originally from Delhi, India and is writing about city, love and longing. She is currently reading Jasmine Days by Benyamin. Her writing has already been published in TLS, Strand, Network Capital and Forward Poetry as well as Words By.
Orin Begum
Orin stumbled into poetry in her final year of university as a way to express her thoughts on being one of the only Muslim, working class, women of colour attending a predominately white, male, middle class university. Since then her poetry has expanded to address colourism, tokenism, body shaming, sexism and her experiences of being a 1.5 generation immigrant growing up in the east end of London. Orin's poetry has been been featured on the BBC, she has been an Asia House poetry slam finalist and has even headlined poetry nights. By day she is a corporate lawyer specialising in aviation as well as a social mobility champion and mentor, but by night Orin uses her poetry to tell the stories of those whose truths have always been suppressed.
Sam Berkson
Sam Berkson is a London-based poet, teacher and activist who has been hosting and promoting live poetry events with Hammer & Tongue for ten years. His debut collection, 'Life in Transit' was described as "a highlight of 2012" by the late cultural theorist Mark Fisher. He followed this with a commission for Fishbar photogallery of poems written around Dalston's Ridley Road market and composed the text of Lorenzo Vitturi's award winning photobook, Dalston Anatomy.
His most recent collection, 'Settled Wanderers', records his experience living on the Western Saharan refugee camps and contains the first English translations of Saharawi poetry. Poet Chris Searle, writing in the journal Race & Class, said that the "poems carry a particular kind of powerful witness in their lyrical solidarity. They are narratives of empathy with the lives of people he encountered."
"I have always found Sam's dedication to poetry inspiring. He has the rare gift of being informed and intelligent without being condescending. He is a good poet, a poet in the true sense of the word."
- Kate Tempest, poet
Mr Milise
Northampton Born Quinton Green AKA Mr Milise (Pronounced Mill-E-Zayy) has been plying his trade as a lyricist for more than 15 Years and credits Gil Scott Heron (The Revolution Will Not Be Televised) for his early exposure to the world of Spoken Word. As a Youngster Milise would experiment with Poetry and the art of Storytelling on a beat, as well as creating thought provoking Acapellas. His work and Performances have been positively received and some of his pieces have been used by Police Forces, Schools, Prison Reform Services and Councils as part of Youth Awareness initiatives across the UK. His intention is to adopt a role as a Voice for the Voiceless and hopes to grow a platform/network on the Poetry Circuit to help communicate a message from those who have faced challenging circumstances and adversity. Milise also works as a Mentor/Tutor teaching Creative Writing to disaffected youngsters across the Country
Softspoken
Science teacher, husband, Manchester United fan by choice, Iraqi by luck and poet by accident. I often touch on political themes on my poetry and hate the climate of fear and loathing the UK seems to have developed for refugees and asylum seekers. I currently run a new poetry night in Wembley named Bring Your Own Bars with our third event on the 10th of February.
Also special appearances from The Nasty Poet, Basq-Lyon.