UNITING SENSES AND EXPERIENCES NETWORK (USEN) WEBINAR- End of year feedback
The end of year round up to discuss the first year of our special interest research group
About this event
Unusual sensory experiences such as hearing voices or seeing visions others can't are relatively common in childhood, especially for children who many be struggling with anxiety, depression, loneliness and other adversities. It is also understood that children's experiences are often multisensory involving hearing voices, visions, smells, intrusive thoughts, felt presences and other sensory features. However, there remains significant stigma and misunderstanding surrounding sensory hallucinations, which often causes further anxiety and distress for young people and their families.
Voice Collective, Sarah Parry, Abby Connelly, Zarah Eve, Rebecca Burns, and Paul French received a small grant in January 2021 from Emerging Minds to develop a special interest research group to bring together young people, families, practitioners and the interdisciplinary research community to form a group who could collaboratively transform the theoretical and implementation landscape for these children and their families.
Following the success of our previous events, we would like to invite you all to attend this webinar to feedback our progress over the past year and consider next steps together.
This webinar will be held on Zoom and parts of the webinar may be audio recorded and used to inform the development of the special interest research group, research priorities and subsequent activities.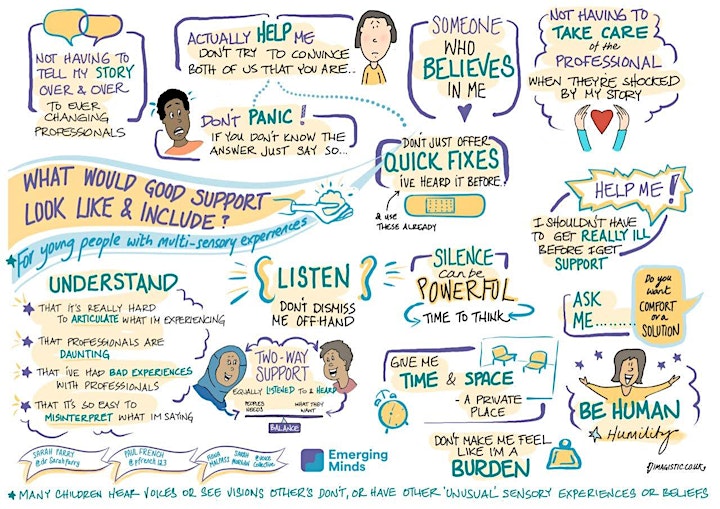 Organiser of UNITING SENSES AND EXPERIENCES NETWORK (USEN) WEBINAR- End of year feedback