Description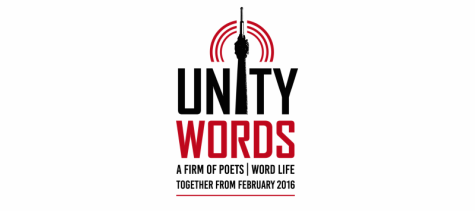 Unity Words | No.16
Jackie Hagan
with support from
Matthew Hedley Stoppard,
Marina Poppa
and special musical guest Louise Distras,
plus Pandemonium Poets.
Pay What You Feel #PAYF
Shortlisted for Best Regular Spoken Word Night at the 2017 Saboteur Awards, and officially recognised by Picador Books as one of the best spoken word poetry nights in the UK, Unity Words returns for May with another superb line-up. Our headliner for this month is Jackie Hagan, and we have some stellar supports to announce over the coming days.
---
Jackie Hagan
Jackie is a multi award winning theatre maker, playwright, solo artist, stand up comedian, poet and community arts worker. She is a working class, queer amputee and believes in the necessity of live art to effect lasting social change.

Her first solo show 'Some People Have Too Many Legs' won the Saboteur award for Best Spoken Word Show 2015. Her second solo show 'Jumble Soul' has been commissioned by FCA, ACE and Bluesci Support and shines light on the effect of government spending cuts on disabled people.

Her play 'Cosmic Scallies' is the antidote to 'Benefits Street' and is being developed by Graeae Theatre and the Royal Exchange. In 2016 she won a Creative Futures Silver Award for poetry in 2016, was the subject of Channel 4 documentary 'Limb Pimpin: The Comedian', represented the UK at International Poetry Slam in Rio de Janeiro 2016 and spoke at the National Conference for Diversity about class and the arts.

Publications include 2 collections of poetry: 'Shut Your Eyes and Open Your Hand' Citizen 32 Press 2008; 'The Wisdom of the Jumble Sale' Flapjack Press 2012 and the show text of 'Some People Have Too Many Legs' Flapjack Press 2015.

For the past decade she has run a successful not-for-profit organisation Seymour Poets; publishing anthologies by, supporting and delivering weekly workshops for people who have been silenced or have 'challenging behaviour'.
---
Matthew Hedley Stoppard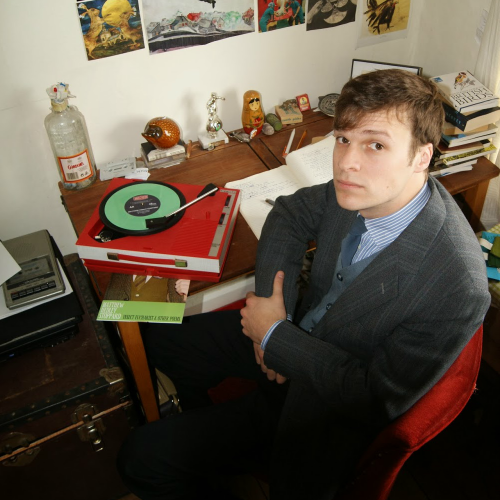 Matthew Hedley Stoppard was born in Derbyshire in 1985. After a brief career as a journalist, he now works as a librarian, and lives in Leeds with his wife and two sons.

Recordings of Matthew's poetry include Insect Eucharist and Other Poems (2012) and the spoken-word album Runt County (2014), both available from Adult Teeth Recordings. On the page, his poetry has appeared in Magma, Iota, Cake, The Morning Star, A Complicated Way of Being Ignored (Grist, 2012) and Holding Your Hand Through Hard Times (Osset Originals, 2014).

Matthew's debut collection of poetry, A Family Behind Glass, was published by Valley Press in May 2013, and was included in the Guardian's Readers' Books of the Year. His next publication was Cinema Stories, a collaboration with fellow Leeds-based poet James Nash. Launched at the Leeds International Film Festival in November 2015, this collection celebrates the cinematic heritage of Leeds, and the experience of cinema-going in general.
---
Marina Poppa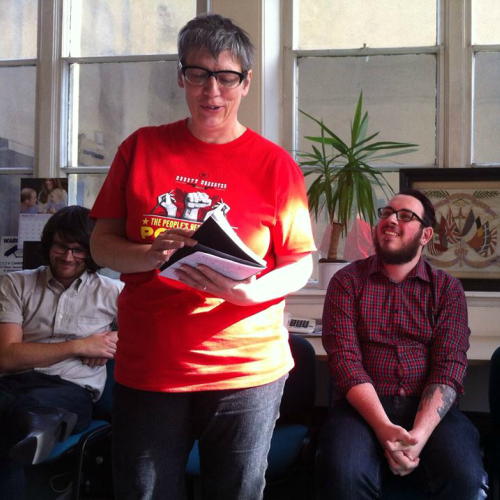 Marina Poppa has been performing with The Firm since Holmfirth Arts Festival in June 2014, and her powerful, personal and political poetry has been wowing crowds throughout the region ever since. At times humorous, at times visceral; her work is beautifully crafted, and touches audiences from all walks of life.
We're delighted to have Marina on board for the Unity Words mentoring scheme, and can't wait to see her at her best on 31 May.
---
Louise Distras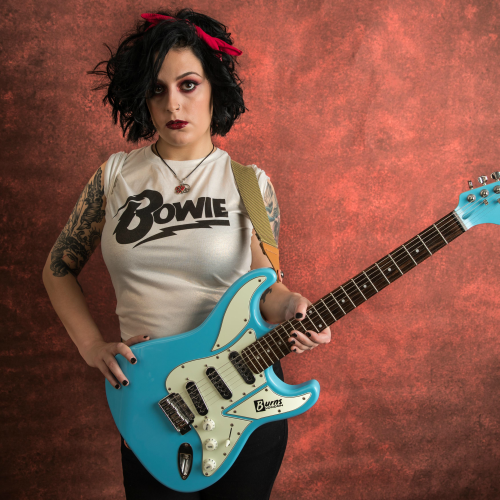 Described by Kerrang Magazine as "the one woman sound of revolution", Louise Distras has a reputation which is taking Europe by storm; a rising star on the Nu-Punk scene. She was tipped as one of Kerrang's 'Stars of 2017', and her new single 'Outside of You' has just been released on Street Revolution Records.
Inspired by Nirvana and the punk-rock gateway the Seattle legends provided, Louise turned her back on the bullying that had made her life unbearable and decided to play music for anyone who'd listen.
Her unshakeable belief that "Music can change the world" underlines by her own story. It certainly changed hers. "I'm standing up for the disenfranchised kids who get picked on at school, the kids outside the box whose world has been changed by the power of music," the Wakefield born singer says.
---
Pandemonium Poets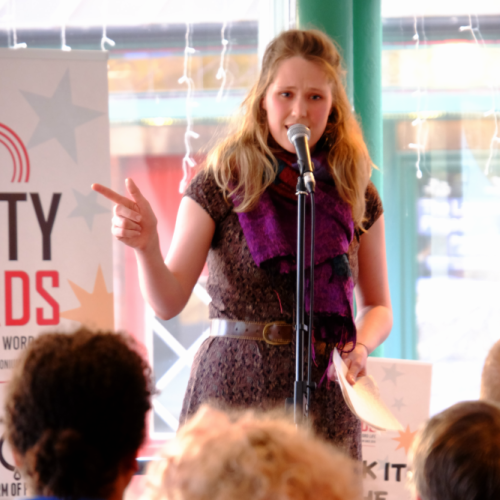 As usual we have our Pandemonium Poets workshop. This offers a 2 hour performance workshop from 3-5pm, followed by a chance to perform one of your poems at the evening event. This costs £5, and you don't need to separately reserve a ticket for the evening event.
This is offered to spoken word poets of all experiences and abilities. You can reserve a place from the ticket drop-down menu on this page.
---
Pay What You Feel (#PAYF)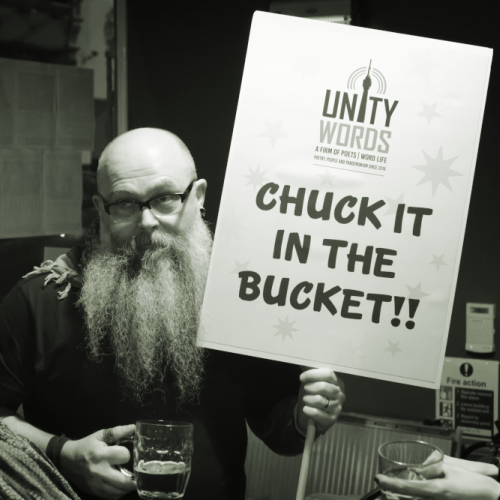 Our events all go by the Pay What You Feel method. Our suggested donation is £5 per person, and we rely on your support every month to keep the project going. There are plenty of opportunities to "chuck it in the bucket" throughout the evening, and we thank everybody for their support so far!