Universal Peace Federation - UK Dinner and Fundraising Event 6.30 pm, October 29th, 2021 to support UK Youth Service Projects
About this event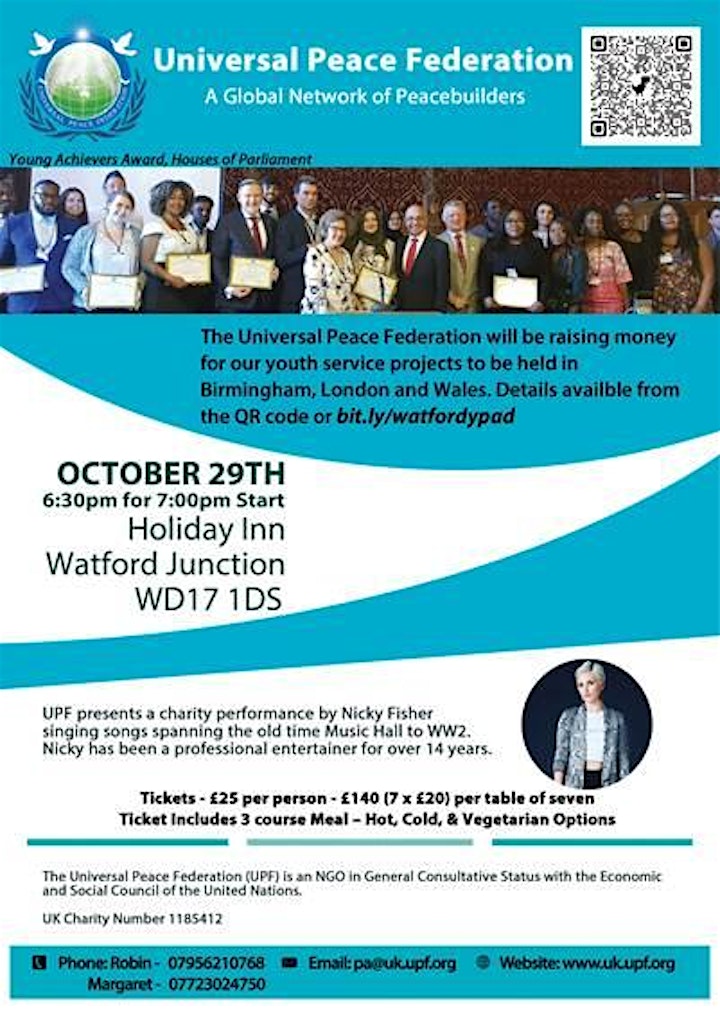 This event is now full. Thank you for your interest.
Dear Friends and Ambassadors for Peace,
Join us on Friday, October 29th for Dinner in Watford Holiday Inn very near to Watford Junction and just 15 minutes on a fast train from Euston.
UPF will be raising money for youth service peace projects and will be supported by singer Nicky Fisher who will be entertaining us that evening. Nicky has been a professional entertainer for over 14 years now and has performed in numerous and prestigious venues up and down the UK and across Europe.
The youth service projects, entitled 'Youth for Peace and Development' or YPAD for short. They will enable 18-30 year-olds, to collaborate with their peers from a variety of ethnic, religious and social backgrounds, while developing altruism, friendship beyond difference and learning associated with effective community service. For more information about the Youth Service Projects https://bit.ly/3zXljbo You can find further information from this link
The tickets are extremely reasonable (payable in advance ASAP to reserve your seats) individual tickets at £25 and tickets for Table of 7 at £20 each will include, a three course meal. Register through the Tickets Button above. If you want to pay by bank transfer to Universal Peace Federation - UK the account number is 81735934 and the Sort Code is 40 05 19.
We also have a Paypal account through this link. If you want to donate to this good cause even if you cannot attend, please do via Paypal or bank transfer. You can also allow us to receive Gift Aid from your donation here.
If you come by car you can register your car with the hotel front desk and parking will be free. If you are travelling by train remember to catch the fast train from Euston stopping at Watford Junction. For any questions please contact Margaret on 07723024750 or Robin on the number below.
We look forward to seeing you on October 29th and having a great evening together,
Yours sincerely,
Robin Marsh and Margaret Ali
Robin Marsh, Secretary General, UPF - UK, Mobile 07956210768
Margaret Keverian-Ali: Director, UPF - UK Mobile 07723024750
Universal Peace Federation (UPF) – UK
UPF - UK Charity Number 1185412
pa@uk.upf.org @ukUPF
www.uk.upf.org
UPF is an NGO in General Consultative Status with the Economic and Social Council of the UN
Organiser of Universal Peace Federation - UK Dinner and Fundraising Event
Universal Peace Federation (UPF) seeks to enable a network of peace oriented, altruistic people to heal inter-racial, interreligious, inter-national tensions and build a unified world of peace by establishing an order of inter-dependence, mutual prosperity and universally shared values.
Universal Peace Federation - UK (UPF-UK) has been recognised as a Charity (Number 1185412) by the UK Charity Commission. Briefly summarised, the agreed Objects of the charity are: First, the promotion of national and international conflict resolution and reconciliation. The second set of objects are to promote racial and religious harmony and peaceful co-existence between people of different religions, cultures, races and nations.
UPF is an NGO in General Consultative Status with the United Nations Economic and Social Council (ECOSOC) and advocates renewal of the United Nations, including a proposal that the UN create an interreligious council within its structures. 
UPF International has launched the International Association of Parliamentarians for Peace (IAPP). It was inaugurated as a worldwide association of parliamentarians providing a forum to bring their experience and wisdom to bear in the search for solutions to our world's problems. UPF has also launched the Inter-religious Association for Peace and Development (IAPD) to promote interreligious dialogue. UPF encourages all religions to dialogue and cooperate for peace based upon the recognition that human dignity derives from a universal divine source that is the basis of harmony and unification.
Full charitable objects and other information: https://uk.upf.org/ukupf/peace-and-development/864-universal-peace-federation-uk-becomes-a-charity