Description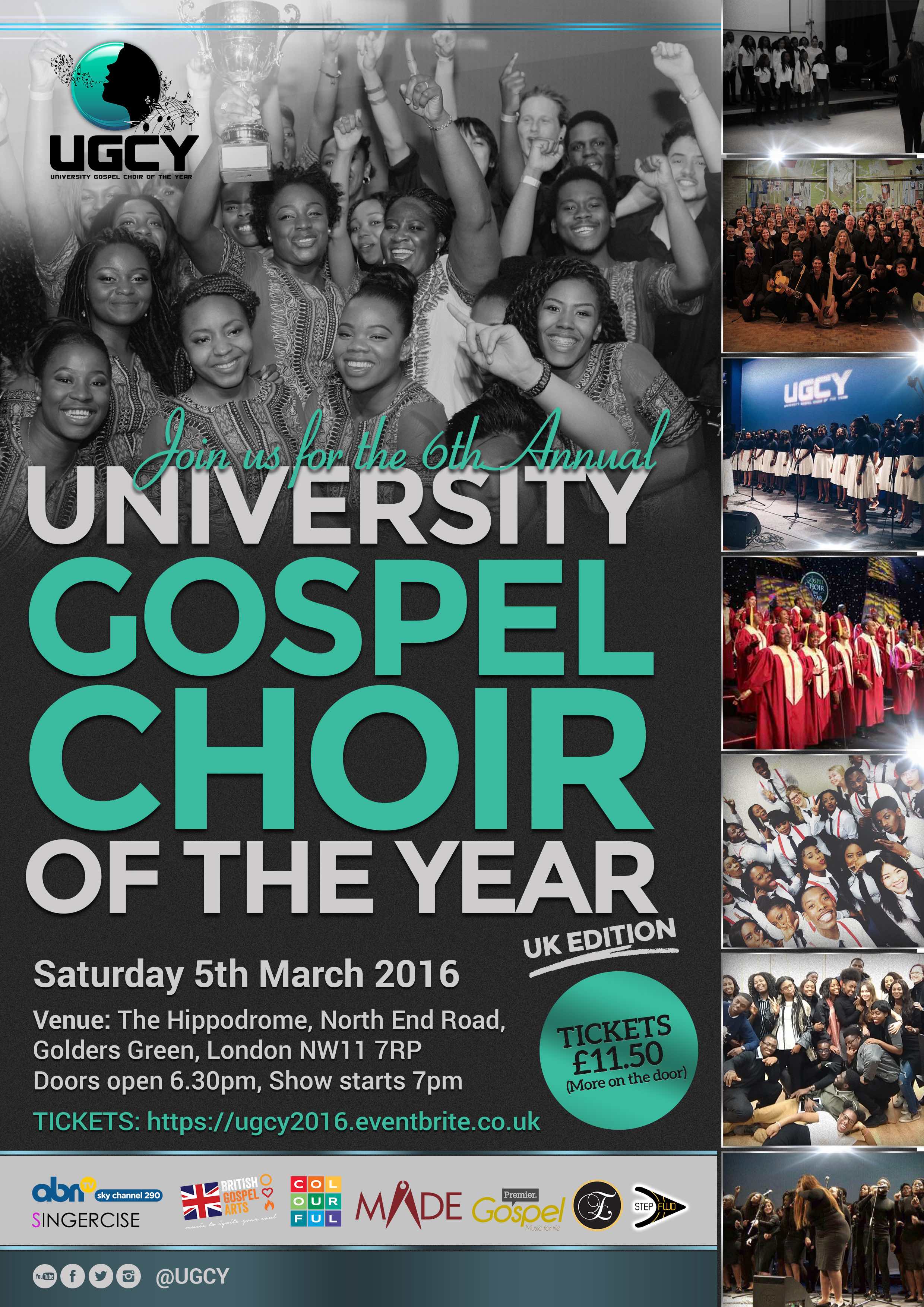 2016 - UGCY IS BACK! BIGGER! BETTER! AND THANKFUL!
Join us for our 6TH ANNUAL UGCY COMPETITION at The Hippodrome!
6 YEARS AGO our very first University Gospel Choirs took to the stage, now in 2016 we can only be Thankful that WE ARE BACK FOR ANOTHER YEAR providing such life-giving experiences to university students from around the country and for this reason, WE WOULD BE THANKFUL & GRATEFUL to have you enjoy the hard work of these amazing choirs!
COME AND ENJOY SOME JOYOUS SOUNDS AND CELEBRATE WITH US AS WE HOST UGCY IN ITS 6TH YEAR! A SPECTAULAR SHOW YOU'LL NEVER FORGET!
And if you've been to a UGCY competition before, you'll know that not one competition has ever been the same!
WE ARE PLEASED TO ANNOUNCE THE UGCY 2016 FINALISTS ARE
(In no particular order)
University of Southampton
ACCF Choir Southampton
Canterbury Christchurch University
Canterbury Christ Church Gospel Choir
Coventry University
Coventry University Gospel Rhythms
DeMonfort University
DMU Gospel Choir
DeMonfort University
DMU Student Choir
Middlesex University
MDX Gospel Choir
University of Portsmouth
Portsmouth Gospel Choir
AND BACK TO DEFEND THEIR TITLE
UNIVERSITY OF LEICESTER
LEICESTER UNIVERSITY VOICES
UGCY 2015 CHAMPIONS
As always the competition will be full of dancing, laughter and roaring cheers (and a few tears!) with our seasoned Gospel Music gurus judging the competition ultimately deciding which choir will be crowned the 2016 UNIVERSITY GOSPEL CHOIR OF THE YEAR!!
UGCY is proud to be able to provide such a unique platform for University Students to display their talents! We invite you to experience the CREATIVITY of theses students with their UPLIFTING songs and performances as many have done since 2011!
#UGCY2016
#TheThankfulYear
Thank You to our Sponsors & Partners
(In alphabetical order)