Description
UC Alumni UK Charity Gala
On behalf of The Presidents of the University of California Alumni Networks, we are delighted to invite you to the second annual UC Alumni UK Charity Gala on Saturday 1st April 2017 at The Law Society, Chancery Lane.
Along with a sparking networking reception, 3-course dinner, and dancing, there will be an opportunity for guests to win spectacular prizes through the silent auction and raffle prize draw! Prizes include a bottle of House of Commons champagne signed by the Prime Minister, and a one-night stay at luxury Boutique hotel, The Kensington.
See all the prizes you could win on the night >>
Mr. Albert Scardino (UCB '76), Pulitzer Prize Winner, will deliver the keynote speech - 'What the EU and USA can learn from each other's childhoods'.
Also speaking will be Wendy Will (UCLA '90), Senior VP & CFO at Digital Realty
All proceeds from the silent auction and raffle draw will go towards study abroad scholarships for UC students.
Dress code: Black Tie
---
About Mr. Albert Scardino
Albert Scardino is a journalist, commentator and critic on US affairs and a documentary film maker. He served as a correspondent at The New York Times, as press secretary to the Mayor of New York and as an executive editor at The Guardian. He received a Pulitzer Prize in 1984 for his editorials at his own weekly newspaper, The Georgia Gazette. He earned his BA in history from Columbia University in 1970 and a Master's in Journalism from UC Berkeley in 1976. He has been a director of public companies in the UK and Canada (retail and biotechnology) and a trustee of numerous charitable organisations in the UK and US.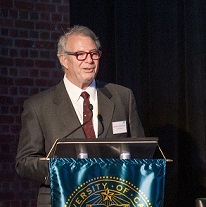 About Ms. Wendy Will
Wendy Will received her BA in Economics in 1990 from UC Los Angeles. She is Senior Vice President and Chief Financial Officer, EMEA at Digital Realty. Ms. Will's portfolio includes capital markets, treasury, investor relations, financial forecasting, joint ventures, accounting, tax, as well as risk management. Digital Realty is one of the 20 largest publicly-traded US Real Estate Investment Trusts. The company focuses on providing data center, colocation and interconnection solutions for customers across a variety of industry verticals ranging from financial servcies, cloud and information technology services, to manufacturing, energy, healthcare, and consumer products.

Ms. Will is a UCLA Europe Campaign Committee Member and a UK Study Abroad Scholarship donor.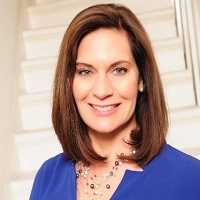 ---
If you are interested in helping us secure items for the silent auction please contact Johana Canda-Fiserova.

If you, your company or organisation are interested in sponsoring a table please contact Catherine Townson.
Please contact alumni@californiahouse.org.uk with any other questions.