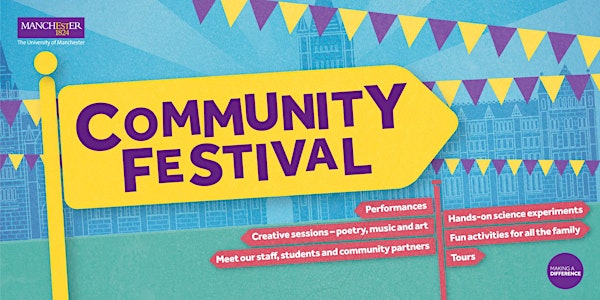 University of Manchester Community Festival 2022
Location
University Place
176 Oxford Road
Manchester
M13 9PL
United Kingdom
Everyone is welcome to join us at our free Community Festival hosted at The University of Manchester!
About this event
Ever fancied programming your own robot, hunting for meteorites or exploring how our amazing hearts work? Our free Community Festival is jam-packed with fun activities for all the family. Whether you want to get hands-on or just want to listen to some fascinating stories and watch live performances, we've got it covered.
The University's annual Community Festival showcases some world-changing discoveries in science, medicine and the arts, contributing to Manchester's history as the birthplace of new ideas.
On 25 June 2022 we're inviting you and all our friends and neighbours in the local community to go behind the scenes of the University and discover the exciting work taking place here. This free event has something for everyone.
Join us for a fun-filled day of hands-on activities, tours, live experiments, sporting challenges, creative arts, face-painting, the chance to meet with our staff, students and community partners...and much, much more!
As part of the programme you can attend the following free drop-in performances:
11.30 to 12:15 – Banging our Drums for Unity and Social Change: This performance brings together professional musicians and academics to share their research about how music and creativity can contribute to social change. Drawing on the unique sounds and wisdom of West African drums and dance - you are invited to join in!
13:00 to 13:45 - 'The Mice go to the Cinema' by Huaxia Chinese Sunday School in association with the Confucius Institute. This short comedy is about a mouse kingdom underneath a cinema. Join us to find out what happens next!
14:15 to 15:15 – Our School of Arts, Culture and Language Jazz Ensemble will give a toe-tapping performance. This will be appropriate for all ages and guarantees to brighten your day.
You can also book on to the following free tours:
Go behind the scenes of the Firs Environmental Research Station. Visit our hidden greenhouses and find out more about air quality research at The University of Manchester. Details and bookings here for 11:30 - 12:30 or 14:00 - 15:00.
Join us on a Heritage tour as we journey around the University's fine neo-gothic architecture and sites of world-changing discovery and hear how our University developed from pioneering origins in the industrial revolution to become a leading university. Details and bookings for 11:00 tour here; 12:30 tour here; or 14:00 tour here.
Take a tour of our new home of Engineering and Materials; it's a place like nothing else. We've torn up the idea of what a University building is and created a playground for engineers and scientists, truly open to the world around it in its design. Details and bookings here for 12:00, 13:30 or 15:00.
Our full programme of events can be found on the Community Festival webpages here: https://www.manchester.ac.uk/communityfestival
Follow us on Facebook and Twitter @SocialResponUoM (#communityfestUoM)
Got a question?
Get in touch with us at: engagement@manchester.ac.uk
Owing to the train strike on Saturday the 25 June, the University is able to offer free car parking for Community Festival visitors at the following University managed car parks:
Booth Street West
Cecil Street
Charles Street
Dilworth Street
Dover Street
Please note (1) parking on campus is limited, so this is offered on a first-come-first served basis - we cannot guarantee a free place for all visitors (2) the Aquatics carpark on Booth Street East is not managed by the University, so is not a part of this offering. For more details see here.
Data protection statement: Your personal data will be processed in accordance with relevant UK Data Protection laws. The information you provide in this form will be held on a secure database and made available only to University of Manchester staff who require such access to carry out their roles. Information provided on this form will not be used for any other purpose, nor shared with third parties. Privacy notice can be found here.