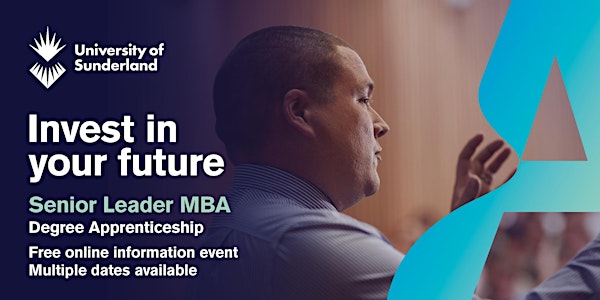 University of Sunderland MBA Senior Leader Apprenticeship Information Event
The University of Sunderland - MBA Senior Leader apprenticeship: FREE Information Event
About this event
Learn while you earn!
This event is designed to provide an overview about the MBA Senior Leader apprenticeship which is due to start in January, May and September 2022 . There have been some recent changes to the standards. We are delighted to announce that we will continue to include the MBA as part of the Senior Leader apprenticeship. This event will provide an overview about the updated programme.
This event is ideal for employees who are looking to find out more information about our apprenticeship options to further develop their knowledge and skills whilst working.
It is also suitable for employers who want to find out more about utilising their apprenticeship levy to up-skill their organisation leadership team.
The programme has been developed in partnership with the Chartered Management Institute (CMI) and regional employers to support enhancement of effective strategic leader knowledge, skills and behaviours. It offers a blend of work-based learning with business, leadership and management education.
Build your A-Team today!
To speak with a member of our team please email: apprenticeships@sunderland.ac.uk
Follow us on: Facebook LinkedIn Twitter
Visit our MBA Senior Leader apprenticeship website
*Please note that our apprenticeships are only available to organisations, employers and employees based in the UK.
Organiser of University of Sunderland MBA Senior Leader Apprenticeship Information Event
University of Sunderland Corporate and Professional Education (CaPE)
The University offers an employer centred approach to training, education and work force development. We strive to make it as simple as possible for you to achieve your training objectives, no matter how extensive or complex your needs are. We offer a wide range of programmes designed to develop and enhance employee knowledge and skills. We work in collaboration with employers to ensure our programmes have tangible impact and significant return on investment. Our approach to employer relationship management and quality assurance puts our customers and their teams at the core of our programme decisions.

We collaborate with a wide variety of partners to support delivery of highly specialised training. From higher and degree apprenticeships to Continuous Professional Development (CPD) courses and ESF fully funded courses, we have a portfolio that can meet your business requirements.