The definition of Genius is creative power and natural ability.
About this event
At this talk I will share how we can unleash our Genius to:
Discover our purpose and master our Lives
Create success in our businesses or careers
Start a new business doing what we love
Make a difference in the world
Create loving relationships
Lead a fulfilling life doing what we love
Improve our spiritual life
Dear friend,
15 years ago I embarked on a journey of personal development and entrepreneurship because I was unhappy with my life, relationships and corporate career. During that time I was fortunate to study and often work with some of the world's leading teachers in personal development and wealth creation.
Despite my close proximity to the best teachers, I found that my results were inconsistent and the processes I had learnt were confusing, time-consuming and contradictory.
The good news for you is that during that time I discovered an easy, effective and revolutionary method that led me to evolve into a better person on a daily basis through simple practices that none of the big-name speakers were teaching.
I am honoured to share with you something truly different where I will show you how we can use our subconscious mind to create what we want in our life, business, career, and relationships.  
Let me explain briefly how our minds work...
Our Unconscious Ego can sabotage us and compromise our results
Our unconscious ego is where we have years of programming designed to keep us safe and in survival mode. Starting from the day we were born right up until this moment in time, we have had various experiences in life relating to money and relationships, just to name a few. And every time we experienced something, our Survival Mind decided and stored which of our experiences are good and which are bad.
So, if for example, our parents had problems with money or maybe they used to say things like, "money doesn't grow on trees" or "money is the root of all evil" or "we can't afford that". Then our Survival Mind will store those messages and experiences which will be recalled every time we are faced with a situation around money.
Perhaps our parents were wealthy but because they were working hard and away from home a lot we decided to programme our Survival Mind with the assumption that money is bad because when our parents were busy making money, they weren't at home to give us attention or love. So our Survival Mind could be running a programme reminding us about the pain and rejection that hard work and success created for us in the past.
The problem is that the messages and past experiences stored in our Survival Mind around money will stop us from creating wealth or even worse, when we do finally create wealth our Survival Mind will find ways for us to sabotage our wealth because our Survival Mind will make sure we do not experience the same negative experiences we have had around money in the past.
No amount of hard work, training, and coaching around wealth strategies will give us success because our Survival Mind will sabotage us to keep us safe.
If we are experiencing difficulty with relationships or any other area of life, the very same principle applies.
Our Superconscious Mind is where we find our Genius
The Genius Mind is where our creativity, intuition, and imagination exists. When we unleash our Genius Mind we will be able to overcome whatever is holding us back so we can create wealth, love, happiness and vitality.
When we unleash our Genius Mind we can be clear on our purpose and intuitively know what actions to take in any given moment.
Our career or businesses can be successful because we will be able to be present in our decision making instead of letting our emotions get the better of us. We will come about with new ideas and strategies that can help make us a leader in our company or industry.
Our relationships can improve because we can be more present with what we want in a relationship as well as be more open to connecting with others compassionately.
Our energy and vitality can improve because when we are connected to our Genius Mind we will have a clear purpose in our lives and that leads to the inspiration and motivation we need to follow our purpose.
The problem is that we are not taught in our education system how to use our Genius Mind so we struggle to be creative, intuitive or imaginative. This leads to us relying mostly on our Survival Mind to make decisions on what actions to take, which means we may struggle to truly unleash our potential, create wealth, have loving relationships and live the life we truly want.
This workshop could be for you if you:
Want to improve one or more areas of your life
Are successful but your well-being or relationship have suffered

Want more clarity on your purpose

Are not in a relationship you love

Don't enjoy your work and want to explore alternatives

Want to improve your business and reduce the risk of failure

Want to spend more time doing what you love

Want to create wealth doing what you love

Want to improve your spirituality 
This is what I will share:
How our Genius can help create more success in our business or career

How our intuition and imagination can help improve all areas of our life

How our unconscious ego can sabotage us

What we can do to overcome our self-sabotage

How we can create loving relationships

How we can create a life that we love and fulfils us 
This is what to do next:
All you need to do is to register your free ticket to attend this event now.  
Why is the event free:
This training is an educational training. We are a professional training company and we offer various trainings and coaching programmes that are priced from £375 incl VAT. However, there is no obligation to purchase any of these trainings and you won't be pressured into buying.
Our values are love, integrity, fun and excellence so we aim to deliver these values in this free workshop ethically and professionally.
Our promise to you:
We promise to deliver this training to you with our values of love, integrity, fun and excellence.
We are confident that by attending this event you'll be able to learn something that can help you to improve your life, business, career, relationships, and lifestyle.  And we will also have a lot of fun.  So, register your ticket now and I look forward to seeing you there!
Ryan Pinnick Founder & CEO of SuperGenius
What others say about this workshop:
"I arrived feeling skeptical and expecting nothing more than a charismatic self-help preacher. Instead it was a surprising, deeply connected and authentic experience." - Natalie Saunders
"It was a very insightful and enlightening glimpse into a world of unlimited opportunity that lies within myself, and each and every one of us. Thank you for your humour, vulnerability and genuine caring." - Dave Pahl
"From my heart to yours, I can't tell you how much what you and the teachings are changing my life at an exponential rate for the better." - Sofia Garcia Ladera
"This has opened up a new world for me. It has connected everything that I have ever learnt from various mentors such as Dr. John Demartini, Wayne Dyer, Bob Proctor" - Ich Loc
"Ryan certainly knows what he is talking about and  combined with a great sense of humour, humility and a strong desire to empower others what you get is so much more than just another self-development seminar."- Inga Kavoliunaite
"This helps you realise that you are a powerful creator and more importantly teaches you structures to actually achieve your dreams and live your purpose. That's what makes this different to any other personal development program." - Kirsty Carr
"Ryan Pinnick is refreshingly insightful as a teacher with simply the most powerful practical techniques to share." - Mark Loach
"A truly beautiful way to realise everything you truly want from an exceptional life. Why haven't we been collectively living life this way sooner??? Amazing and thank you so very much for opening my eyes!" - Austin Letts
"Love the team here they will do everything in their power to help you!" - Francis James Newman
"Feeling very blessed for having this opportunity to share time of learning about myself with an incredible man who is sharing his wisdom of how to unleash your genius." - Joti Andrews
"I've been to a lot of self-development seminars trying to figure out what to do with my life but this was way beyond anything I've ever experienced." - Arush Bakshi
"I feel that Ryan's delivery is humourous, authentic and heart centred. I believe he truly wishes everyone to have a great experience and will go to any length to make it happen." - Lou Requena
"If you want to get clarity about your purpose you have to be at this seminar." - Magdalena Baciu
"Absolutely amazing inspirational fresh different exciting and life changing .... And bloody brilliant fun!!!" - Izzie Luczak-Wisniewska
"The tools I'm learning are changing my life massively. I have never felt more alive!" - Elsbeth van der Poel
"I had an awesomely mind blowing experience. If you ever have the chance to attend, JUST GO! You won't regret it. - Jenessa Qua
"Recommending this to everyone as the best thing you will ever attend." - Lucy Nolan
About the Speaker - Ryan Pinnick
Ryan Pinnick is now one of the UK's most in-demand speakers presenting on how consciousness and creativity lead to Genius.  He has presented at events with the likes of Gary Vaynerchuk, Lord Sugar, Grant Cardone as well as having presented at The Business Show, Yes Group, Expert Empires and Rich Dad Poor Dad.  After resigning from his corporate career at the age of 26, Ryan started his entrepreneurial journey investing in UK real estate and still continues to invest in the UK and US real estate markets.  He has also created multiple 7 figures in his businesses.  Ryan also founded SuperGenius who continues to lead the standard of excellence in personal development training in the UK.  
Terms and Conditions
We can't guarantee your seat if you arrive later than the promoted start time. Seats are on a first come first serve basis so please do your best to arrive on time.
This training is only suitable for people who are 18 years of age or above.
We reserve the right to refuse anyone admission to the event for whatever reason.
You will be required to register at the event which includes signing in with your full name, email address, and mobile number.  We adhere to the GDPR policies with regards to your data and will not pass your data on to anyone else, any other organisation or enterprise.  You are always easily able to unsubscribe from our future communications.
We do not allow people promoting themselves, other products or services at this event because it distracts the attendees from the focus of the day.  Should you be caught promoting yourself, other products or services you will be asked to leave and legal action may be taken against you.
We do not allow recordings of the event in any form as this breaches copyright.  If you are found to be recording the event in any way then you will be asked to delete the content and we reserve the right to check your devices for any recordings.
We reserve the right to change the times, dates and venues for this event for whatever reason.
This event is a comprehensive workshop and it's important that attend all sessions because missing sections of the training will impact the end results promised above as well as compromise your ability to participate in the group. 
Results And Income Disclaimer
SuperGenius Ltd can not and does not make any guarantees about your ability to get results or earn any money with our ideas, information, tools, or strategies. What we can guarantee is your satisfaction with our training.  You should know that all products and services by our company are for educational and informational purposes only. Nothing on this page, any of our websites, or any of our content or curriculum is a promise or guarantee of results or future earnings, and we do not offer any legal, medical, tax or other professional advice. Any financial numbers referenced here, or on any of our sites, are illustrative of concepts only and should not be considered average earnings, exact earnings, or promises for actual or future performance. Use caution and always consult your accountant, lawyer or professional advisor before acting on this or any information related to a lifestyle change or your business or finances. You alone are responsible and accountable for your decisions, actions and results in life, and by your registration here you agree not to attempt to hold us liable for your decisions, actions or results, at any time, under any circumstance.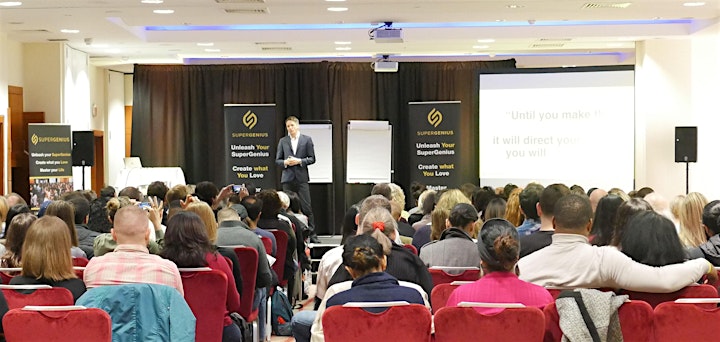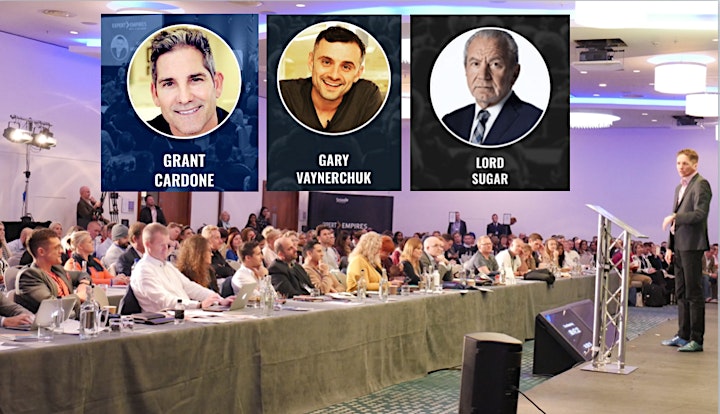 Organiser of Unleash your Genius and Find your Purpose - Ryan Pinnick