Unleash your Writers Genius presented by best selling Author William Whitecloud in Los Angeles

Saturday, April 9, 2016 from 10:30 AM to 4:30 PM
Event Details
Will your manuscript or screenplay be the in the 0.1% that succeeds?

If you're like 99.99% of aspiring writers then you will produce something contained within the unconscious limits of what you believe about writing.  As a result, you will waste a lot of time, money and energy to end up being unheard, unread and mediocre at best. And if current trends are anything to go by, you'll waste even more time, money and energy desperately marketing your work to be successful. 
Genius writing sells itself!

In 2014 it is estimated that one million books were either published or self published in English where only thousand of those made a dent in the consciousness of readers around the world. 
That is a success rate of only 0.1%!

There is a real art to Genius writing and it must be Genius to be successful in this competitive world.
To start with, for a book, or screenplay, to be exceptional it must touch on something that is deeply meaningful and relevant to it's readers, beyond the obvious subject matter. Tapping into and mining a powerful theme is important for two reasons:
1) It grabs and holds the reader
2) The emotion of an inspired theme subconsciously generates sublime writing both in terms of creativity of ideas and expression.

Also, a work must be highly original, and more especially, unexpected. No one wants to read what they know about already. The brain catalogues information for convenience and therefor has no interest in more of the same. Any written offering must entertain, challenge and inform the reader beyond the scope of their existing knowledge and experience. 

Though the average writer does not know it, because of the bubble they live and write in, their work fails to reach the mythological heart of their subject, and never rises above being imitation at worst or derivative at best. It takes Genius to nail and channel a juicy theme, as it does to come up with inspired material that moves, nourishes and enlivens the reader. You must have a method of transcending the limits of their your intellect and rational mind.  You must know how to Unleash your Writing Genius!


You can not achieve brilliant writing without operating at your highest level of creative function. And if you're serious about succeeding at your craft, you'll want to learn the one thing that no one has taught you so far...how to connect with and apply your own God given Genius.
This is what you will learn from this Free workshop:

- What is your Writers Genius and How to Unleash it
- The Structure of Genius Writing
- How to create tension that subsconsciously compels Genius Writing
- The 6 essential elements that create a riveting offering
- Trusting your Genius and letting go of Copying other writers
- The key value that bridges you to your Writers Genius
- Techniques for engaging your Genius in the writing process
- Using Emotion to Overcome Writers Block and Create Effortless Flow
- Letting go of the Rational Mind and your Ego
- How you have been Sabotaging your Writing and How to Stop it


Let me assure you from my own personal experience as a Million Dollar Writers and a Creative Development Trainer with twenty years experience, anyone can write a Million Dollar offering.
You will come away enthused in your own creative power, inspired to get stuck into your own Genius offering, discover how you have been sabotaging your success and the veil will be lifted on what it really takes to become a Genius Writer.

When
9 April March 2016 10H30AM - 4h30PM
Registrations opens at 10h00AM
Where
Flame International (upstairs) 11330 Santa Monica Blvd, Los Angeles 90025 (just off the 405)
What others say:
"It's the only writing course I've done that got me writing and kept me writing."
Sara Mallet
"My life has changed so much since connecting with my Muse in February. One book already on the market and one due out in July. Thank you William!"
Cali Gilbert, Author
"Over the years, I've attended countless writing courses, read towering piles of how-to books, and paid attention to wise advice on the craft of writing. At a writers' workshop led by author William Whitecloud, I found something new: deep confidence in my storytelling gift, and clarity on the stories that I want to tell. I am ready to write my stories into life and set them free to roam, touching hearts and inspiring minds."
Jackie Daly, Writer/Film Maker
"On this journey of self-discovery, your inner voice is freed from the constraints of time and space. Whitecloud openly shares his secrets to success, writing with a definite structure, premise & theme. The end result being, a story so compelling, it will literally write itself."
Dr. Fred Pockrass, co-founder of The Eco-Dentistry Association
"I can't rate William Whitecloud's work more highly - the tools he shares continue to give; like having the golden goose, not just a golden egg."
Anne K. Scott, Transformational Writer/Coach
Amazon Reviews of Williams books: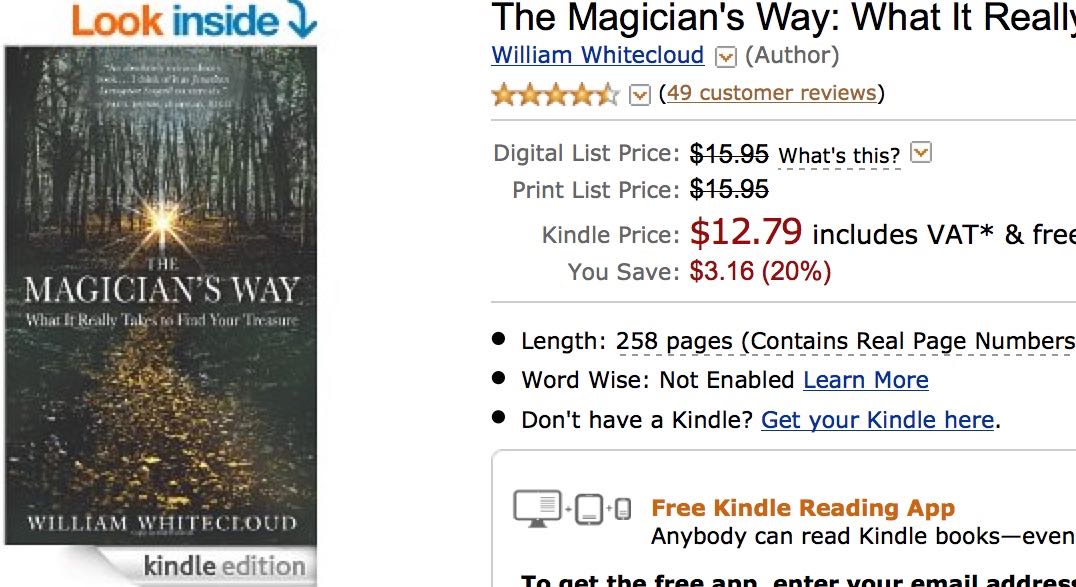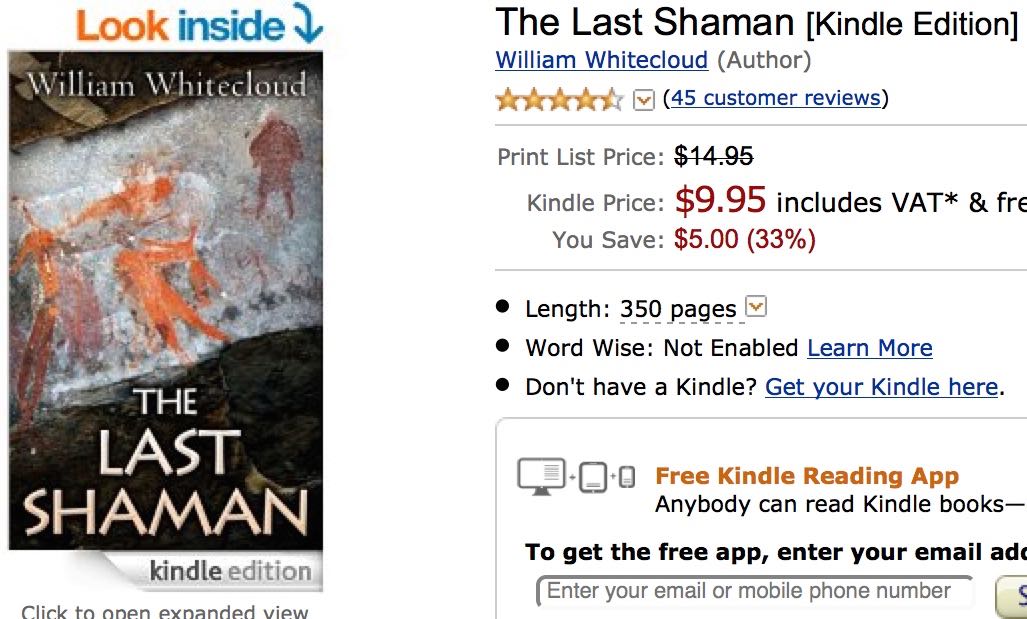 About William Whitecloud
Life for me was an endless romp in the Garden of Eden, until I was eight years old, when I was packed off to a succession of Christian orientated boarding schools in the colonial education system. It was forcefully impressed on me that my free spirited nature and heathen superstitions were of no value to the socio-economic machine I was being conditioned to fit into. Ten years later I left school, cured of my innocence and wonder, and thoroughly convinced I had no choice but to find my place within the rational order of Western civilization. But my heart was never in it. I was a conscript, not a volunteer.
My first real job was working for a South African commodity trading company, where my indoctrination into the perception of capital as the prime mover behind life was sealed. In 1983 I immigrated to Australia and switched from trading physical commodities to speculating on global financial money markets. Ironically, my trading mentor in Australia was a highly successful analyst and trader given to using profoundly esoteric methods for predicting market movements. Having my eyes opened to the supernatural phenomena that held sway over these giant markets re-ignited my childhood fascination of hidden forces at play in the world.
Yet this window into the mystical nature of the universe did nothing to free me from my disillusionment with an existence that seemed designed solely to fulfill societal expectations. In quick succession I developed substance abuse problems, lost all my money, my marriage broke down, and I was diagnosed with a supposedly incurable life threatening illness. With my life at rock bottom, my attention turned from merely observing phenomenon at work outside of myself to seeking ways in which I could practically apply magic to create what I truly wanted: a life rich in health, wealth, love and creative expression.
This search brought me into contact with the alchemical principles of Hermetic Philosophy and the ideas of Robert Fritz, founder of Technologies For Creating. Both modalities pointed to the premise that we subconsciously create our own reality and that there is a way in which we can direct the subconscious mind to create the reality we choose. As I delved into these superbly effective principles for reconnecting with and manifesting what is truly important to the human spirit, I made the most startling discovery: that the sad story I just told you about myself was just that – a story. It all really did happen, but it was simply the unfolding of a script I myself had written. Thankfully, this was not the sum total of my revelation. I also discovered that I could make up a new story, one that reflected my true potential. Watching every area of my life rapidly healing and prospering, as I applied my new understanding, confirmed to me what I had believed as a child. Life is magic.
In 1996, inspired by the momentum of my own self-transformation, I founded a program called Living From Greatness, a personalized course dedicated to empowering participants in discovering and living their authentic nature and potential. While continuing to be involved in the LFG program, and more lately the Natural Success project, I have also worked one on one with thousands of people, coaching them in bringing their dreams into reality. My twenty-year search to discern the essence of what it takes for people to connect with and live effortlessly from their creative spirit forms the basis of my two books, The Magician's Way and The Last Shaman.
I now live in Santa Monica, California, where I devote my time to teaching Natural Success, writing books and scripts, enjoying my family and letting life unfold by magic.
Have questions about Unleash your Writers Genius presented by best selling Author William Whitecloud in Los Angeles?
Contact SuperGenius Ltd
When & Where

Flame International (upstairs) (just off the 405)
11330 Santa Monica Blvd
Los Angeles 90025


Saturday, April 9, 2016 from 10:30 AM to 4:30 PM
Add to my calendar
Organizer
SuperGenius Ltd
If you have any queries or questions please contact events@supergeniuslife.com