Description
Join us for the Private View of Unleashed celebrating Chinese New Year 2018 - The Year of the Dog
Unleashed
This exhibition aims to celebrate both the coming new year in chinese astrology as well as the loyalty and companionship of our furry friends. Two artists, both sharing a love of dogs and an interest in chinese astrology have come together to express this in their artwork. The chinese zodiac describes the dog as loyal, courageous and lively. They also tend to have harmonious relationships with people around them. While the earth dog in particular is described as calm, serene and responsible; perhap the coming lunar year will be just as stable. This exhibition focuses a lot on canine imagery but an underlying theme is the renewal of the year and looking forward to the future, taking the opportunity to better ourselves and come together.
The chinese zodiac or shengzia is the chinese calendar that has a repeating cycle of twelve years, each year represented by a different animal. The order of these animals is decided by the order that the animals arrived to meet Buddha. The sequence of which goes; Rat, Ox, Tiger, Rabbit, Dragon, Snake, Horse, Sheep, Monkey, Rooster, Dog and Pig.
2018 brings the year of the dog, specifically the earth dog, also known as the brown dog or mountain dog.
Years of the Dog include 1922, 1934, 1946, 1958, 1970, 1982, 1994, 2006, 2018, 2030, 2042 and so on.
Private View 7-9pm Friday 16th February 2018
Open to public 17th-22nd February 11am-6pm Monday - Saturday.
Exhibiting Artists: Caroline Reynolds & Sydney Johnson
CAROLINE REYNOLDS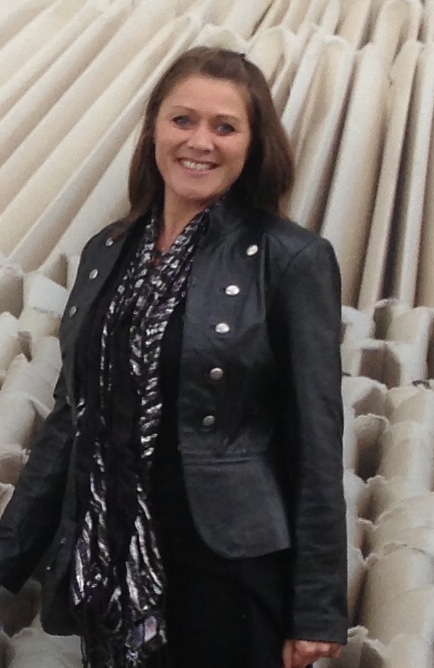 Artist statement
For this exhibition, I have taken inspiration from historical accounts of 'The bond between man and dog' throughout history, in Mythology and from a lifetime of personal observation. Dogs affect our energy, lift our spirit, and provoke feelings of love, compassion, security, comfort and happiness. These are the feelings I want the viewer to connect with. Keeping in mind that dogs, as much as humans, have a rich array of personalities qualities, and energies, I varied my style, technique and mediums to portray this and immortalise the unique essence of the dog. Some of these mediums include Charcoal, acrylic, wood, inks and gold leaf. Above all, i want to 'Honour The Dog' whilst bringing the community together to promote friendship and celebrate our new year.
Bio
Artist BA (hons)
I was born in South London in 1968. I have always been interested in making art as an instinctive, creative act of expressing emotions, subconsciously, for therapeutic purposes. My realisation of this became apparent at university whilst studying for my degree. I started to research art as a Therapy. I passionately believe that art has a fundamental part to play in emotional health and development; particularly for children trying to excel in a system that values conformity over creativity and often doesn't allow for individual ways of learning. For those that have different ways of thinking, art can be vital for them. This awareness that 'Art has empowered me' has inspired me to continue with my art on a more conscious level and contextualise my work. I recently moved away from the hustle and bustle of London to West Sussex to pursue a simplistic and meaningful lifestyle, focusing on what's really important for my soul, enjoying life with my family. I have found inspiration and a feeling of peace from the real beauty of animals and nature around me. I don't like to confine myself to one style I like to forever experiment and apply varied styles and materials to my work. I enjoy the power and freedom of creating from urge, instinct and mood.
Email: info@manicexpressionsstudio.com
Website: http://www.manicexpressionsstudio.com
Instagram: manic_expressions_studio
Facebook: manic expressions studio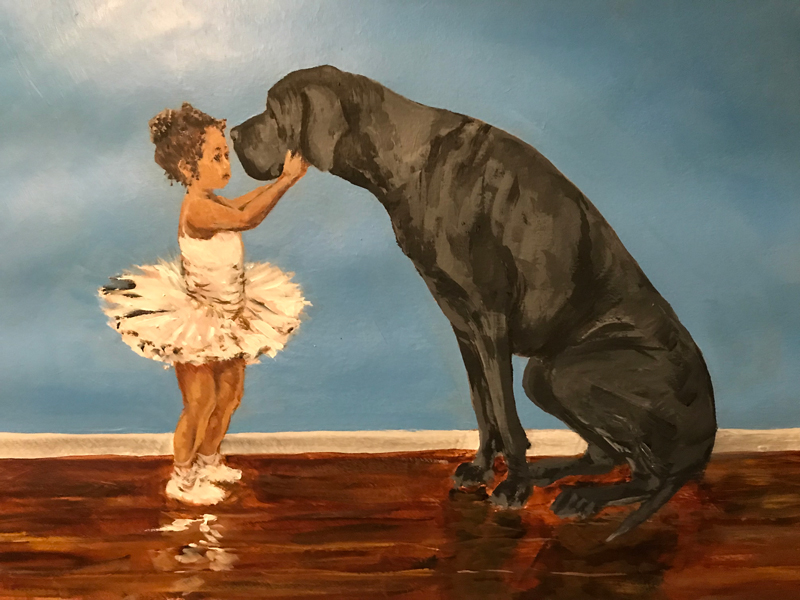 SYDNEY JOHNSON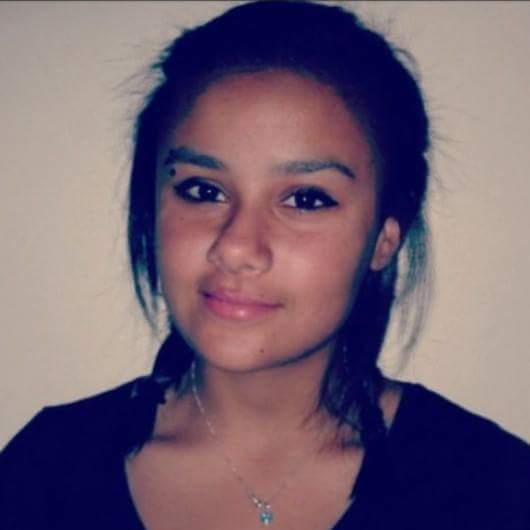 Artist Statement
One of my biggest priorities for the work shown in this exhibition was to capture the energy and life dogs have. The vibrancy, purity and individuality of dogs is obvious to anyone who owns one. For these reasons I used lot of colour and graphic techniques in a lot of the pieces. A lot of the work shown here is different from what I usually make but I found it quite refreshing to work on a project like this. I used some of these pieces as an opportunity to experiment with techniques such as pointillism and lino printing, allowing me to contribute to my artistic growth.
Bio
Growing up in an artistic home, I've always been encouraged to express myself creatively; but it was through studying Art and Design where I had the time, guidance and materials available, that I was fully able to begin exploring myself as an artist. A lot of my work focuses on ideas around life, death and mortality, although I think it's important to always keep exploring new techniques, ideas and materials. In the versatile field of art there are no wrong moves. When I finish a piece I've worked so hard on, the satisfaction I get from it is incomparable with anything else, despite the fact that it might not be to everyone's taste. To me art can be peaceful, infuriating, satisfying, emotional, but above all, whatever you need it to be.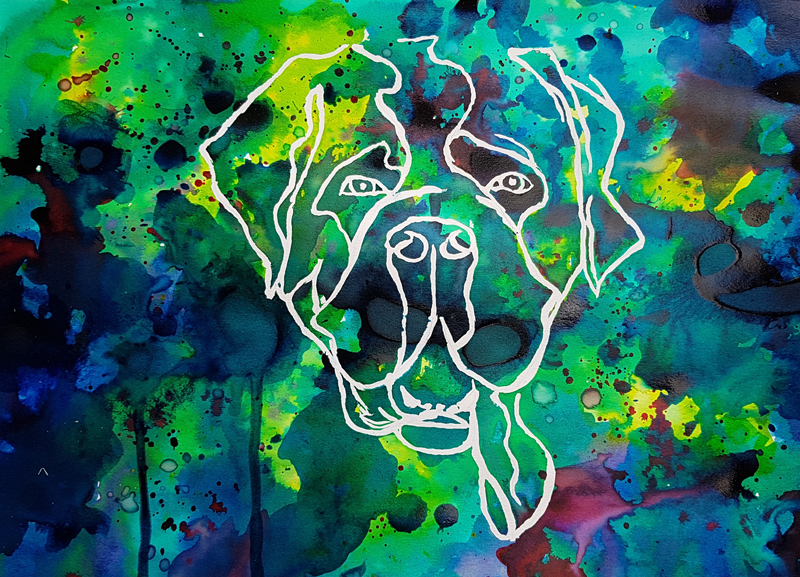 The Chinese New Year, or Spring Festival, has more than 4,000 years of history and is the longest holiday of the year. In the 21st century, the national holiday begins on the first of the Lunar Calendar and lasts until the 15th of the first month. In 2018, Chinese New Year begins on February 16th and ends March 2nd.
The Dog is the eleventh of all zodiac animals. According to one myth, the Jade Emperor said the order would be decided by the order in which they arrived to his party. Monkey, Rooster and Dog were in another country, helping a god defeat evil spirits. After, they set off to the party together. Because they arrived at the same time, the Jade Emperor went by the order they met the god in the other country. Thus, Dog became eleventh