UNLOCK Your Business Growth – An Opportunity for Women Business Owners
An opportunity for women business owners.
About this event
As the UK begins to open for many businesses, Building Legacies is offering a series of webinars to support women in business. As owners 'unlock' their business, what are their new priorities and what changes do they want to make to create growth and move the business forward? One thing the pandemic has created is change; some welcome, some not. So what changes do you want and need?
Through this series of two webinars, we are offering support to help women business owners take the time and space to focus on their business and themselves. It is an opportunity to :
• to take a step back from what has been a challenging time to refocus and create their own 'new normal'.
• to take stock of the business and strategies to rebuild.
• to review personal leadership and development and build confidence and resilience.
• for participants to identify further support they may need.
UNLOCK Your Business Growth Webinar (1of 2)
In this webinar you will discover how to:
- put people at the top of the agenda
- support the manager
- communicate with staff
- manage individuals' career concerns
- measure employee engagement
Outcomes
By the end of this session you will leave with:
- An understanding of your employees/ freelancers needs and
- Knowledge on how to engage with them.
- An understanding of the concerns and career developments of your staff.
- Knowledge on how to appoint and supporting staff/ line managers
And most importantly how to make people the heart of your business.
Who Should Attend?
You should attend if you are a woman in business, who has staff or looking to employ.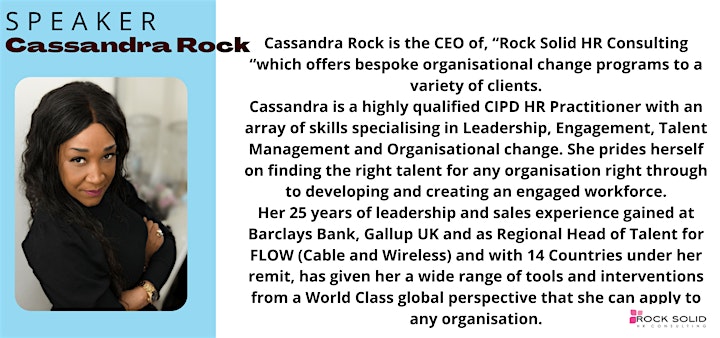 FAQs
Can I attend this event if I am not a Building Legacies Member?
Yes, if you are an SME registered business and have a London trading address, complete the registration form and once we have received your order, we will contact you to finalise the registration process.
How many people from my team can attend the event?2 maximum
Do you record your events?'Yes we do, as part of our marketing strategy, we regularly record and take photos during our events to use on our website, email newsletters, social media and other promotional materials. We reserve the rights to upload to our website and share with others.
Is there a cancellation charge?No, however as we cover the full cost of running the event, we would appreciate 24 hours' notice or that you cancel your ticket 24 hours before the event, which will allow another business on our waiting list to take the space or for us to reduce our costs.
Organiser of UNLOCK Your Business Growth – An Opportunity for Women Business Owners
Building Legacies is a fully funded enterprise growth and procurement support programme which provides tailored solutions for London-based SMMEs seeking competitive business advantage.
The programme, a partnership of private and public sector organisations, is a flagship local business growth and procurement support project of the East London Business Place (ELBP) and Newham College of Further Education's Centre for Innovation & Partnerships (CIPs).
Part-funded by the European Regional Development Fund (ERDF), the purpose of this initiative is to deliver a sustained support programme tackling gaps in SMEs' growth, innovation, contract-readiness and knowledge of procurement and supply-chain requirements.