Discover how to describe, measure, monitor and maximise motivation for you, your teams, and your business through covid-19 and beyond
About this event
Unlocking employee engagement & motivation post-pandemic
Discover how to describe, measure, monitor and maximise motivation for you, your teams, and your business through covid-19 and beyond
Motivation is a word often used but seldom understood and remains one of the biggest challenges both personally and in business - discover tried & tested solutions
A well-known business coach, international public speaker, trainer, coach, and consultant.
Steve's unique understanding of team building and motivation, coupled with his drive and enthusiasm, clearly set him aside as an expert.
Steve was co-chair of the Government's Employee Engagement Task Force team contributing in the areas of team motivation & performance improvement. He now travels the world speaking and running workshops.
Steve Jones – steve@skillsforbusinesstraining.co.uk Mobile: 07971 882628
http://www.skillsforbusinesstraining.co.uk
Twitter: @skillsforbusiness
BUSINESS, & MOTIVATIONAL LEADERSHIP TRAINER, MENTOR.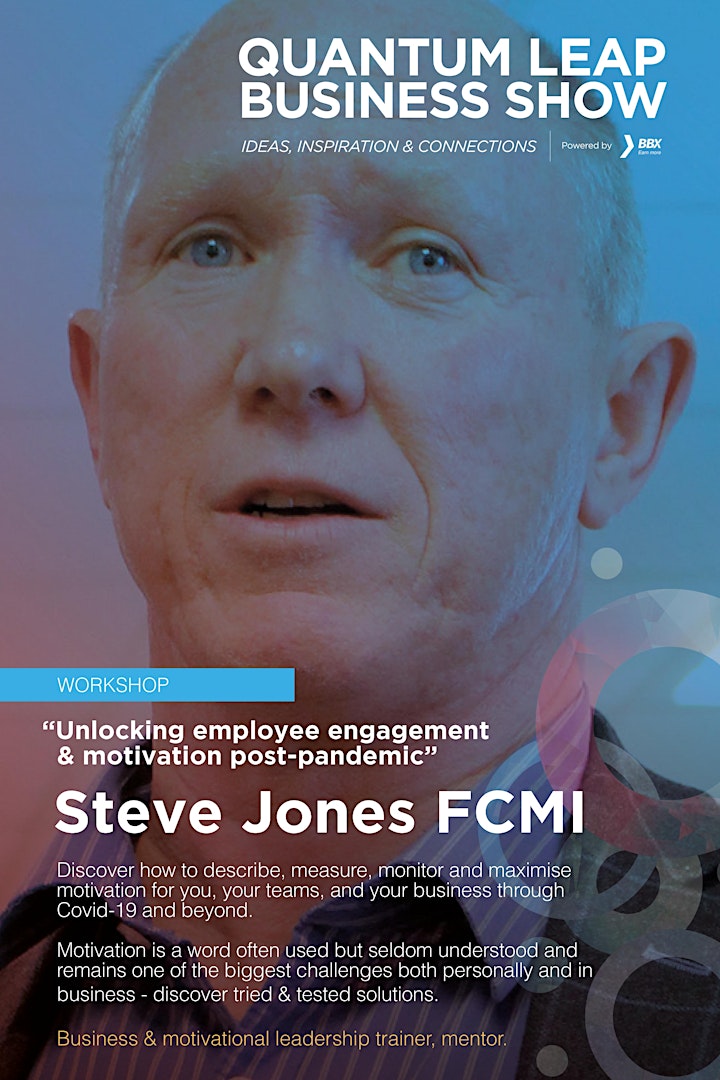 Organiser of Unlocking employee engagement & motivation post-pandemic
Thursday 24th June from 9am GMT
Giving something back to small businesses, after a year of challenging times.
Connecting small businesses across the world – Join the UK, US, Europe, Africa, Asia & Australia in three time zones.
Powering up the Global Small Business Community. Let's get focused on making 2021 & beyond a terrific year. This is the show for all the growth focused owners & entrepreneurs across the world.