About this Event
This October, people in Portsmouth will be able to exchange voice messages with people locked up indefinitely in immigration detention centres around the UK, via a red phone box called The Channel, installed at the University of Portsmouth's Eldon Building as part of Journeys Festival International.
This speaker event will take place in room EW1.10, Eldon Building, and it will introduce some background to the UK's immigration detention regime, discuss some of the cruelties it involves, and reveal what people in Portsmouth are doing about it.
We will hear directly from a Portsmouth-based survivor of detention, before finding out how to participate in The Channel project, which will be reaching out to people in indefinite immigration detention.
There are various opportunities in the city for students to volunteer with organisations that support and work with refugees and asylum seekers and this event will introduce some of the issues, if you are interested in getting involved.
Speakers
Isobel Tarr: Artist and creator of The Channel will tell us about how the project helps us connect with detainees and what to expect at Portsmouth Journeys Festival 2019.
John Bosco-Nyombi: A local resident and trustee of local refugees/asylum seekers advocacy group Friends without Borders. John will discuss the several periods he spent in immigration detention prior to receiving refugee status (and ultimately British citizenship).
Charles Leddy-Owen: University of Portsmouth lecturer and another trustee of Friends without Borders will introduce some of the history and current setup of the UK's immigration detention processes.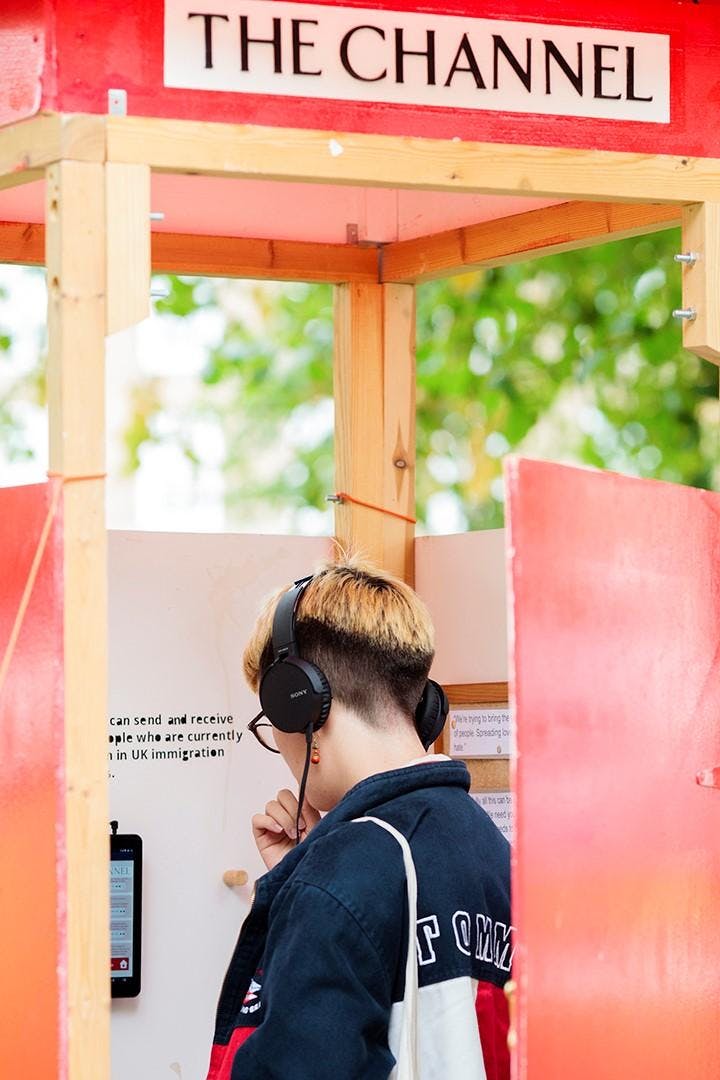 The Channel is an installation that enables you to communicate across borders. From Portsmouth, we will connect with people indefinitely detained in UK immigration removal centres via the sculpture, which resembles an old-fashioned phone box. You are invited to listen to messages sent by real people who are in detention centres throughout the week and respond to the individuals with your own questions and thoughts. The phone booth enables an exchange of messages between Portsmouth and UK detention centres, which will later form a sound artwork.
Students are welcome and encouraged to come interact at The Channel installation displayed in Eldon Building daily between 11am-5pm from Saturday 19 October to Wednesday 23 October, or to volunteer for managing the exhibition.