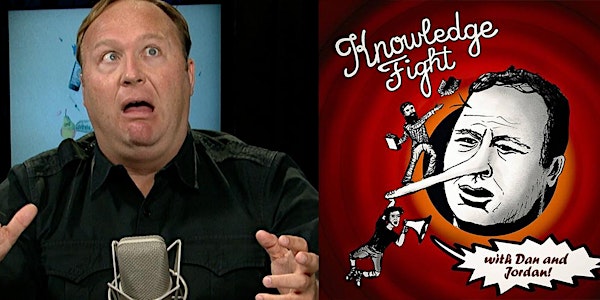 Unofficial Policy Wonk Fest: London Edition
Location
Newspeak House
133-135 Bethnal Green Road
London
E2 7DG
United Kingdom
Unofficial meetup for fans of the Knowledge Fight podcast. Not associated with Dan and JorDAN.
About this event
"Knowledge Fight: We're a Couple of Dudes Who Like To Drink Novelty Beverages and Talk a Little Bit About Alex Jones..."
WonkFest may have been cancelled but Policy Wonks can still meet up in a COVID safe way. BYO-everything, and come chat about Alex Jones with people who also listen to frankly absurd levels of content about the man. (Maybe try and avoid chocolate, we don't want a Raptor-Princess attack)
If you've never listened to Knowledge Fight, and you're confused about this 'Alex Jones' guy, the boys recommend starting with this episode. Please enjoy the wild ride.
Boring/Important COVID Info:
Tickets are limited because we can only accommodate 16 people safely. Please don't show up with an unexpected +1.
You will be asked to sanitize your hands on arrival and to wear a mask when not eating or drinking.
If you have any additional safety questions or requests please send me a message!