A thought-provoking and empowering exploration into the science and true nature of addiction.
About this event
Saturday 10th July 2021, 9.30am to 4.30pm and Sunday 11th July 2021, 9.30am to 4.30pm
Connexus Institute is delighted to offer this opportunity to work with Smart-UK, the training provider of choice for the NHS, HMPS, the Armed Forces and community mental health services.
This dynamic workshop, which takes a 'no hocus pocus' approach to addiction and client recovery, was developed by 'Inspirational Woman of the year 2014', Sue Cox, and her colleague Dr Kim Wager. Sue, who was also recognised with a "Lifetime's achievement" award for her contribution to addiction treatment, will be leading this workshop.
Over two days you will look in detail at the wonders and power of the target organ of any addiction, i.e. the brain, explore current "misconceptions" about addiction and treatment and look at 'up-to-the-minute' neuroscience all translated into easy, accessible language.
Day One:
The structure of the brain
How neurons and neurotransmitters work
'Pleasure' - why is it important?
How addiction triggers work
How epigenetic changes occur
The positive aspect of addiction!
Day Two:
What works and what does not, and why
How can you make a real difference?
A holistic approach to addiction and mental health
Incorporating this knowledge into your existing skills
A Five Star well-being approach
What outcomes can I expect?
This exciting and innovative approach believes that empowerment of the individual is key to restoration and you will gain: powerful 'tools' to support change; insights into the addictive brain and how its power can be transformed and consider how this knowledge can easily be used to support other mental health conditions. You will receive a Connexus Institute 'Ongoing Professional Development' certificate for 12 hours, and a Smart-UK certificate of attendance.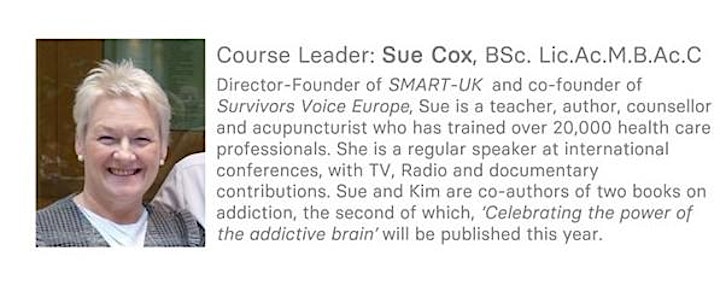 Organiser of Unravelling the Addicted Brain (2-day course)