Description
Walk for those who couldn't walk away
Join our fun, neon sponsored team walk in beautiful Leigh Woods, Bristol, (

BS8 3QB)

to raise funds for Unseen's work with the women and men who have been

trafficked, exploited and enslaved, not just in Bristol but across the UK

.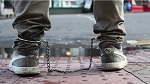 *Teams can be 2-4 people and your challenge is to walk as many times as you want around a 2.5 km course for as many hours as you like - teams have up to 6 hours from 6pm - midnight.
*Do it as a relay, take turns to walk a lap or two, or do it together.
*Set yourself a goal eg, 4 laps is 10km, 9 laps is just over half marathon - 22.5km.
The course is on a beautiful, sheltered track in Leigh Woods. There will be an 'event' village for teams to set up their team tent / gazebo where you can socialise between laps.
To get started, register by buying your personal ticket, set up a team name, then invite your team mates to enter using the team name, which can be done at a later date.
Sign Up last minute entries open until Wed.
Next step is to get people to sponsor you - we will provide tips and help. We are asking every participant to raise a minimum of £100 but we would love it if you would set a target of £200 (that's just 10 friends /family donating £20 each – and your employer may be willing to match). As a reward we will be giving individuals that achieve the target of £200, by 10 days prior to the event, special Fund raising champions t shirts, to acknowledge your achievement.
For updates - 'Like' the Neon Night Walk Facebook page - https://www.facebook.com/events/1632255900399875/
Why a Neon Night Walk?
There are up to 13,000 victims of modern slavery in the UK today and the challenge is at night, as this is the time of day survivors find the most difficult to cope with and Neon is to highlight this often Unseen crime.

Entry and sponsorship
Entry £30 (+ admin/credit card fees) per person.
The entry fee will help the event costs, so individuals are expected to raise funds that will go towards Unseen's work providing vital safe accommodation in the Bristol area for male and female survivors, and working with police, border agencies and government to tackle slavery head-on.
There will be rewards for teams reaching key targets, and whilst this is primarily a fundraising event we will have a few prizes!
Event Schedule
4pm - Registration opens: All teams must have registered by 5.30pm, ready to start the walk at 6.00pm.

4pm-5.30pm - Set up your team site: Teams will be allocated a team site for their own gazebo event HQ, if they wish. Spaces will be allocated on a first come first served basis, so email us at nnw@unseenuk.org to reserve a space.
6.00pm - Walk starts: Walk starts at 6pm and ends at midnight. See how many laps you can complete within this time frame.
12.00am - Walk finishes: The race finishes at midnight and prizes will be awarded shortly after.
1.00am - The event closes: All teams need to pack up and be out by this time.
For more information, please go to our website or try our FAQs. If you still can't find what your looking for, please do email us at nnw@unseenuk.org