The Unsung Hero Awards will be awarding Unsung Heroes at their Annual Awards recognising the Non-Medical staff and Volunteers of the NHS.
About this event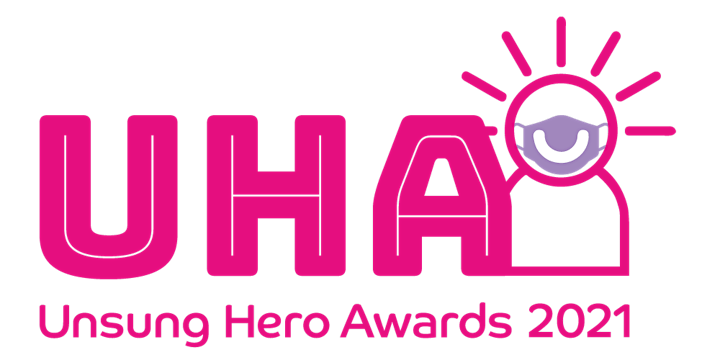 "These are really special people, and recognition is good for everybody..." Amanda Piper, Housekeeper, East London NHS Foundation Trust and 2019 Winner for Estates & Ancillary.
The Unsung Hero Awards (UHA) are the only National Awards for Non-Medical / Non-Clinical NHS Staff and Volunteers who go above and beyond the call of duty. The Awards shine a light on the hard work and commitment of teams and individuals who are vital to our health service, albeit are sometimes overlooked. Non-Medical employees and Volunteers make up around 50% of the approx. 1.5 million people employed by the NHS currently.
In the past eighteen months, both Non-Medical staff and Volunteers, as well as Medical staff, have worked in a superhuman capacity to ensure that the UK remained as resistant as possible towards one of the largest-scale health threats recorded in recent times. At the UHA, we feel these individuals 'fighting on the front line' to protect us need to be celebrated now more than ever!
We are excited to announce that our Annual Awards will be held on 12th November 2021 from 7.30pm. The Awards will be delivered at a brand new venue for us: The Museum of Science and Industry, a globally important heritage site comprising five listed buildings, two of them listed Grade 1. The venue is the original terminus of the world's first inter-city railway and it's characteristic 1830 Warehouse epitomises the city of Manchester's 19th-century reputation as the "warehouse of the western world".
As in previous years, you can expect a lively, friendly and all-inclusive atmosphere. There will be a complimentary drink upon arrival, a manned coat check, scrumptious bowl food and beautifully decorated tables where you can freely choose where to sit. There will be up-beat and lively entertainment throughout the event in the form of an up-close magician and a live singer. We will also have the event professionally photographed and filmed.
We are extremely excited to announce that our MC for the event is the hilarious Justin Moorhouse: Comedian. Actor. Dog Walker. Parent. Sometimes on your telly, never on your drive. Has own teeth and is left-handed. Undercover Vegan. 
We are also excited to announce that our Key Note Speaker for 2021 is Ellie Orton, OBE, Chief Executive of NHS Charities Together.
How will the event be Covid compliant? 
To gain entry to the event you must either be able to display your Covid Passport on the night, or evidence of a clear lateral flow test 48 hours prior to the event. Every table will be stocked with hand sanitisers and table seating has been designed around safe social distancing. 
Keep an eye out across our social media channels for further announcements about the event.
Twitter: @UnsungHeroAward
Facebook: @UnsungHeroAwards
We look forward to welcoming you in person to the 7th Annual Unsung Hero Awards very soon.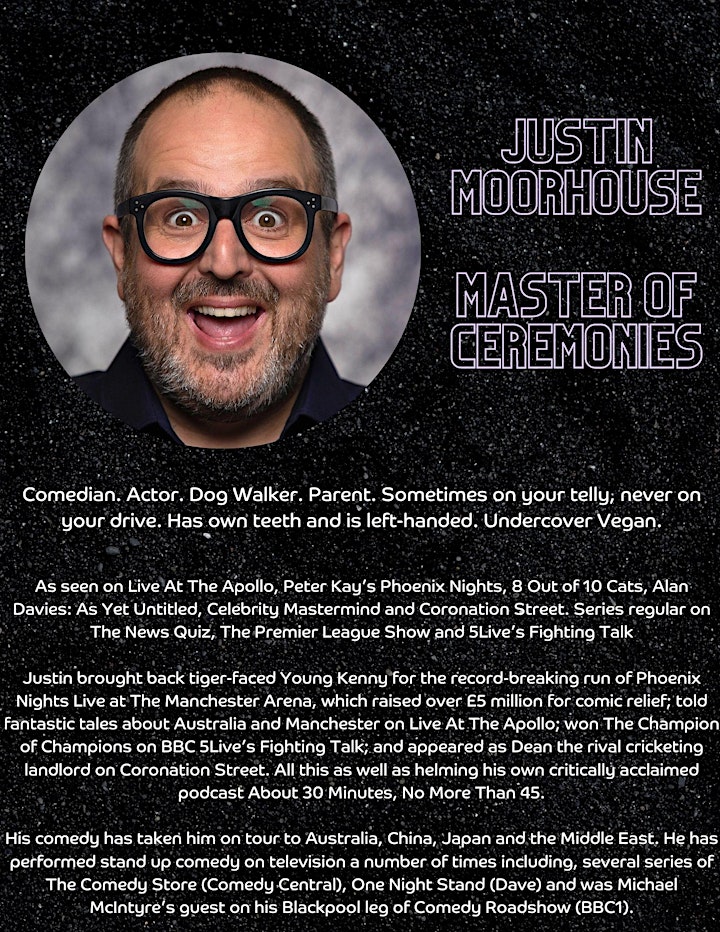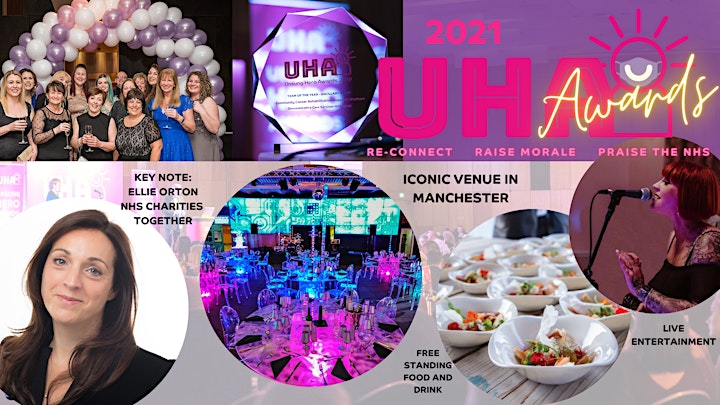 Organiser of Unsung Hero Awards 2021
The Unsung Hero Awards (UHA) were established in 2015 to promote a sense of personal well–being and promote Non-Medical / Non-Clinical NHS Staff and Volunteers.
The Awards night is a unique, lovingly constructed event, which provides a positive experience to attendees. It is also innovative, friendly, and fair. We wish to continue our record of positive feedback at our highly valuable series of events.
Our values are to remain authentic and trusted as an organisation, to show care to all our community, and to continue to innovate and push the message that "everyone is of equal importance". We wish to remain an organisation that promotes a sense of gratitude, transparency, fairness and above all else: inclusiveness.
Our purpose is to connect people. To bring individuals from different backgrounds together to the foreground to stand on equal ground.