Célébration officielle de la JIV 2020 par le Bureau Régional VNU Afrique de l'Ouest et du Centre.
About this event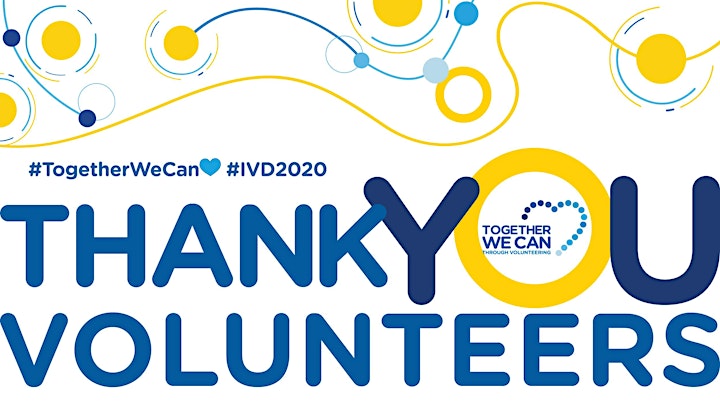 ***English Version below***
A l'occasion de la Journée internationale des Volontaires (JIV) 2020, le bureau régional pour l'Afrique de l'Ouest et du Centre du Programme des Volontaires des Nations Unies (VNU ROWCA) organise un événement en ligne qui présentera également les gagants du 'Volunteer Award'.
La JIV est l'occasion pour nous tous de promouvoir le volontariat, d'encourager les gouvernements à soutenir les efforts des volontaires et de reconnaître les contributions des volontaires à l'atteinte des objectifs de développement durable (ODD). Durant cet événement, nous remercierons les volontaires, nous mettrons en lumière leurs réalisations et nous échangerons sur la manière dont nous pouvons, ensemble, accroître notre impact dans le futur. Nous vous invitons ainsi à écouter des orateurs inspirants, à participer à une discussion interactive avec des partenaires tels que l'UNICEF, le PAM et le HCR, et à découvrir d'autres surprises, notamment les gagnants du "Volunteer Award" !
N'oubliez pas de vous inscrire (gratuitement) dès maintenant et de vous joindre à la discussion sur les réseaux sociaux (#IVDAwardWACA#JIVAward).
Pour plus d'informations sur le "Volunteer Award" et sur tous les autres événements de la JIV 2020, visitez les sites:
https://www.unv.org/Door-pages/International-Volunteer-Day-2020 https://unvrowca-ivd.org/

On the occasion of International Volunteers Day (IVD) 2020, the UN Volunteers Regional Office for West and Central Africa (UNV ROWCA) is hosting a commemorative online event which also presents the winners of its Volunteer Award.
IVD is an opportunity for us all to promote volunteerism, encourage governments to support volunteer efforts, and recognize volunteer contributions to the achievement of the Sustainable Development Goals (SDGs). During this event, we will thank volunteers, highlight their achievements, and exchange on how together we can increase our impact even more in the future. Therefore, we are delighted to present you with inspiring speakers, an interactive discussion with Partners such as UNICEF, WFP, and UNHCR, and other surprises – most importantly – the winners of the Volunteer Award!
Make sure to sign up (for free) right now and to join the discussion on social media (#IVDAwardWACA#JIVAward).
For more Information on the Volunteer Award and all other IVD 2020 events visit:
https://www.unv.org/Door-pages/International-Volunteer-Day-2020 https://unvrowca-ivd.org/