Description
Keen to learn the craft of bookbinding but can't commit to a 5 week block of classes? Join me for bitesized bookbinding instead – pick and choose which bindings you want to learn from my Upcycled Bookbinding series and book onto an individual class for just £24.
On Wednesday 20 February create an A6 hardback book with case binding – a nifty book that makes for a great notebook or journal.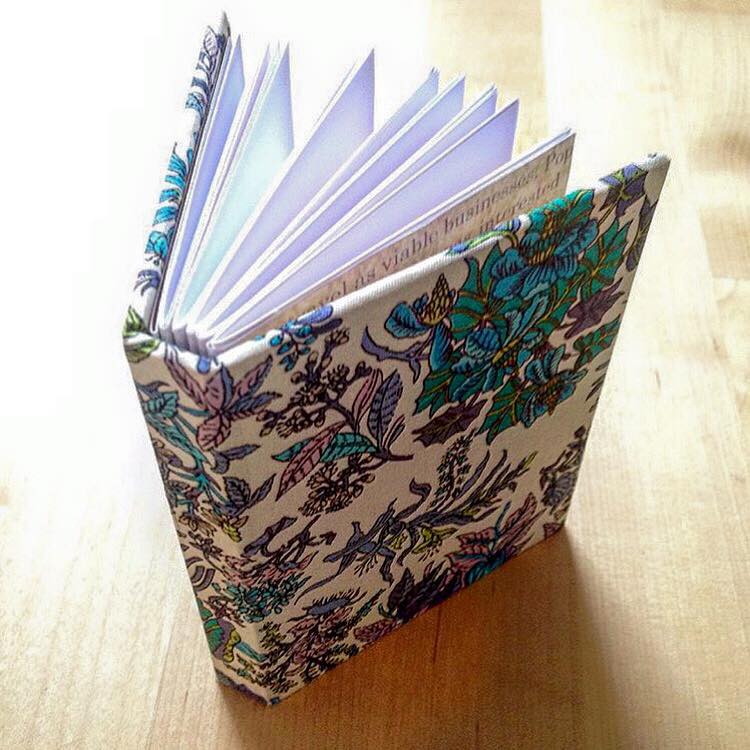 I'll bring all the materials you need and there'll be lots of opportunity to personalise to your books, which also make great gifts if you have any birthdays or special occasions coming up! I
I'm passionate about repurposing materials and making the craft of bookbinding fun and accessible - so expect an informal atmosphere, upcycle inspiration and lots of guidance.
This class is suitable for bookbinding beginners as well as those who have dabbled in bookbinding before, and is for adults only (18+). Honey Pot is kindly offering a £3 cake and tea/coffee special for all those attending the class - the perfect way to end your creative morning!
For details of other classes in this series, click on the links below:
23 January - Lng stitch binding
30 January - Concertina spine binding
6 February - Cross stitch binding
13 February - French link stitch binding
20 February - Fabric covered case binding
**Book on all 5 classes and receive a complimentary Bookbinding starter kit, which includes all the tools you need to make more books at home, plus some materials to help you get started. Click here to book the full 5 class term.

Here's what one of my previous bookbinding participants had to say about taking part -
"I absolutely loved taking part in 5 workshops of Bookbinding with Cass. Such a well-organised event, containing such a wide range of materials, allowing our creative minds to go wild! Cass was very encouraging of this, very clear with her instructing, also calm and patient, allowing us to go at our own pace. By the end, I left with 5 very interesting, beautifully designed, different types of books that I can't help carrying around so I can show them off - I still can't believe I actually made them! I would highly recommend this course, especially for those who are looking to learn a new skill in a very fun and productive environment."
If you have any questions, please do not hesitate to get in touch at - cassbarron.cb@gmail.com. You can check out some of the work made in my bookbinding classes on my Bookbinding with Cass Facebook page or via my Instagram account.
**Spaces on this class are limited and there will be no refunds or transfers once a booking has been made, unless your place can be filled from a waiting list, in which case the full fee will be refunded. If the workshop is cancelled for any reason, you will be offered either a cash refund or the option of being transferred to an alternative event.**