UPF Friends - Commemoration of UPF Founder Father Moon's Ascension
Description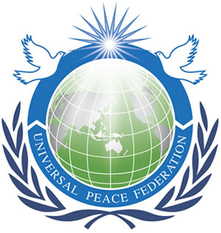 Universal Peace Federation (UPF)
UPF Friends - Commemoration of UPF Founder Father Moon's Ascension


6.00 pm Refreshments & 6.30pm Start
43 Lancaster Gate, W2 3NA, London
Dear Ambassadors for Peace, Friends and Members of UPF,
The Co-Founders of Universal Peace Federation (UPF), Father and Mother Moon, have guided its growth around the world. UPF is an international organisation that is responsive to national needs but capable of supporting the United Nation's worldwide initiatives and assisting in the UN's development.
The late Father Moon, one of UPF's Founders, has huge expectations for the Universal Peace Federation. During this evening we will consider his original vision and how we in the UK as well as the International UPF have responded to that vision. The Universal Peace Federation was an umbrella organisation that gathered a number of Father Moon's prior initiatives together to bring greater cohesiveness. We will also consider some of those efforts to understand how they have progressed. This will also allow us to discuss how we can collaborate with other groups who have expertise in those areas.
UPF has a role both to promote a global consciousness and a sustainable lifestyle. UPF stands for one family of humanity under a loving and inclusive God. All people have equal and sacred value irrespective of their background. Humanity should develop this understanding and live for the sake of others to find inner happiness. To learn more about of the vision of the Universal Peace Federation please see www.uk.upf.org
We look forward to seeing you. Kindly RSVP to attend.
Kind regards,
Robin Marsh: UPF-UK Secretary General Mobile: 07956210768
Margaret Ali: UPF-UK Director Mobile: 07723024750
Universal Peace Federation (UPF) - UK
Office: 02072620985
www.uk.upf.org @ukUPF pa@uk.upf.org
UPF is an NGO in Special Consultative Status with the Economic and Social Council of the United Nations
YouTube Channel