Description
Back by popular demand.....Beginners and Improvers all welcome!
Discover the craft of upholstering in a day
Come and join us for this fantastic one-day introduction to upholstery and re-upholstery where you will learn the basic skills to upholster a stool or an insert chair. You will learn from our experienced trainer how to re-upholster a drop-in seat or small stool using traditional methods.
Bring in your own insert chair or stool to work on
We will work in a small group (around 6 - 7 people per workshop) so the session will be tailored to your skill level and experience. You can bring in your own insert chair or stool to work on, or, work on one of ours (if you want to take it home there is an additional charge, chairs usually range from £15-£25.
Learn from our amazing guest trainer
The workshop will be delivered by Terry Howson. Terry is a renowned Artist, Interior Designer, Furniture Restorer and Upholsterer with over 30 years' experience and we are delighted to have the opportunity to have her work with us. This day includes practical skills in webbing, stapling, stabilising and adding appropriate trim. It will also give practical demonstrations of an example of furniture upcycling and restoration.
This workshop requires more focus and concentration than some of our other workshops as you will be working with tools and textiles.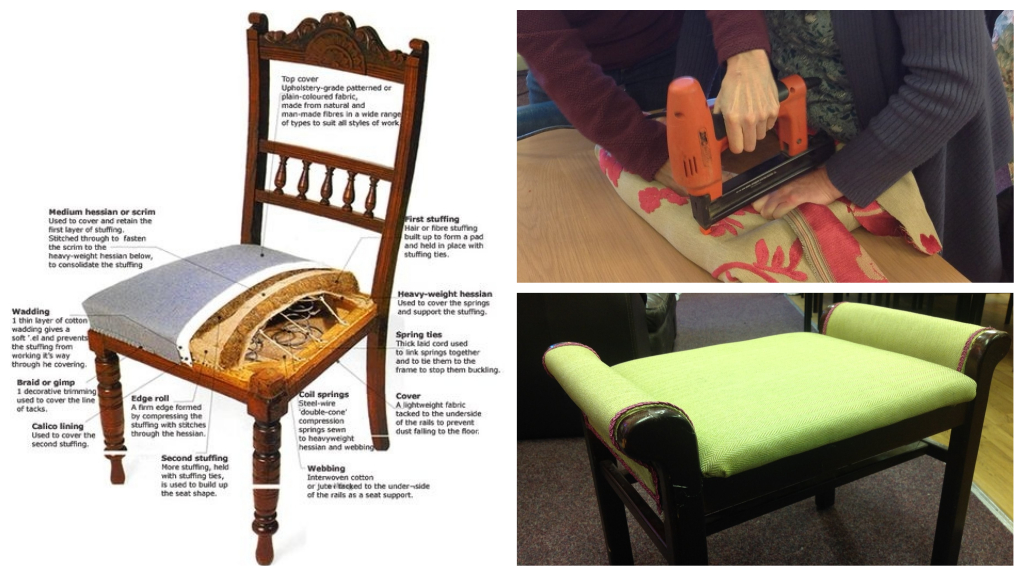 Experience Level: Beginner ( Improvers welcome) Cost: £35 (including light lunch)
RETWEED 'Autumn collection' of craft, sewing and upcycling workshops. Get in touch and join us for the next chapter. You'll be glad you did!
This course will run on Saturday 27th October from 10:30 am – 4:30 pm. Light lunch and refreshments will be provided for all students. The course will run at TEDDA Cente, at Wellbraes, Eyemouth (behind Eyemouth swimming pool.)
Interested in joining us?
If you're interested in joining us for this fantastic training course, BOOK EARLY to avoid disappointment as spaces are limited.
BOOK YOUR SPACE ONLINE ON
EVENTBRITE
Do you want to sign up to our updates and our workshop programme? Click HERE and sign up for ReTweed's workshops and news updates.