Description
Are you a sports, physio or massage therapist wanting to improve your upper limb taping techniques? Do you need to improve your knowledge on the theory behind taping and why we use it? If you answered yes to either of those, this is the course for you!
Massage.physio.co.uk are running a one-day massage workshop that will focus on the specific taping techniques for the upper limbs. The workshop will concentrate on different taping techniques for each individual aspect of the upper limbs and the reasons behind each method. The reasons or most appropriate times taping can be effective will be discussed during the workshop as well as the benefits of doing so.
The upper limbs are some of the most common places people experience issues with. The upper limbs include the shoulder girdle, the shoulder joint, the upper and lower arm, the wrist and the hand. Whether the issues faced are posture, injury or surgery related, most people will experience some form of pain, tightness or weakness in an area of the upper limbs. The most common reasons taping is used around the upper limbs is to improve posture and to support the shoulder joint.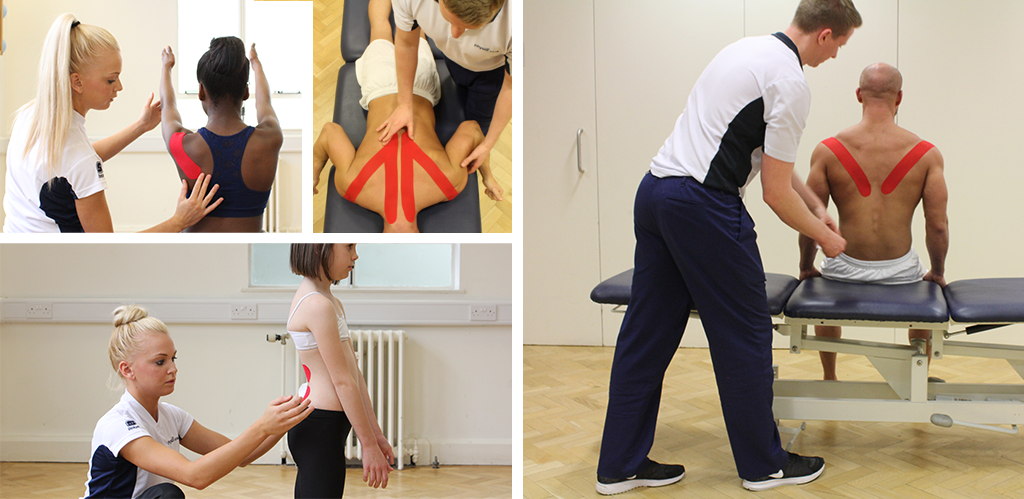 Kinesiology taping or K-taping is becoming a very popular treatment method amongst massage and sports therapists to aid in upper limb conditions. Not only can K-tape assist in improving posture and providing support for joints, it can also help to reduce aches and pains, help with increasing joint mobility and stability.
There are various different taping techniques that can be used, each with a specific goal. Incorrect application of K-tape can prohibit recovery, increase pain and induce muscle and joint stiffness making experience and training in taping essential for all massage and sports therapists wishing to offer this service to clients.
The 'Upper Limb Taping Techniques' workshop will start with an introduction to the theory and background of taping and the history behind it. The pros and cons of taping techniques for the upper limbs will also be discussed throughout the day. In order to improve your own taping skills, you will be given the opportunity to apply tape to other members of the course to the upper limbs using the techniques demonstrated by the highly experienced therapist running the course.
Please note this massage workshop is CPD only and therefore will not achieve a qualification to practice following your attendance. You should always check your scope to practice and insurance when learning new skills.
The course will be held at our St John Street clinic on 7th April. It will start at 10 am and finish at 3 pm. Lunch will be provided.
All tickets purchased for this course will be non-refundable