Free orientation with Q&A session - The Kairos Project's 'Continuous Learning & Agility' Virtual Programme Series.
About this event
Quintessential tools for the 21st Century
Most organisations and communities are now operating in a VUCA (volatile, uncertain, complex, ambiguous) environment. Digitalisation, new ways of working and continuous adaptation require us to reinvent ourselves. Our habitual practices, aimed at procedure-driven problem-solving and reducing uncertainty, are no longer effective.
Supporting people through these uncertain times, into the emerging future, is part of our mission at the Kairos Project. Our virtual programmes are open to anyone interested in upskilling or reskilling to update their mindset, tools and behaviours for the 21st Century.
Our ontological learning methodology builds perspective-shifting and behavioural agility. Participants get introduced to fundamental systemic concepts, build awareness through experiential exercises and peer learning and are immersed in practising new strategies and behaviours. Programmes conclude with a personal action plan to carry the learning forward.
Commencement Dates and Times
Each course consists of 4 learning modules and 1 mentoring session. Each webinar will be held at the same time, every two weeks.
• Open Orientation Session: Thursday 11 February, 2021 @16:00GMT
• Being Well; Building Resilience: Tuesday 23 February, 2021 @ 16:00 GMT
• Boost your Emotional Agility: Wednesday 24 February, 2021 @ 16:00 GMT
• Continuous Learning Through Feedback: Thursday 25 February, 2021 @ 16.00 GMT
• Better Decision- Making in Uncertain Times: Tuesday 2 March, 2021 @ 15:00 GMT
• Uncover and harness the power of polarities – embrace "both/and" thinking: Thursday 4 March, 2021 @ 16:00 GMT
Find out more about the individual courses here:
Sign up below for our free orientation session on February 11 @17:00GMT which will give you a flavour of the programmes and provide space for Q&As.
If you have any questions regarding the Orientation Session, or the Virtual Programme Series, please contact alexandra.montgomery@thekairosproject.com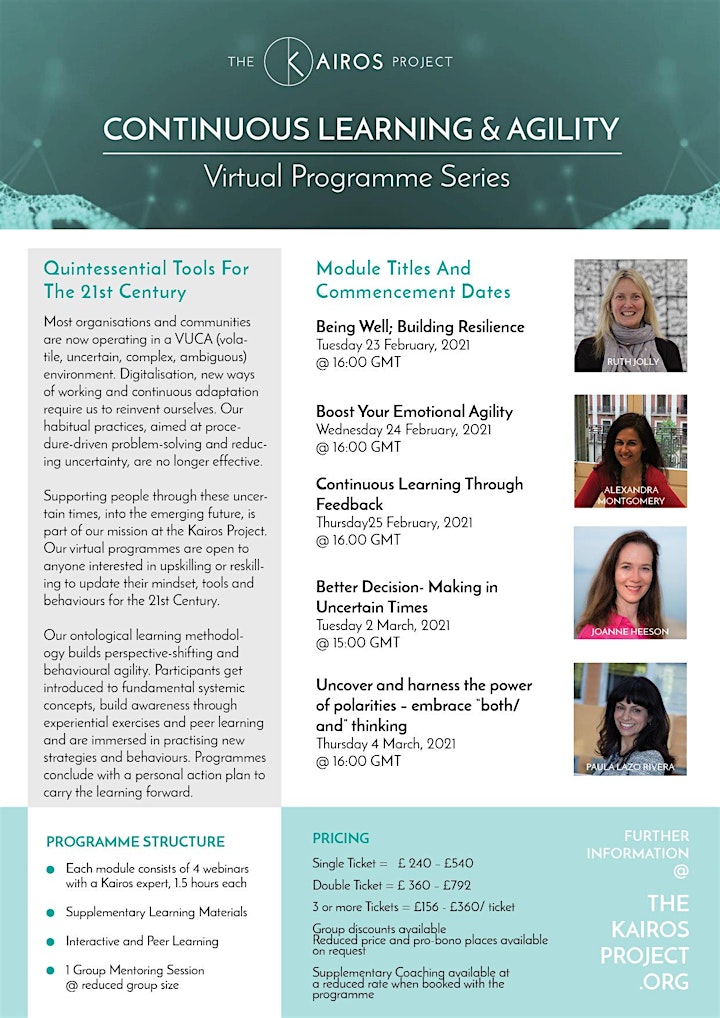 Organiser of Upskilling for the 21st Century – Kairos Virtual Open Programme Orientation
 We are a global organisation with a cross-cultural network of coaches dedicated to leadership development and sustainable change.
 Our Purpose

To strengthen the human dimension of organisations striving for a sustainable planet
Our Vision -

that any person, team or organisation striving for a better future for humanity and our planet has access to professional support, no matter what.

that this support is not held back by geography, language, technology, culture, gender, government

that people and teams striving for a better future are showing up in their most effective selves

that purpose-driven organisations are meeting their ambitions, meeting their funding commitments, fulfilling their promises

that through us, the change agents in our world are fulfilling their longing to work with people of purpose, and missions with meaning.

that we are recognised as a model for service-driven organisations

that every sinew, every cell in our organic body is seeking to serve our stakeholders – associates, funders, striving clients, government, environment, human and women rights, social justice.

That no one, anywhere, ever, that wants to further the prospect of our future feels alone.