People from across London National Park City discussing rewilding, food growing, nature education, urban forests and community building.
About this event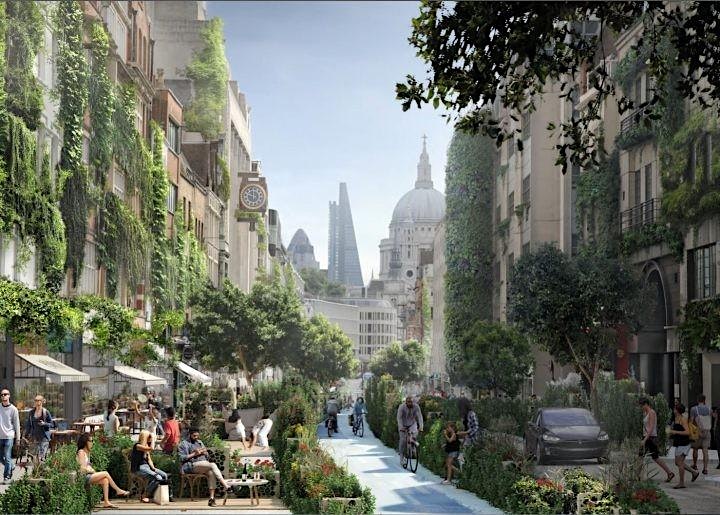 Cities around the world are facing increasing uncertainty due to the Covid-19 pandemic, climate change, poor health, and social and economic inequality, amongst other things. 'Resilience', the ability to recover after a shock or stress, is an essential element for cities and communities to thrive in the 21st Century. Bringing nature into our cities is one of the best ways of increasing city resilience and addressing many of the crises we face.
This event brings together London National Park City Rangers with external experts to discuss rewilding, food growing, nature education, urban forests and community building, with real examples from across London. The aim is to bring people together around the shared goal of urban greening, to inspire and share knowledge, and to catalyse further action towards resilience.
Speakers
Tiago de Zoeten
Tiago is a conservation biologist at Mossy Earth, a social enterprise on a mission to restore nature and fight climate change. He studied biology at the University of Edinburgh and Biostatistics at UCM in Madrid and has research experience in ecology and conservation genetics. At Mossy Earth he is working on bringing exciting rewilding projects to life and on applying his love for data to develop resources to help people live more sustainably.
Divya Hariramani
Divya is passionate about urban foraging, specifically finding fruit trees in the city. Volunteering, she hopes to encourage public parks to plant fruit trees, clearly labelled to aid the community identifying them. Her dream is to publish her own fruit tree map of London. Divya is a renewable energy engineer.
Katie Mills
Katie is a Forest School Leader, a practitioner of shinrin-yoku and runs two nature connection social enterprises promoting the links between nature, health and happiness. Katie brings significant experience in coordinating, curating and delivering nature connection programmes, talks and events to the Ranger team. Katie is developing a wonderful 'Stories By Moonlight' initiative to encourage outdoor reading, storytelling and nature connection.
Niall McEvoy
Niall is Business Development Manager at Scotscape, a leading green infrastructure and living wall provider. He is an educator and speaker with expertise in urban greening, horticulture and the science behind how plants and trees can improve our cities.
Niall leads training courses on the design, construction and maintenance of living walls, provides continuing professional development programmes for architects and designers globally and regularly speaks on these subjects at industry events.
Rose Cowling
Rose is a community gardener and organiser who is passionate about connecting Londoners to wilderness in their city. She's a keen forager who finds wild food growing in the most unexpected places. Rose believes in a more resilient food future where London is abundant with food grown by the community.
Luke Newcombe
Three years ago, Luke set up the Westbury Banks Nature Reserve and turned a known fly tipping hotspot into a Nature Reserve. The Reserve has secured long term funding from the Noel Park Big Local and is constituted as a friends group. Luke has helped other local friends groups secure funding for setting up projects and provides them with guidance when dealing with third parties. Luke is currently working with Future Wood Green BID to rejuvenate disused flower beds at Wood Green Library into a thriving habitat for wildlife and people!
Adib Dada
Adib Dada is the founder of theOtherDada [tOD] Regenerative Consultancy & Architecture firm, which mission is to activate projects across architecture, livingsystems, and art. Based on Biomimicry thinking, tOD's work promotes a symbioticrelationship between nature and the built environment by exploring new ways ofcreating generous and regenerative buildings; in essence developing creative solutionsthat have a positive impact.
Adib has been recognized in Apollo Magazine's 40 Under 40 as a Patron of the Arts inthe Middle East, and was listed as one of GOOD Magazine's GOOD 100 for his projectBeirut RiverLESS, which aims to regenerate the deteriorated Beirut River. Adib is a Fellow of the Middle East Leadership Initiative and a member of the Aspen Global Leadership Network. Adib is firmly committed to the UN Decade of Action, engaged on rewilding the city and reclaiming public space by planting native Miyawaki forests in urban landfills through his new initiative: theOtherForest, a nature-based tool for ecological and social regeneration.
Organiser of Urban Greening for City Resilience
Launched in July 2019, the London National Park City is a place to enjoy, a vision to share and a movement to join to improve life in London. We're doing this by enjoying being outdoor more and helping to make our city greener, healthier and wilder.
Having successfully campaigned to make London a National Park City, the National Park City Foundation is a registered charity established to bring the idea of National Park Cities to life both in London and internationally.