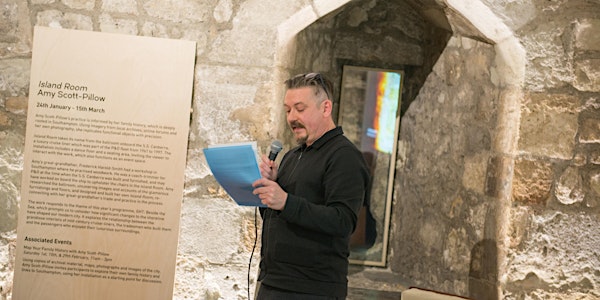 Urban Lecture Series: Reading The City July 2020 (Virtual)
Hear from guest speakers who are at the forefront of the contemporary urban debate in Southampton in a series of monthly lectures.
About this event
This is the final event in a series of public lectures entitled 'Reading The City' brought to you by GO! Southampton and Studio: B.A.D.
Join like-minded people on the July 7 from 5.30pm - 6.30pm and hear from guest speakers who are at the forefront of the contemporary urban debate in Southampton.
This month's theme: A Meanwhile City
Carl Turner - Principal Turner Works
Carl is Founding Director of Turner Works and a self confessed "maker at heart". Starting with his very own Slip House in Brixton, which went on to win the prestigious Manser Medal, the practice has gone on to create projects both large and small for a variety of clients including Mountview Academy, LLDC and many Councils and landowners across the UK.
Known as an innovative entrepreneur after founding both Pop Brixton & Peckham Levels Carl was recognised by the London Evening Standard as one of London's most influential people in 2018 (Progress 1000 list).
Carl lectures widely in the UK and overseas and is often asked to sit on jury and award panels. He is a member of the Southwark Design Review Panel. He was elected as National and London Council Member for the RIBA in 2014, and has Chaired RIBA London Council for the past 3 years. He is a graduate from the Royal College of Art and was an inaugural Research Associate of the Helen Hamlyn Research Centre.
Marcos Rosellos - aLL Design
As a founding director, Marcos worked to establish aLL Design in 2011 with the late Prof Will Alsop and is based in the London office. As aLL's CEO, he leads the global offices in Qatar, China and the UK and steers our projects internationally. Marcos is an architect with a design background, specialising in Regeneration, Meanwhile Spaces, Transport and Sustainability. Marcos is often invited as a judge for architectural competitions - most recently the Chelyabinsk 2020 Airport, Conference Centre and Park competition and as a speaker on transformative urban design.
Thomas Bryans RIBA – IF_DO
Thomas Bryans is an architect and a founding director of IF_DO. His work ranges from small-scale meanwhile interventions to masterplans, including the delivery of the award-winning Sixth Form Centre for St Teresa's School in Surrey. Thomas has a particular interest in the psychological impact of the built environment on peoples quality of life, and he has taught and written about how our cities can be designed to help foster meaningful connections.
The public lecture series is the first element within a strategy focused upon raising public awareness, engagement, and participation in a curated process of re-imagining the public urban realm of Southampton. Contributors are each at the forefront of contemporary urban debate and will provide diverse and often challenging perspectives upon the City of the twenty first century. The over-arching objective is to ensure that place-making in the city is informed and inspired by contemporary visions of how our experience of urban life is enhanced.
'Too often as a nation we have focussed on the quantity of development and the speed of our regulatory processes, and whilst these matters are important, they should not be at the expense of a clear vision of the sorts of places and communities that we wish to see.' - Place Making Alliance