Event Information
Location
Museum of London (Terrace and Garden Rooms)
150 London Wall
London
EC2Y 5HN
United Kingdom
Description
Join UCL Urban Laboratory and the Museum of London for the public launch of Urban Pamphleteer #7: LGBTQ+ night-time spaces, past, present and future.

Urban Pamphleteer is a series of publications that confront key contemporary urban questions from diverse perspectives. Written in a direct and accessible tone, these pamphlets draw on the history of radical pamphleteering as a tool for instigating change.

This issue gathers perspectives, provocations and vignettes on London's LGBTQ+ night-time spaces, past, present and future, with a focus on the different tactics being used to queer night-space. Featuring a diversity of examples that together suggest how and why different venues, events and clusters are produced; how, when and why they have opened or closed; the scenes that have recently emerged, or are imagined, and how these connect with historical ones, and with other places.
Edited by Ben Campkin, Laura Marshall, Rebecca Ross. Designed by Guglielmo Rossi.
Contributors include: Stuart Feather; DJ Ritu; Anton Johnson; Ben Walters; Chardine Taylor-Stone; Joe Parslow; Victoria Sin; Travis Alabanza; R. Justin Hunt; Josh Hepple; Planning Out; Friends of the Joiners Arms; Queer Spaces Network; Prem Sahib.
Urban Pamphleteer #7 has been produced in partnership with Museum of London for City Now City Future, a season of ideas, debate and inspiration.
Accessibility information: www.museumoflondon.org.uk/museum-london/plan-your-visit/museum-accessibility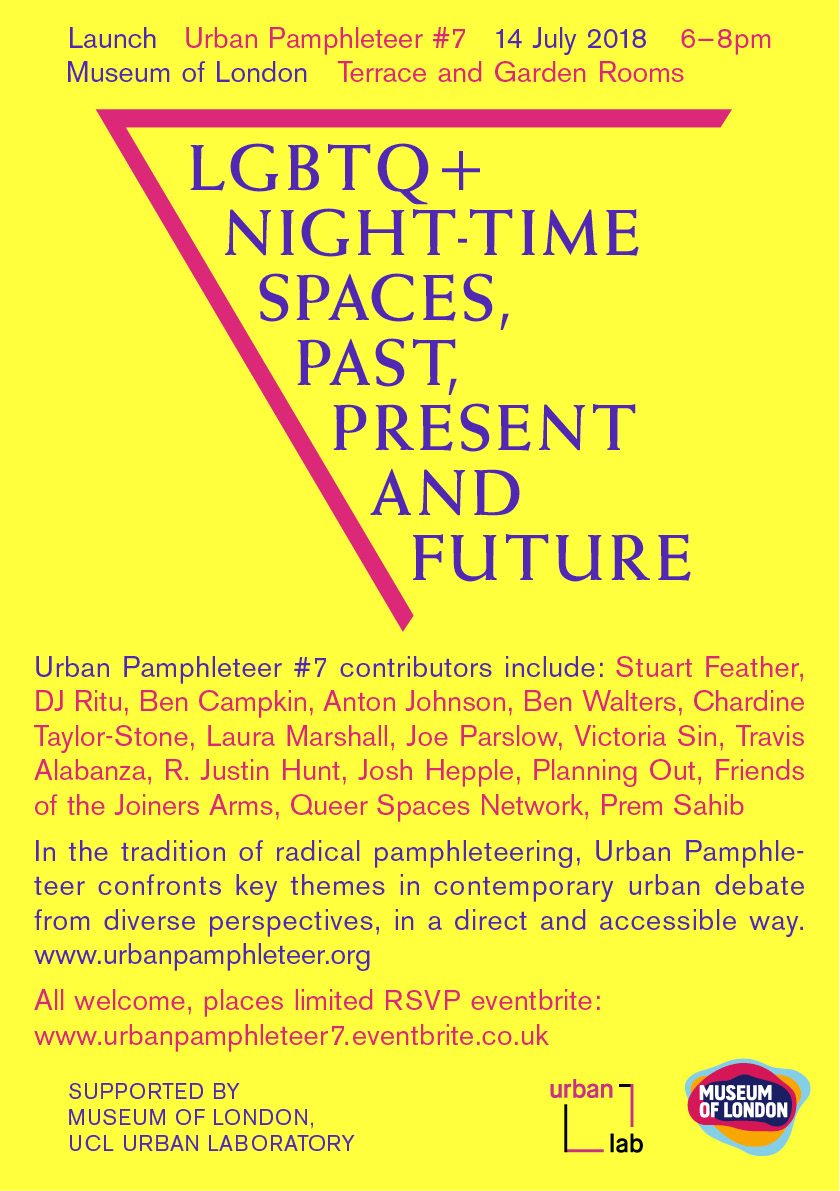 The launch event takes place following a roundtable event for those who planned, supported, attended or worked at the London Lesbian and Gay Centre. The documented conversation will consider its history and lessons that can be learned for present-day campaigns to create LGBTQ+ community spaces (further information here).
If you have a connection with the Centre, please join us for the roundtable (3-5pm) by RSVP to: joseph.alloway.12@ucl.ac.uk, stating your link to the London Lesbian and Gay Centre.
Date and Time
Location
Museum of London (Terrace and Garden Rooms)
150 London Wall
London
EC2Y 5HN
United Kingdom