Description
Dear everyone,
Do you need a break? No need to go far. Join us at this half-day retreat in the center of Paris to tend to your Mind, Body, and Heart. And share with your friends—this Lean In event is open to the public!
The International Business Women chapter of Lean In Paris is proud to host this 6-hours Urban Wellness Retreat. The retreat will include 4 sessions and a healthy & delicious lunch (25€).

Looking forward to seeing you on Sunday, April 7th!

---
Wellness is more than the absence of illness.
Illness is a result of disintegration between Mind, Body & Heart.
Restoring this balance opens the way to a state of complete physical, emotional and mental well-being.
During this urban retreat, you'll create a greater sense of health and happiness in 5 clear steps, which will empower you with insightful knowledge and efficient tools for your long-term well-being.
Everything you'll experience can be your go-to tools for creating and maintaining greater physical and emotional well-being on a day-to-day basis.
Wellness Mindset—Create the Space and Conditions for Wellness to Arrive Into Your Life.
Wellness for the Mind—How to Improve Mental and Emotional Well-Being
Wellness for the Body—Ayurveda for Creativity, Vitality, and Fertility
Wellness for the Heart—Mindfulness, Compassion, Loving Kindness
Q&As—One-on-One Discussions with Coaches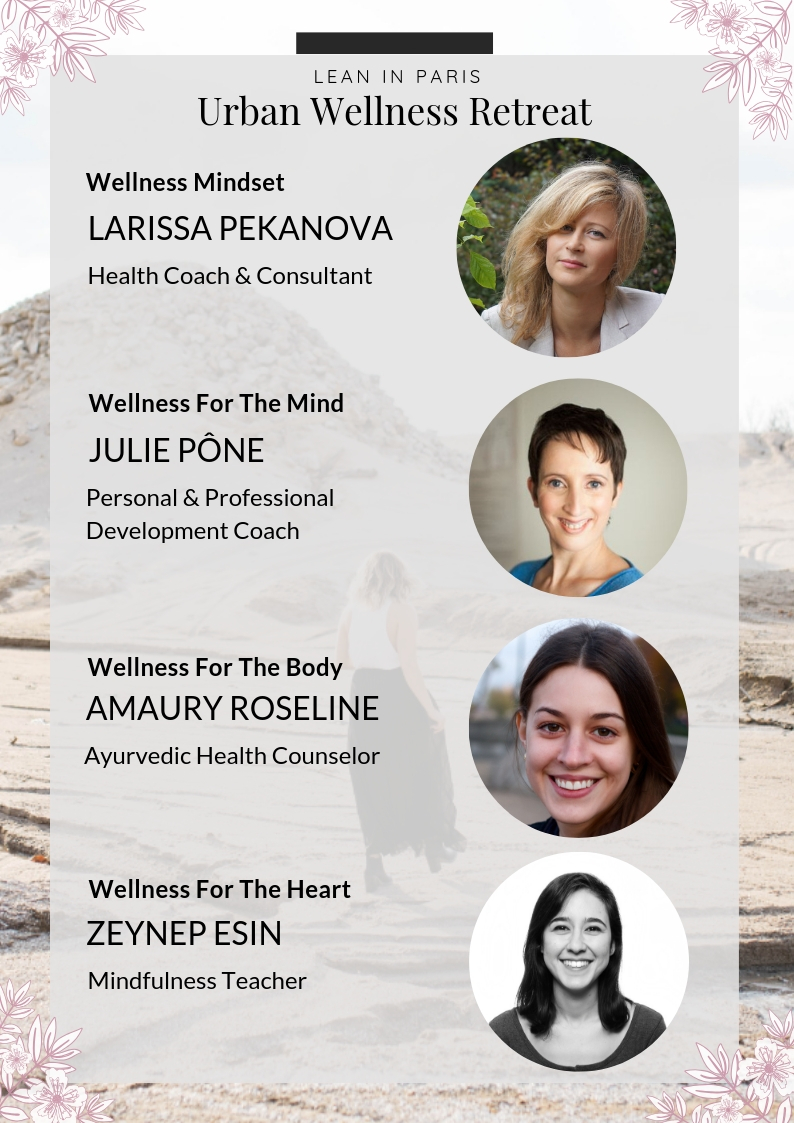 Presenters and Session Descriptions:
Step 1: Wellness Mindset & Holistic Detox Protocol, Larissa Pekanova
We'll create the space and conditions for the wellness to arrive in our life. Key points:
Why so many people are "off" feeling sub-optimally? Sources /reasons for epidemics of burnout, depression, etc.
What's really out of your control (when it comes to your health & happiness), and what's in your control
Exercises to mitigate/eliminate imbalances in nutrition, as well as in your life
Larissa is a certified Integrative Nutrition health coach, corporate wellness consultant, founder of "Way to Balance" consultancy in Paris. Larissa's mission is to empower her clients to use their challenging health & life situations as a springboard to create a healthier, more fulfilling and happier life. Using "Integrative Nutrition" approach in her holistic health coaching (nutrition, sport, stress-management, and life-coaching) she helps prevent burnout, eliminate fatigue, muscle tension, improve sleep, concentration, digestion, and weight, take control over mood swings and lack of motivation... creating a long-lasting and sustainable lifestyle change. To know more, visit www.waytobalance.org, Instagram @larissa_pekanova
Step 2: How to Improve Mental and Emotional Well-Being, Julie Pône
Self-awareness and practical exercises to learn how to literally hack into your own nervous system and reprogram yourself for peace of mind and emotional well-being. Key points:
Discovering through fun examples of how our instincts set us up for "problems" and what to do about it
Learn a technique to restore peace of mind so that the body can relax
Self-awareness exercises to get clarity on our patterns of emotions and behaviors, and which one is draining or restoring our energy
Learning technique to get back power over our emotions, the power to consciously choose the positive regenerative ones that boost your inner battery
Julie is an intuitive personal & professional development coach specializing in stress management. She helps professionals who feel stressed, stuck and unfulfilled to make career adjustments in alignment with their true purpose. Julie's move to Ireland 14 years ago to pursue a career of working with horses left her exhausted with a chronic disease. Her passion turned out to be completely misaligned with her life purpose; it took her years to understand and reconcile this. Her journey to recovery through managing her mind, body, emotions, enabled a personal breakthrough to a new professional mission: to save people the time and energy to figure these things out on their own. She integrates her personal experiences, intuition, and knowledge of the mind and emotions within stress management and career-coaching framework, and develops programs that aid people to transition from unhealthy and unfulfilled professional commitments to balanced and authentic ones. She works in Dublin, Paris and online with people who want to make their career work for them rather than work for their career. www.juliepone.com

Step 3: Ayurveda for Creativity, Vitality and Fertility, Amaury Roseline
Discover Ayurvedic wisdom for modern women. Rooted in the laws of nature, Ayurveda is one of the oldest healing arts in the world. Originating from India, it's a sister science to yoga. Ayurvedic philosophy and practices address personal and collective evolution - physically, spiritually, intellectually, sexually and emotionally.
In this session, we will move our bodies and learn simple tools to begin restoring and nurturing our innate feminine wisdom. This is an embodied and experiential session. Please bring a yoga or exercise mat with you (if you have extra mats you can bring, please do so)
Amaury is an Ayurvedic Health Counselor and COO at Shakti School, an Ayurveda and Yoga school aimed at empowering women in health, love, and life.
Step 4: Wellness For The Heart, Zeynep Esin
Mindfulness is a bird with two wings: awareness and compassion. Being aware of everything is not enough on its own; we also need a warm, welcoming, loving acceptance of what we become aware of.
We all struggle with feeling compassionate in the face of difficulties: How can we open our hearts to someone or to a situation that has hurt us greatly? The good news is that compassion is our true nature; no matter how blocked we may feel at first, we can always find a path back to it.
In the first part of this session, we will talk what compassion is and what it isn't, the science of compassion, and about its importance in our lives. In the second part, we will practice with a loving-kindness meditation.
Zeynep is a mindfulness teacher. She has been practicing mindfulness meditation for the past 8 years and is in training with world-renowned teachers Tara Brach and Jack Kornfield. She gives 6-8 Week Introduction to Mindfulness courses to individuals and businesses in Paris, as well as 1:1 mentorship sessions to people with existing meditation practices. She also organizes weekly mindfulness sits (practices) and gives talks. You can follow her on Instagram @mindfulnesswithzeynep or subscribe to her biweekly newsletters at https://zeynepesin.com.
---
Preliminary Schedule:
Wellness Mindset with Larissa:12h – 13h
Lunch: 13h – 14h
Wellness for the Mind with Julie: 14h – 15h
Wellness for the Body with Amaury: 15h10 – 16h10
Wellness for the Heart with Zeynep: 16h20 – 17h20
Q&A with Presenters: 17h20 – 18h