Description
Urvashi Butalia will deliver the third annual Cities Imaginaries lecture at UCL Urban Laboratory, as part of the India Voices season.
Mona: A Sort of Life/A Life of Sorts - A Transgender Story in the City
This talk will focus on the story of Mona Ahmed, a hijra, in the city of Delhi. It will unfold through the friendship between two women, and their extended conversations over more than a decade, and will explore issues of urban life, citizenship, marginality and sexuality.

An active participant in India's women's movement for more than four decades, Urvashi Butalia is co-founder of India's first feminist publishing house (Kali for Women) and current CEO of Zubaan Books. She has spoken and written widely on issues related to women in India, gender, identity politics, religious fundamentalism, censorship and freedom of expression and issues relating to sexual violence and conflict. Among her various publications is The Other Side of Silence: Voices from the Partition of India (which won the Oral History Book Association Award 2001 and the Nikkei Asia Award for Culture 2003). Her latest edited collection Partition: The Long Shadow was published in 2015. In 2011, Ms Butalia was awarded the Padmashri, one of India's highest civilian honours. She lives and works in Delhi.

Cities Imaginaries is a public programme of screenings, salons, exhibitions, performances, workshops and other events that curate and create cultural representations of cities and urban life from the UCL Urban Laboratory. Led by Urban Lab Co-Director Professor Matthew Beaumont, two previous annual lectures have been delivered by high-profile cultural figures - Linton Kwesi Johnson (2015/16) and Amit Chaudhuri (2014/15).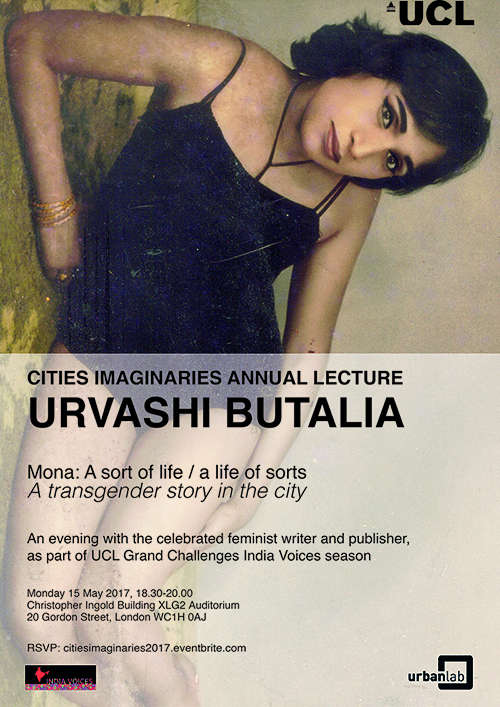 Further information:
Seats will be allocated on a first come, first seated basis, but it is important to register beforehand to be signed-in. We expect high demand for tickets, so if you can no longer attend, please let the organisers know so that we can release the ticket to another person.

For any accessibility questions or for further information, please contact Jordan Rowe urbanlaboratory@ucl.ac.uk
Pleae note, by signing up to this event you will be automatically registered to recieve emails from the UCL Urban Laboratory. You can unsubscribe from these at any time.